So You Hate Your New Hair Color. Here's How To Fix It Without Damaging Your Hair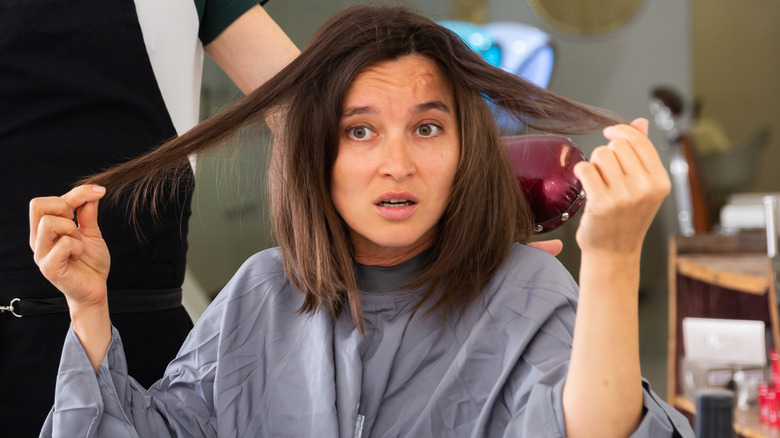 BearFotos/Shutterstock
Almost everyone who decides to change up their hair color experiences at least a little fear when those foils lift off or you first glance at your fresh color in the mirror. The average American colors their hair four to five times a year, and sometimes that experimenting can go wrong.
Sometimes, a new dye job can feel like a permanent mistake, especially when you've spent hundreds of dollars changing your look. Although many salons over color-correcting services, going back to the chair may be the last thing you may want to do after having a bad salon experience. Plus, dyieng your hair all over again can damage your locks.
Your hair is tied to your identity, so first know that it's totally normal to panic when you don't immediately like your new color. When you take that first glance in the mirror only to find your blonde is too orange or your auburn is too ashen, don't fret right away. Here's how you can fix it without causing excess damage to your hair.
Add a toner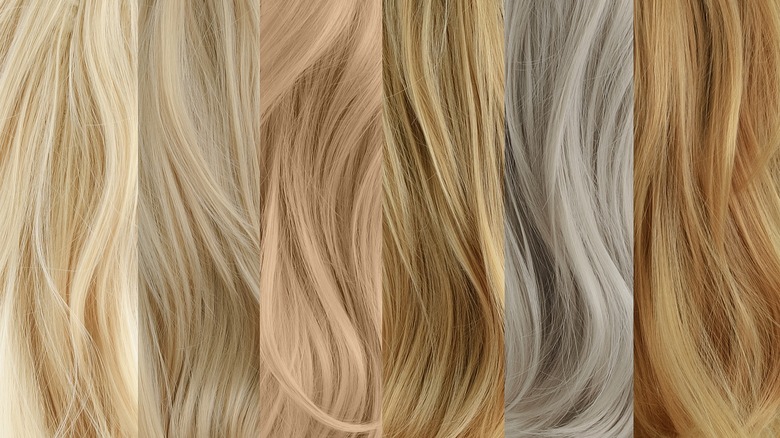 Yuliya Alekseeva/Shutterstock
Whether your off-color dye job happened at home or the salon, the first thing to consider is adding a toner. Sometimes a yellow blonde or orangey brown can be fixed with a simple chemical treatment that causes less damage than hair dye, and can actually minimize some of that damage.
If you have naturally brown or black hair and recently went blonde, bleach was likely used to lift your natural color. Though leaving bleach on longer can result in brighter hair, it can be extremely harsh. If your hair ends up looking too orange or yellow, it may be tempting to reach for the bleach again; however, you should opt for toner instead.
Hair toner works by adding pigments to your strands that change the hue of your hair. It can help emphasize certain colors or reduce the appearance of orange and yellow tones. Some toners can be added to shampoos and conditioners, although it's typically a gel or gloss. If you're going to try toner at home, hairstylist Jonathon Colombini offered some advice to Elle: "I prefer to apply to damp hair. This helps the product move evenly and easily through the hair."
Give it a good wash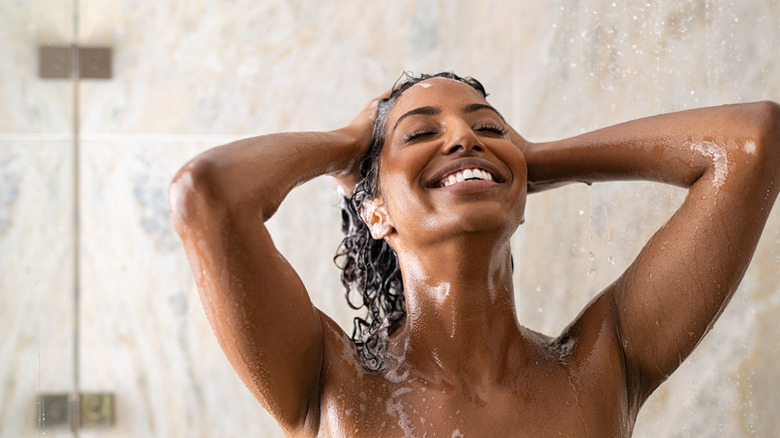 Ground Picture/Shutterstock
A hot shower can fix a lot of problems, including hair color gone wrong. After hair dye is applied, it is first rinsed and then shampooed and conditioned. Giving your hair a second wash could help that color fade faster.
Hair dye penetrates the outer layer of the hair strand, known as the cuticle, to reach the cortex. To allow the chemicals in the dye fully lock in, it's recommended to avoid washing your hair for a few days following a fresh color. If you don't like the color, though, you can speed up the fading process. During a hot shower, your hair cuticles open, creating a greater chance for the fresh dye to wash out. Paired with the right shampoo, a hot shower might be the only thing needed to get your desired look.
Clarifying shampoos are normally used for scalp health, but they can also strip hair dye and are not damaging like bleach or hair dye. Just be sure to follow up each clarifying wash with conditioner to avoid drying out your strands.
A purple or blue shampoo will fix brassy tones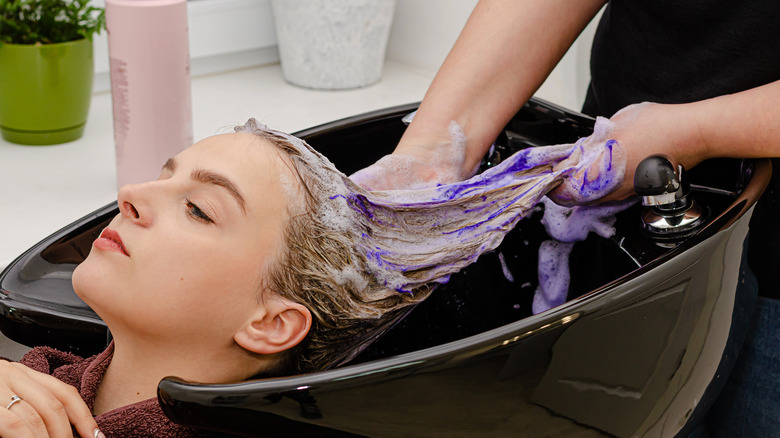 Tetiana Tychynska/Shutterstock
There's a reason people say that being blonde is a full-time job. By the time you've neutralized the orange and softened the yellow, it's time to touch up the roots. Luckily, we live in a time when we have better access to high-quality products than ever before. While toner is the best way to get rid of orange or yellow tones, using purple or blue shampoo is often easier, cheaper, and 100% damage-free.
Consider the color wheel when neutralizing certain hues. To get rid of orange tones, you'll want to use blue shampoo. For yellow hair, you would want to choose purple. These shampoos can be used more than once, but it's usually recommended to stick to weekly use to avoid your hair from becoming too pigmented in the opposite direction. If you plan to use  Nexxus Blonde Assure Purple Shampoo, the brand recommends leaving it in for just a few minutes before rinsing and conditioning. Purple shampoo has a tendency to leave a silvery tone if left on for too long so stick to the guidelines. That said, a clarifying shampoo can easily fix it.
Fix dull or overly red hair with color-depositing shampoos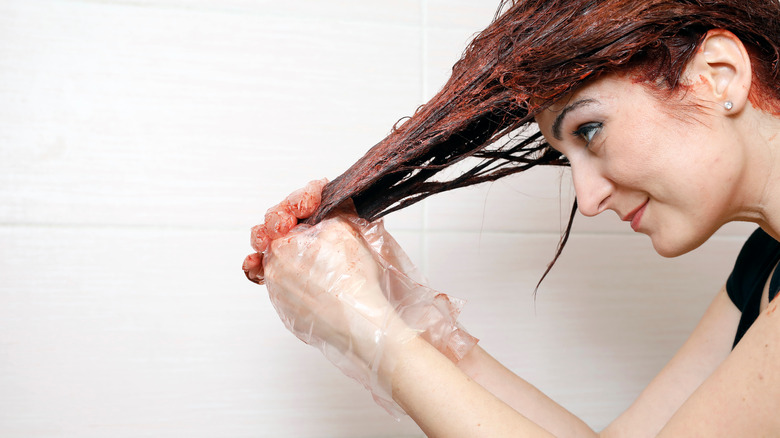 ID stock photography/Shutterstock
If you had your hair dyed red and it came out looking flat, red shampoo can be a simple, non-damaging solution. In fact, even if you went with a brunette shade and just want a little vibrancy, red shampoo can help. This is also a good type of shampoo to keep on hand when you do like your red or brunette hair, as even good hair color fades over time. Many kinds, including John Frieda's Radiant Red Red Boosting Shampoo, are safe to use every time you wash your hair and can be paired with red conditioners.
Of course, not everyone wants red hues. If your hair came out redder than you were hoping, consider neutralizing it with green shampoo, like Matrix's Dark Envy Green Toning Shampoo. If your hair is a blend between blonde and brown, try something with a blue tint instead of green. As many blondes know, it's easy enough for blonde strands to turn green on their own — no need to add a green shampoo to the mix.
Use a deep conditioner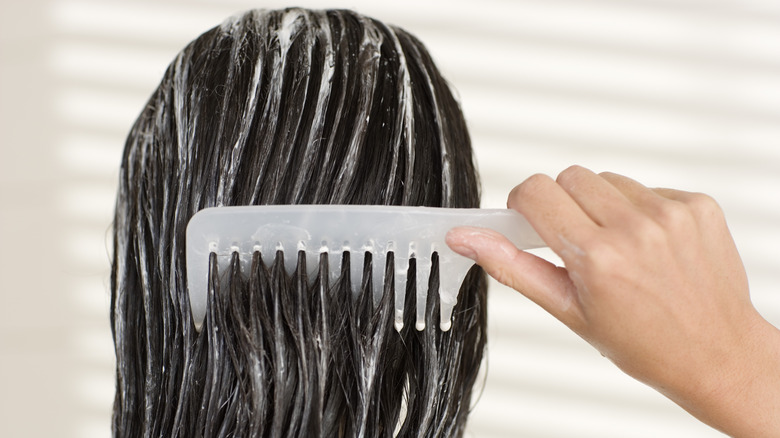 Pixland/Getty Images
Believe it or not, a deep conditioner can strip away fresh dye. An important distinction between regular conditioner and deep conditioner is how it is absorbed in your hair. As the name implies, deep conditioner penetrates deeper into the hair shaft. After using hair dye, your hair cuticles will remain open for a few days. This makes it easier for deep conditioner to fade and remove some dye. There are, of course, exceptions to this, as some deep conditioners are specifically made to be used after dyeing your hair. 
You'll want to apply the deep conditioner during a warm shower and use a comb to evenly distribute the product. Let it sit for at least 10 minutes or according to the directions on the bottle. First rinse your hair with your head tilted back and then again while leaning forward, allowing the water to reach the back of your head for an even and thorough application.
Try a tinted dry shampoo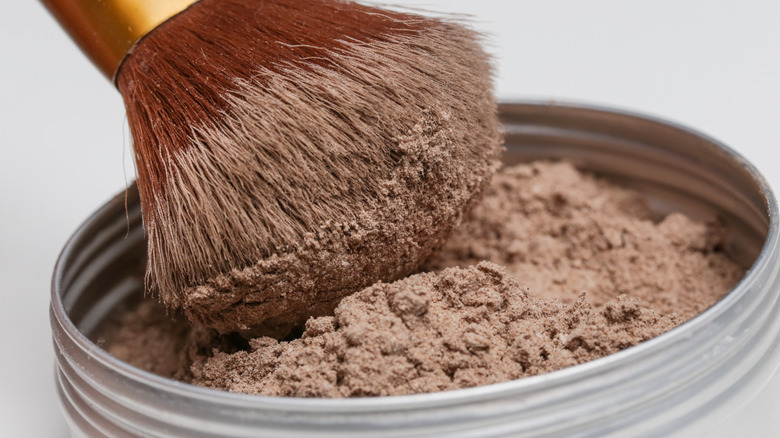 triocean/Shutterstock
Dry shampoo is typically used to refresh hair between washes, as it absorbs oil and replenishes volume. When realizing you're unhappy with your new color, though, you can use a tinted dry shampoo, like Kristin Ess Style Reviving Brunette Dry Shampoo, in a lighter or darker shade for a temporary fix. This is a great solution if you can't immediately dye your hair again.
Most dry shampoos are safe to use on your hair; however, it is best to avoid using the product daily, according to Healthline, Using a dry shampoo every other day and in between washes can give you the chance to get used to your new color while it fades through a few shampoo sessions.
If you can't make it to the store, try a DIY dry shampoo. Good Housekeeping recommends mixing one part baking soda and one part cocoa powder (via Good Housekeeping).
Use a color remover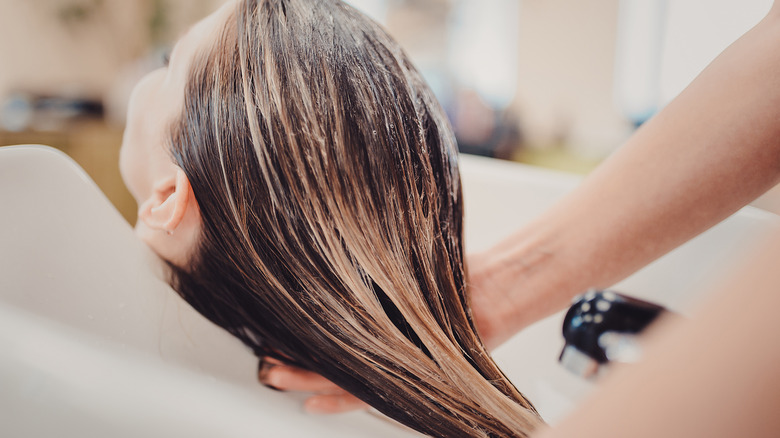 Anna Berdnik/Shutterstock
Sometimes a really bad dye job requires a targeted product. If this is the case for you, opt for a safer color remover that will strip dye without unnecessary further damage. "Every time color is removed from your hair you run the risk of damage," colorist Kristen Fleming told Byrdie, "so I recommend looking for one that's gentle, moisturizing, and free of bleach and ammonia." Fleming's product of choice is Color Oops Hair Color Remover. "It's affordable and gentle, and even though your hair may feel dry after, it won't be damaged," Fleming explained.
A word of caution: If your hair was bleached before it was dyed, a color stripper or remover isn't going to return you to your natural color. Instead, it will return your hair to its bleached state or even an undesirable shade. If you find yourself in this situation, consider using a toner or color-depositing shampoo.
Apple cider vinegar and honey can both lighten your hair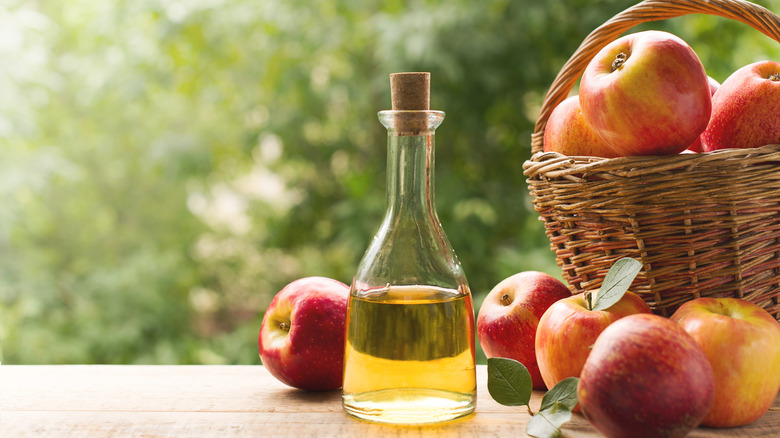 denira/Shutterstock
Humans have been naturally dyeing their hair for thousands of years. Along with nut shells and berries, apple cider vinegar has remained a favorite for lightening hair. When consumed, apple cider vinegar, or ACV, has a number of health benefits, but your hair can benefit from topical application. Use a spray bottle to evenly distribute the vinegar, and let it sit for at least a few minutes before rinsing. While you won't see a drastic change, it can subtly lighten your hair without causing unnecessary damage.
If ACV isn't your thing, honey can also be used to lighten your strands. Although honey naturally contains hydrogen peroxide(that's what will lighten your hair), it won't harm it. In fact, as trichologist Gretchen Friese told Byrdie, "Honey can prevent damage, strengthen hair and reduce breakage of hair strands which will help hair grow longer." If you're going with this method, mix four parts water with one part honey — but make sure to use distilled water when diluting, as tap water has minerals that break down the honey's ability to lighten hair.
Coffee can richen your color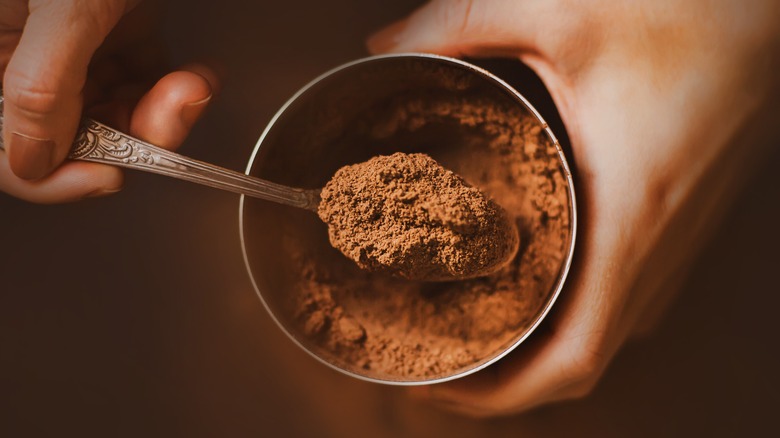 Valeri Vatel/Shutterstock
Coffee may just be the answer to a bad hair day. According to Healthline, the brew can help strengthen your hair, reduce frizziness, and add shine.
To try it, brew your coffee twice as strong as you would usually drink it. Espresso is also a great option. Once the liquid has coiled, pour it into a large bowl and lean forward, letting your hair gather in the brew, ensuring every part is saturated. Alternatively, you can ask someone to hold the bowl as you dip your head in backwards. Just be sure to wear a towel around your shoulders. To mitigate mess, you could also opt to pour the coffee over your hair in the shower. Let your hair soak for at least 20 minutes. If you don't want to mess with brewed coffee, you can mix a teaspoon of cooled coffee grounds into your preferred conditioner. Apply the mixture after shampooing and let it sit for up to five minutes.
The results from either method will be temporary, but they can hold you over until your next hair color appointment.
Recolor just your roots or add highlights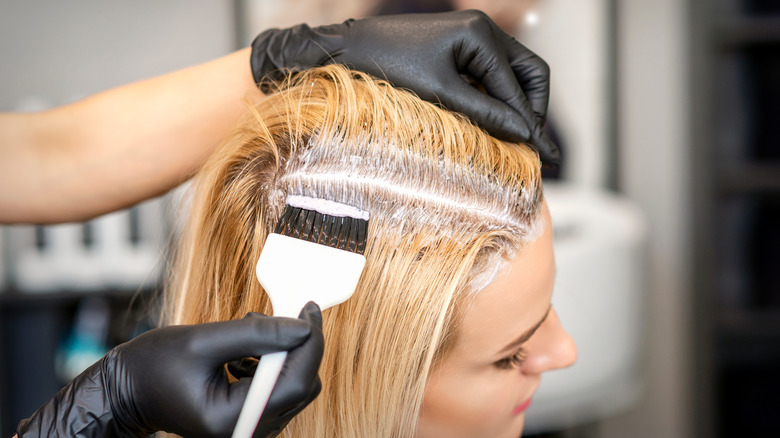 Michelle Aleksa/Shutterstock
While any amount of hair dye is going to cause some damage, you can avoid causing widespread damage by touching up just your roots. And you may have to if you end up with hot roots. Hot roots, or roots that come out a different shade than the rest of your hair, happen because the hair closest to your head is hotter than the rest due to heat released in the scalp. Ian Michal Black, Aveda's global artistic director for hair color, told American Salon that hot roots can also occur when there is regrowth from a previous dye. Hair that hasn't been touched up can lift easier or absorb the dye more intensely. If you've just dyed your hair yourself and found yourself in this situation, there is a chance you still have some excess product sitting around. If this is the case, you can touch up just the roots. If you're at a salon, your stylist can do this for you. You could also need to tone the rest of your hair, avoiding your roots, so the strands blend together. 
If hot roots aren't the problem and you just don't love your all-over color, consider trying highlights or lowlights. Like a root touchup, it will cause some damage but far less than a full recolor, and much of that damage can be mitigated. "If you're doing a single process or subtle highlights, the damage will be minimal, and you may not even notice," hair colorist Stephanie Brown told Elite Daily.