Should You Wear Underwear When You Have Running Shorts On?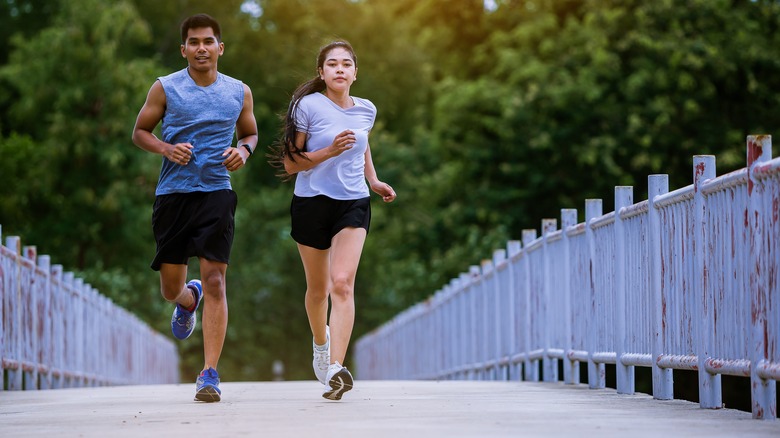 Panumas Yanuthai/Shutterstock
We may receive a commission on purchases made from links.
The weight-bearing exercise of running is a popular choice for those who want to strengthen their muscles, stay fit, shed some calories, and also get out of the house. As personal trainer Tammie Dubberly told Men's Journal, "An average one-hour weight-training workout at the gym burns about 300 calories. The typical hour-long run burns about twice that."
Whether you're new to the sport or have been doing it for years, you might be concerned about the apparel that goes into the activity. Making sure you're wearing the right kind of clothing — fit, material, and stretch-wise — could be the difference between a good and bad experience when you're out there. You want clothing that's breathable and comfortable, and in the winter months, you want layers you can add on as well. This is probably why companies spend thousands of dollars investing in research and manufacture of the best running shoe brands. Without the right kind of ankle and heel support, you could end up injuring yourself. 
Another question that may have popped into your mind was if you needed to wear underwear when you put on running shorts. After all, some of those short shorts come with built-in lining that is meant to serve the function of undergarments. So do you really need to bother with pulling on a separate pair? 
The answer really depends on you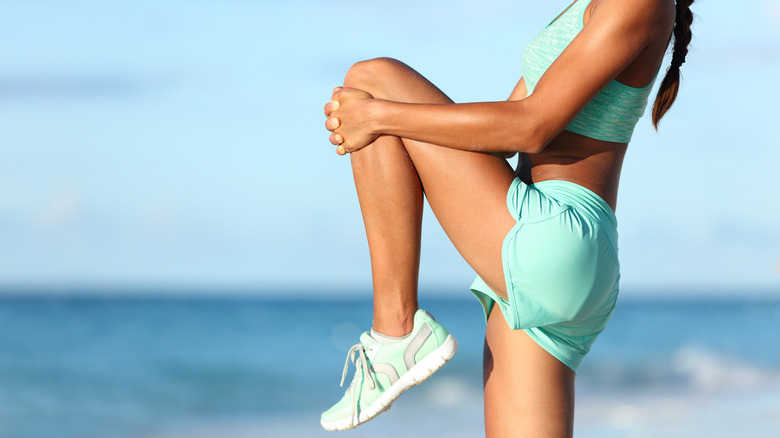 Travel and running enthusiast Kyle Cash wrote on his blog that the answer to the question depends on how comfortable you are either with or without underwear. Although running shorts with undergarments built into them are made so that you can skip pulling on a separate pair before you head out, for some people the extra material can become uncomfortable because of chafing. " Underwear helps by lowering contact between skin and material," explained Cash. "Plus, the added support can help you feel better. And, for men, adding a little support (and coverage) is always a good idea."
Maintaining a safe distance between any fluids you could be secreting and your running shorts is also a good reason to pull on some undies. You'd be reducing your laundry load each week too by not throwing five different pairs of soiled running shorts into the pile (via Advnture). 
On the other hand, if you want to reduce the layers so you feel cooler, keep your genital region clean by preventing extra moisture buildup in underwear, and even look better running (without embarrassing panty-lines), going commando might be your answer. Plus, underwear can ride up and get wedged between your cheeks and this could become uncomfortable too. The best solution is to try running with and without to see what fits you best. 
Some underwear brands to check out if you choose to wear them with running shorts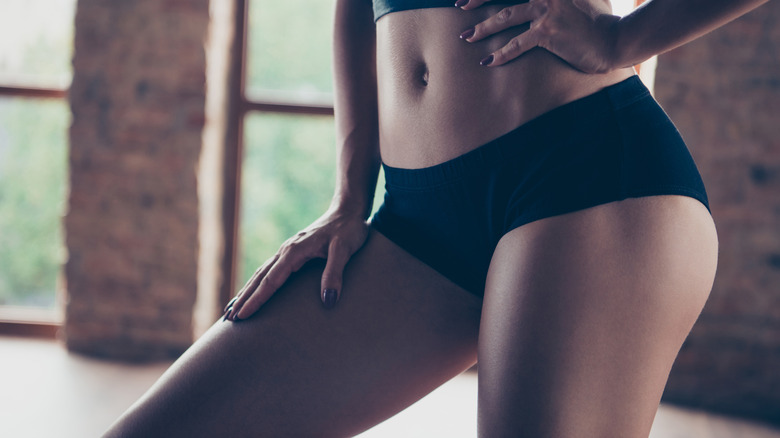 Deagreez/Getty Images