41% Of People Think This Is The Best Running Shoe Brand - The List Survey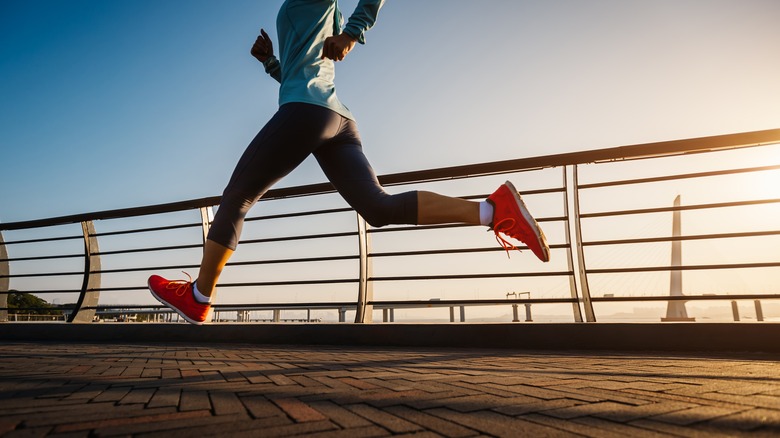 lzf/Shutterstock
Have you ever been out for your daily run and started to feel serious pain in your feet? Or you're taking your shoes off after a workout at the gym and discover painful blisters? No matter the terrain, the quality of your running shoes can make or break your run. A study by Fit My Foot found that three out of five persons "wear the wrong shoe size," with a majority of those people wearing a size too small that causes serious pain and friction. You also might be running on shoes that are too worn out and no longer provide the support it promised when you first purchased them. Whatever the reason behind your foot pain post-run, it might be a sign that you need new running shoes.
But when it's time to go shopping, which brand of athletic shoe should we really be investing in? To find out, The List conducted a survey asking 600 people, "What is your favorite brand of running shoes?"
If you're on the fence about buying these popular running shoes, just do it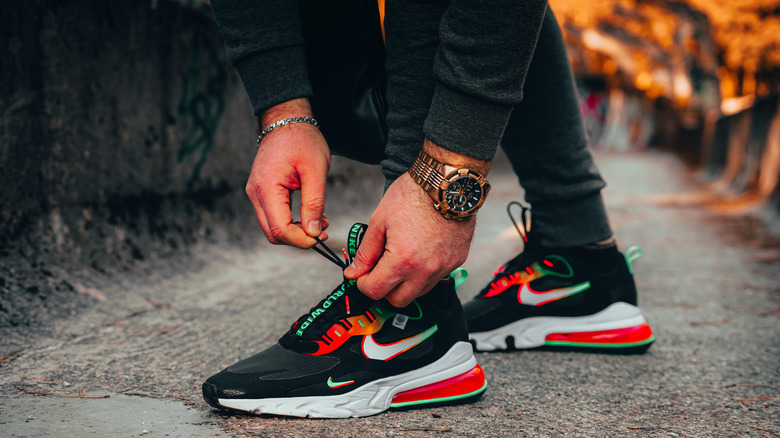 benjamin poturak/Shutterstock
According to The List's survey, the fan favorite running shoe brand is Nike! Unsurprisingly, the popular athletic brand received high praise with 41% of the vote. According to Profit Works, Nike is "the [No. 1] brand in the sporting goods industry and is the 14th most valuable brand in the world." They are known for their long-lasting shoes, high quality athletic wear, and their iconic marketing strategies.
Running in second place with 22.83% is New Balance shoes, a comfortable athletic brand that has recently earned the title of "dad shoes," according to Glamour. Whether or not you are somebody's father, you deserve a comfortable, high quality shoe like New Balance.
Adidas, another athletic brand that makes a great running shoe followed closely behind with 20.5% of the vote. The iconic striped shoes can be seen everywhere these days. Adidas made recent headlines when they committed to changing the world through sustainable fashion.
About 9.5% of voters prefer Brooks running shoes, a Seattle-based brand that is dedicated to making durable shoes for all types of runners (via Healthline). Hoka (4.67%) and On Cloud (1.5%) may be less popular, but are still great quality running shoes when you're looking for long-lasting comfort and support.
Keep these things in mind next time you go shoe shopping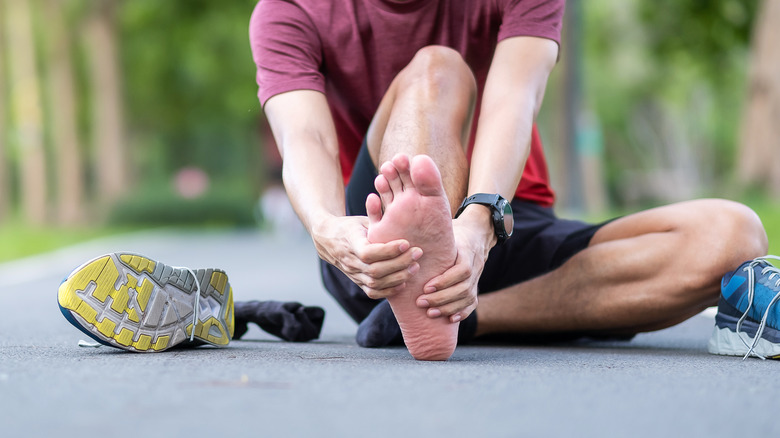 Jo Panuwat D/Shutterstock
Finding a brand and style you like is only half of the battle when it comes to finding the perfect running shoe. Your shoes might look great and are guaranteed to last a while, but they could still cause problems while you're breaking them in. Per Run Doctor, if your feet constantly ache and sting after a run or you develop painful calluses, those are signs that your shoes could be ruining your workout.
According to Very Well Fit, there are three major problems you might run into when looking for running shoes: size, type, and last. If your shoes are too small, you will quickly develop blisters due to friction. Runners recommend sizing up to accommodate for your feet swelling during your run. You also want to make sure that the type of running shoe you buy accommodates your foot's needs. Some people need a stiff shoe to help them gain control over terrain, while others need a less restrictive shoe material that allows their feet to breathe. It's also important to keep in mind how wide or narrow you need your shoes to fit so you don't constrict any part of your foot. This could lead to painful conditions like plantar fasciitis or fat pad syndrome, which are caused by wearing poorly fitting shoes for a long period of time (via Voyage Healthcare).
It may take some time, but once you find the perfect running shoe, there's no stopping you!