The Hack That Will Get You Better Arch Support From Your Ballet Flats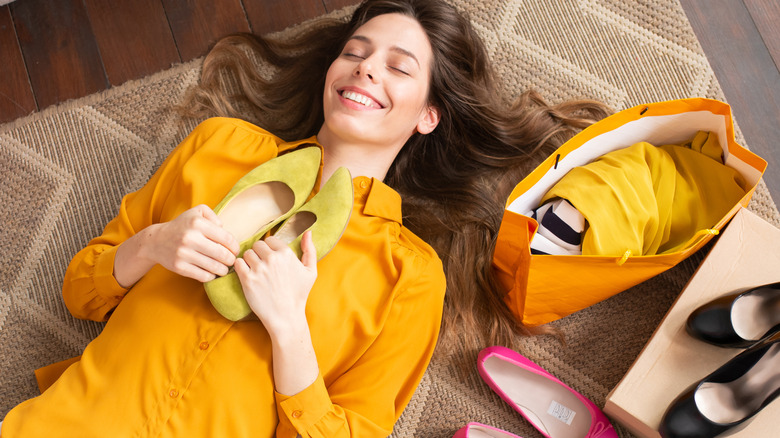 Zinkevych/Getty Images
Ballet flats are not only a timeless classic shoe choice, but they are perfect for various outfits. They can be purchased in multiple colors and styles, which helps bring together all the looks your closet offers. Ballet flats are incredibly convenient shoes that can be easily slipped on, making them ideal for those who enjoy more minimalistic footwear. While many people think high heels make a statement, flats have versatility since they can be used to dress up or dress down your clothes. Celebrities like Kendall Jenner paired puddle pants with chic flats, a classy look that can be achieved on a budget.
The only downside to wearing flat shoes is that they are quite literally flat. There is very little support for the arches of your feet. This can cause foot pain over time if flats are your go-to for shopping or daily activities. Therefore, finding a cute pair of comfortable ballet flats that provide support for your feet can be challenging.
How to find flats that don't hurt your feet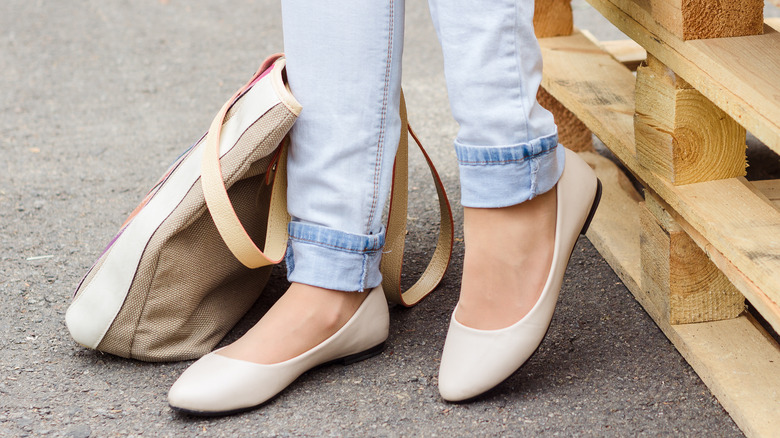 Andriana Syvanych/Shutterstock
Since ballet flats need to fit snugly enough to not fall off your feet while walking, they may irritate the back of your heel if they don't fit perfectly. Of course, this has more to do with the shoes causing friction on your skin, which likely means they are an incorrect size. Using gel dots that stick to the inside of your shoes can help reduce some of that friction on your heels. 
Since ballet flats work best when it feels like they are "molded" to your exact foot shape, trying various sizes from different brands can also help you find the right fit for you. Some styles of flats have a narrow pointed toe for a sophisticated and elevated look. However, for those with wider feet, this shape can squish their toes and cut off circulation. This is one of the reasons why you never wear shoes that are too small. Understanding if you have narrow or wide feet can help you find styles that are a better fit. Some flats even specify "wide" in their sizing, making your search easier.
Learn your pain points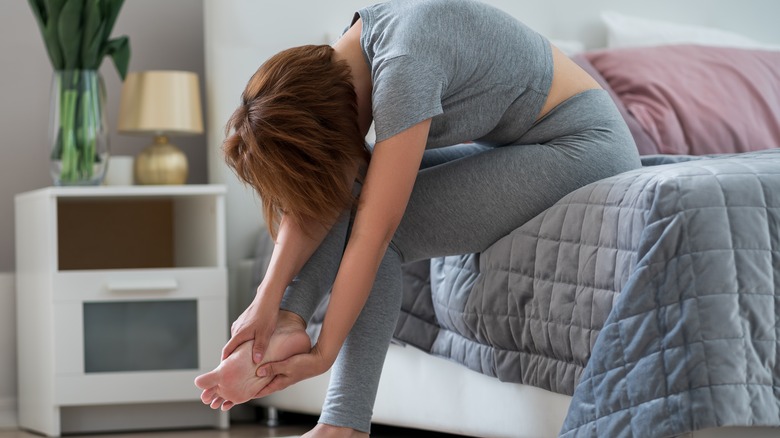 staras/Shutterstock
If you walk a lot in flats, you are likely familiar with the other pain points on the feet: your arches and heels. Inserting a pad into the sole of your shoe can provide a lot of support for your arches and help to reduce pain in your feet. Some flats even come with a low-resistance cushiony base for more comfort. If your heels get that burning sensation after too much time on your feet, another strategy is finding heel pads at your local drugstore. These will provide a softer cushion for your heel that will absorb some of the pressure from each step.
Since most new shoes take some getting used to, breaking in your flats can help your feet adjust. It's recommended to wear your shoes casually but consistently for small amounts of time. You can also try a tool that stretches out your flats, so they don't feel so tight or stiff when you first wear them. Finally, try to invest in supportive flats when you can. This may mean quality leather shoes, ballet flats with memory foam built into their foundation, or simply flats with a more spacious toe section. Of course, flats are super cute and simple, but most are not very supportive. Luckily, there are ways to make these stylish shoes more supportive; over time, your feet will definitely thank you.