Do You Need To Wear Underwear When Wearing A Bodysuit?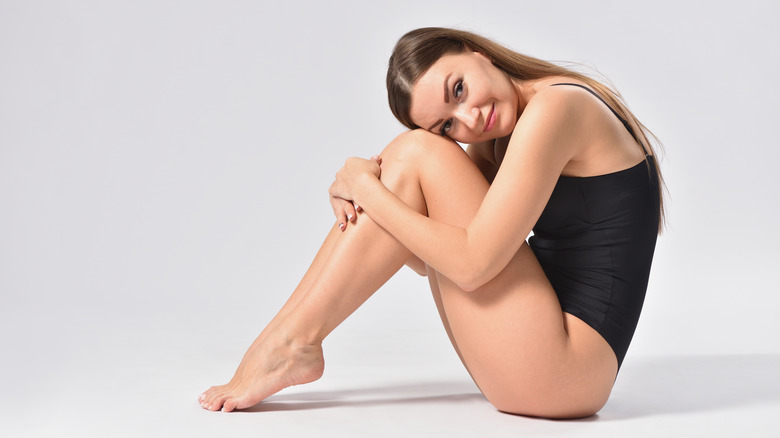 Pridannikov/Getty Images
We may receive a commission on purchases made from links.
Bodysuits have become popular for all ages in recent years, and for good reason. They are comfortable, stylish, and help us achieve an effortless look of a top being tucked into our waistline. The other great thing about bodysuits is that they come in all different styles, from a casual everyday basic top to a lacy look for a night on the town. Per Leonisa, there are even shapewear bodysuits that can flatter our bodies all the more.
Most stores that sell women's clothes will have bodysuits of all colors, styles, and sizes. But, if you're looking for somewhere to start shopping, try checking out some of your favorite stores online to see what they have in stock, before making the trek over to your favorite shopping center. Amazon also has some really great basics if you want to start simple. Whether it be long-sleeved or short-sleeved, multicolored or one color, lace or leather, bodysuits literally exist in pretty much every style, so they're a great alternative to a regular top — especially if you're not a fan of showing your stomach too much. 
Knowing how to wear a bodysuit is important in making it feel comfortable for you. In actuality, it all comes down to personal preference. For example, a lot of people frequently wonder if they should or shouldn't wear underwear with their bodysuit. Well, in short, the answer is that it is entirely up to you. It doesn't matter what you decide to do, but there are definitely some factors to keep in consideration while deciding whether or not to wear underwear. But before we get into the specifics, let's debrief (no pun intended) what a bodysuit actually is.
What is a bodysuit?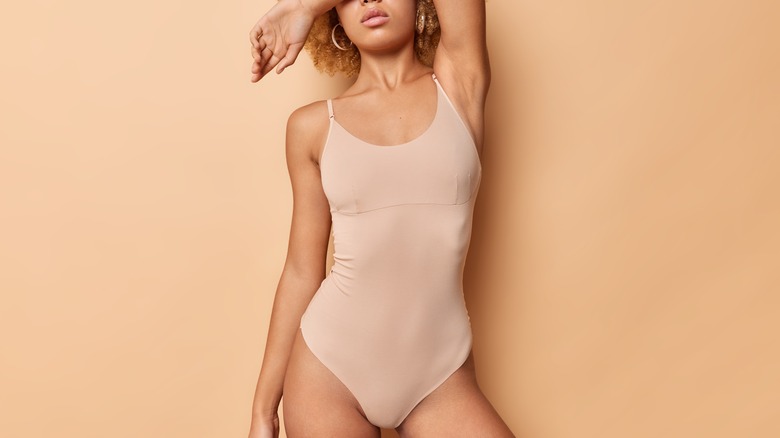 Cast Of Thousands/Shutterstock
A bodysuit is quite literally an all-in-one top and underwear, hence the name bodysuit. You can either step into your bodysuit, or some of them have buttons that clip together down by the crotch, which also aids in making it easier to go to the bathroom, especially when you're out of the house.
Per Today, fashion stylist and expert Audree Kate Lopez defines a bodysuit as an "elevated basic" that can be worn casually with jeans or for a more formal occasion with nicer pants, or a skirt along with a pair of heels. How you decide to style your bodysuit is completely up to you and whatever scenario you will be wearing it to.
As mentioned, bodysuits really come in all styles, fabrics, colors, sizes, etc. But before you buy a bodysuit, it is important to note what you are looking for because of the plethora of styles. Not all bodysuits will be designed to be tight across your entire body. You will find many that are meant to be tight everywhere, but some bodysuits actually are loose-fitting on top. The possibilities are really endless when it comes to choosing bodysuit styles. If you're a bodysuit beginner, one of the easiest bodysuit looks is to pair a plain color with a pair of high-waisted jeans for a timeless, effortless, and all-around classic look.
Wearing underwear with a bodysuit, or not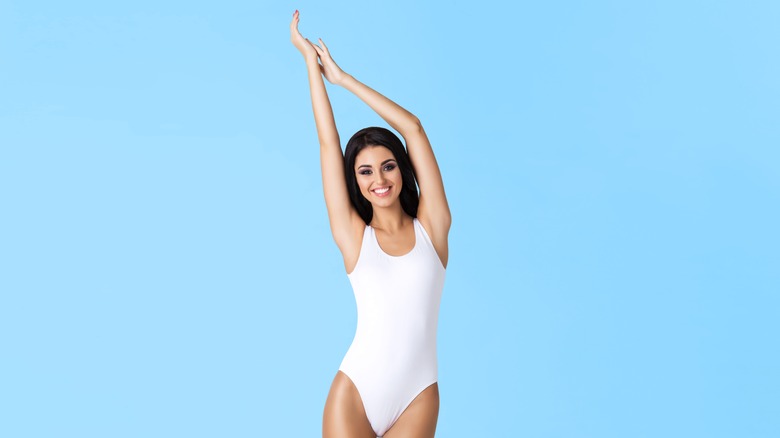 Maksim Shmeljov/Shutterstock
But, long stands the age-old question ... do you need underwear or not? As previously stated, the answer really can vary because the choice is ultimately yours. However, we do have a few guidelines to follow that could factor in your decision of choosing to wear underwear or to go commando.
Per Leonisa, it really is important to consider what your outfit is. If you are wearing a bodysuit with a loose-fitting skirt or flowy trousers, you may want to wear underwear so you feel a bit more secure down there. It isn't necessary at all, because you have the bottom of the bodysuit acting as underwear. But if you want some extra safety, it never hurts to throw some on. However, if you're wearing tight jeans or a tight skirt with your bodysuit, you might not want to wear underwear simply because you could see extra lines through your pants, and let's be honest, nobody likes their underwear lines being shown.
At the end of the day, if you decide to wear underwear, just make sure they're comfortable. Opting for a seamless pair could do you some good. Fashion doesn't always need to be uncomfortable, remember that next time you throw on a bodysuit with undies.