The Aviclear Laser Treatment Can Help Eliminate Acne - Here's What You Should Know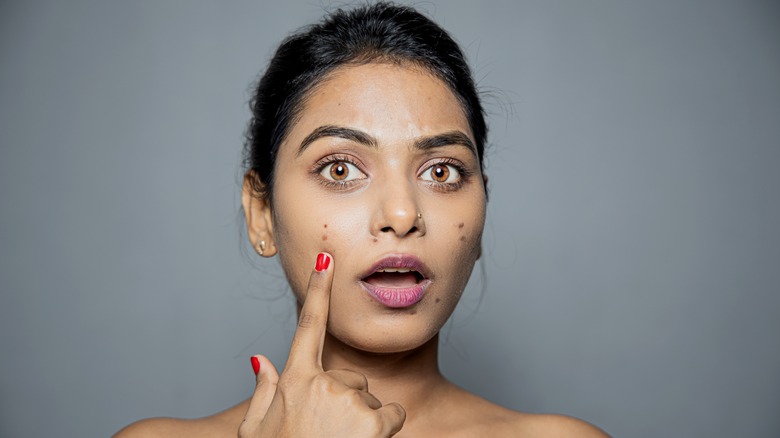 vijay solanki photography/Shutterstock
Whether you've dealt with a small breakout or full-blown acne, skin blemishes can negatively impact your life in more ways than one. Per the American Academy of Dermatology, up to 50 million Americans a year tackle the issue. Acne is known to cause mental health issues such as anxiety, low self-esteem, and depression. However, acne, more specifically acne treatments, can also lead to a plethora of physical ailments depending on the option you choose. For example, topical retinoids can trigger the skin to become inflamed and itchy. Accutane, on the other hand, can bring about congenital disabilities and damage your liver.
Enter the Aviclear laser treatment, a game-changer in eliminating acne. In March 2022, the FDA approved Aviclear, a treatment developed by Cutera, which focuses on revolutionizing lasers for the beauty industry. Aviclear claims to eradicate mild, moderate, and severe facial acne. This includes cystic, inflammatory, and hormonal. However, the Aviclear laser treatment is costly and can set you back thousands of dollars. 
Nevertheless, experts like dermatologist Corey L. Hartman have nothing but praise for the Aviclear laser treatment. He notes that the Aviclear laser treatment is the future because it's a substitute for both oral and topical medication. And as Hartman put it (via Allure), "AviClear is the closest outcome to Accutane without all that baggage." 
The Aviclear laser treatment targets oil glands
So how does the Aviclear laser treatment work? Aviclear has a 1726 nm wavelength laser frequency, and TikTok user @excelmedicine posted a video showing what the laser looks like up close on a patient. When used on the skin, the laser focuses on the sebaceous glands. Dermatologist Dendy Engelman, MD, explained (via Allure), "Overproduction of sebum by the sebaceous glands is the leading cause of acne." Simply put, the Aviclear laser treatment blocks the formation of pimples and blemishes to prevent further breakouts. This is because suppressing the sebaceous glands means they will produce less oil and, as a result, less acne.
If breakouts occur, they will be more manageable and infrequent. Although the Aviclear laser treatment was not designed to lighten acne scars, individuals who have undergone the treatment have shown improvement in scarring. However, by putting a stop to breakouts, the Aviclear laser treatment also prevents the formation of acne scarring. Patients who choose the Aviclear laser treatment must undergo three 30-minute treatments every three to four weeks. Thus, the entire process will last, at most, three months. An example of results of the treatment can be seen above, as posed by Aviclear's Instagram. Experts note that the Aviclear laser treatment is especially ideal for individuals who have trouble keeping up with a skin-care routine.
Patients note that the Aviclear laser treatment is uncomfortable
Unlike other treatment options for acne, you do not need a prescription for the Aviclear laser treatment, and most individuals can opt to go under the laser. David J. Goldberg, M.D., explained who the ideal candidate is to InStyle. He said, "It's a great, less-invasive alternative treatment for those who have tried prescription medications for acne but failed to see results." He added, "It is also equally effective in all ages, and in both women and men." Goldberg explained to Allure that the clinical trial for the Aviclear laser showed that "Over 90 percent of people were [looking] better three months after the third treatment."
Goldberg said that any skin tone, light or dark, can undergo the Aviclear laser treatment. While some lasers can cause hyperpigmentation on darker skin tones, the Aviclear laser treatment does not. However, for all of its positives, there is one con: Reviewers for InStyle, Allure, and TikTok user @nmhankeyNatty, noted that the treatment was not painful but uncomfortable. In her Allure review, Jessica Ourisman said she sought the treatment to reduce the appearance of cystic acne.
She wrote that the laser's handpiece was cold, and throughout the process, her skin was kept wet to ensure that the skin did not overheat, making the treatment unpleasant. After her first treatment, she had a bad breakout that her dermatologist later explained was normal. Nevertheless, she, as did the reviewers for InStyle, said they were fans of the results; their skin was not perfect, but did improve.