How To Naturally Lighten Acne Scars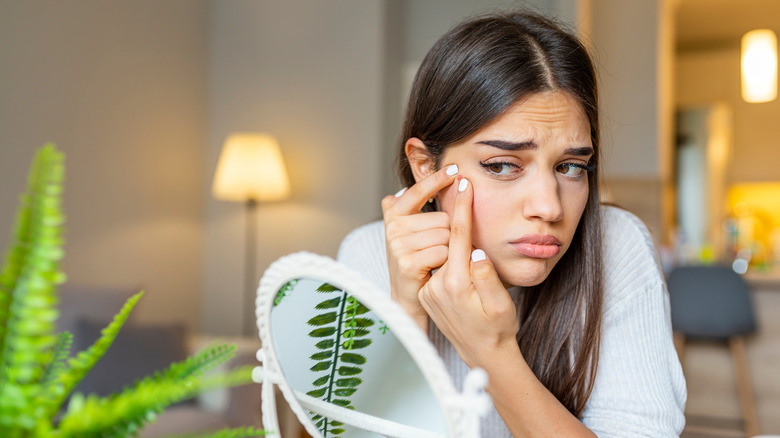 Dragana Gordic/Shutterstock
Acne is no fun, whether it is on your face and body or after when it leaves those nasty scars that don't seem to vanish. In fact, we'd do anything to say bye to those scars. According to the Mayo Clinic, acne scars can be stubborn, and a treatment that works for one person may not work for the other. Depending on the severity of the scar, combined with your skin and scar type, you can treat it at home with medicated creams or get medical treatment such as soft tissue fillers and steroid injections. 
Board-certified dermatologist Y. Claire Chang told Byrdie, "Acne can leave multiple types of scars. These are generally categorized into acne blemishes, atrophic acne scars, and hypertrophic acne scars." Hence, there isn't one universal way to treat acne scars. It is probably safer (and wiser) to see a dermatologist so you can figure out what treatment would work best for you instead of trying to play chemist. 
Most people might think acne scarring is only post-inflammatory hyperpigmentation, but it can often be a permanent change in your skin texture. Allure recommends SkinCeuticals Advanced Scar Control to prevent permanent scarring because it has silicones to soften the scar and allantoin to calm your skin. However, if you don't want to commit to laser treatments or ointments, some natural at-home remedies may help lighten acne scars as well.
Home remedies that could help get rid of acne scars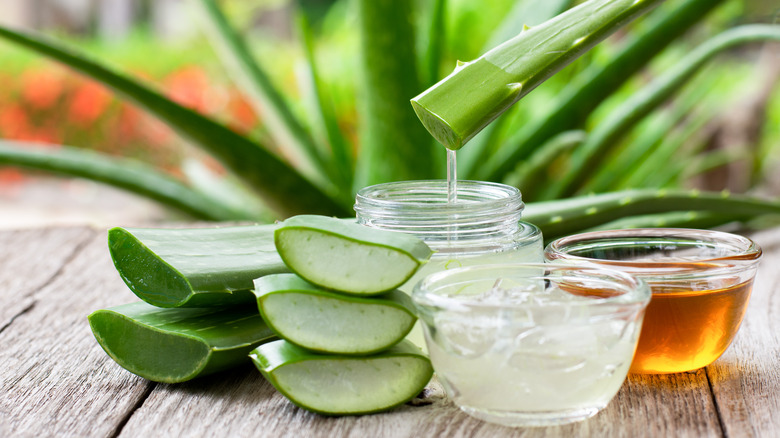 NIKCOA/Shutterstock
California-based dermatologist Harold Lancer told Byrdie, "A scar is one thing today, and six weeks from now, it will be a different scar." Most treatments will work better if you start earlier than later, so don't wait when it comes to treating them.
Healthline recommends using rosehip oil to treat acne scars because one study indicated that pure rosehip oil can help with post-surgical scar treatment. Researchers claim that treating your scars with this oil twice a day can reduce their appearance. Mirror also calls aloe vera one of the best natural remedies for acne because it has anti-inflammatory and antibacterial properties. You just take the actual aloe leaf, scoop out the gel and apply it to your skin for 30 minutes. 
For something you may already have at home, MedicineNet suggests using diluted apple cider vinegar as it gently exfoliates the top layer of the skin and reduces the visibility of scars. However, using a concentrated version may harm your skin more. Per Medical News Today, people have been using raw honey and baking soda to treat acne at home as well, but the results are unclear. Instead, they recommend trying salicylic acid, retinoids, or alpha-hydroxy acids as they tend to give better results. Retinoids seem more reliable than apple cider vinegar, but the choice is yours. 
Keep in mind that there aren't too many proven natural remedies to lighten acne scars. At least, when you go the natural route, you have fewer side effects, and they are cheaper.