Wearing A Matte Lipstick Doesn't Have To Mean Dried-Out Lips If You Take Preventative Measures
You dedicate so much time and energy to picking out the perfect shade of lipstick to go with your outfit for the day. You apply the matte lipstick expertly and rejoice as it gives you that modern Kylie Jenner type of look you were going for. Everything is going fine until you slowly start to feel the lipstick clinging to your lips and drying them out as the day goes on. And once that happens, you cannot wait to get home and take it all off. 
But, when the next day rolls around, you start craving that bold matte look again, so you have no choice but to repeat the cycle. You might assume that drying out your lips is a natural part of matte lipstick because it's detrimental to creating the look. And while that's true to some extent, you should also keep in mind that you can have the matte finish of your dreams without experiencing the discomfort of extremely dry lips. 
Prep your lips to prevent dryness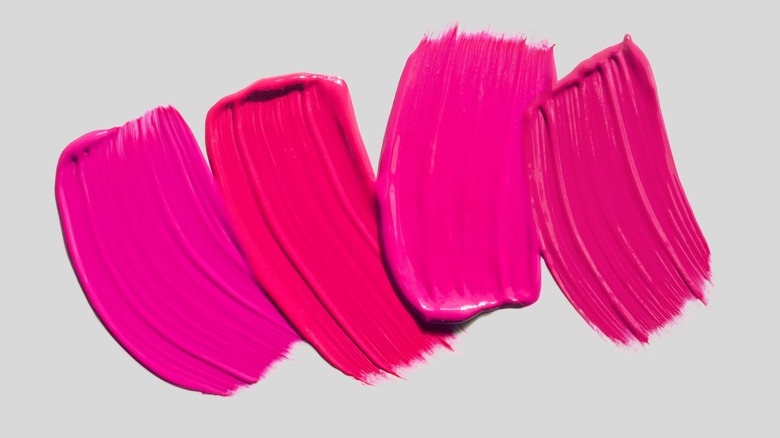 fotaro100/Shutterstock
First, it's important to understand why the dryness occurs. Unlike lip products with creamier textures, matte lipstick has a higher concentration of wax and pigment to create a striking color and long-lasting matte look. While this formulation is great for the end result, it naturally lacks the hydration that comes with an oilier lipstick. This leads to the color seeping into the cracks on your lips, which causes them to dry out.
Prep your pout with some nourishing products to counteract the less-oily formulation. Before you apply your lipstick, remember to exfoliate with a simple lip scrub. This will help them feel softer while also assisting with the application of matte lipstick because the color won't seep into the crevices and give you a cakey look. To keep your lips happy and healthy, don't exfoliate every time you apply lipstick. Only do so twice a week maximum.
Thankfully, many brands have recognized the root of the problem and pumped up the hydration in their matte lipsticks through ingredients like jojoba oil and hyaluronic acid. If you love the way your favorite matte lipstick looks and don't want to change things up, you could also apply some lip balm before putting it on. Just be sure to give the balm plenty of time to settle into your lips before putting on the lipstick to ensure you still get the desired matte look. Carry some with you to provide a quick-fix solution for any dryness, too.
Lip love is always the answer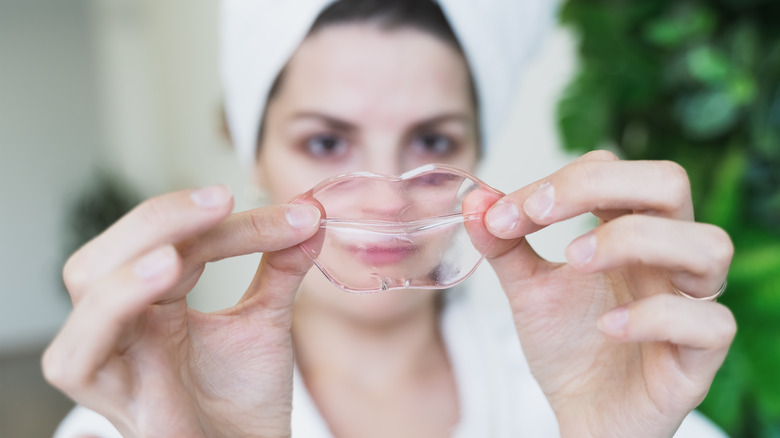 Irina Velichkina/Getty Images
A hydrating lip primer is a handy beauty product that'll help you get the most out of your matte lipstick while taking away any discomfort that comes with wearing it. If you've never heard of a lip primer before, you're not alone. Essentially, a lip primer serves the same purpose as a face primer. It creates a smooth base for your lipstick to easily glide onto and helps the color look fresher for longer. Just be sure to choose a lip primer packed with moisturizing ingredients like castor oil, jojoba oil, and petroleum jelly. 
All you have to do is apply the primer before putting on your matte lipstick. You could also use a lip liner to create an additional barrier between your lips and the matte lipstick. It'll prevent the lipstick from clinging to your lips and seeping into the cracks. For some extra TLC, treat yourself to a hydrating lip mask. If you've got an early start to the day, you can even keep it on overnight to wake up to a plump and happier pout.
The application of your matte lipstick can also play a part. Overapplying the lipstick may create unnecessary dryness. Simply apply a single layer and wait for it to dry before determining if you need any more. It's also good to give your lips a break from matte lipstick occasionally to replenish their hydration.