Cream Vs Gel Moisturizer: Which Is Right For Your Skin Type?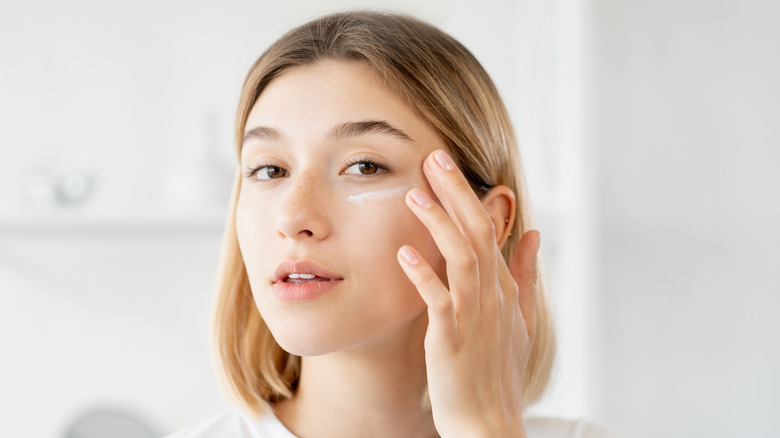 Golubovy/Getty Images
The world of moisturizers is large. The variety you see when you step into a drugstore can be overwhelming.
Despite the diverse options, however, moisturizing our skin is something most of us do as part of our daily skincare routine, especially on those days when our skin looks like it needs a little extra hydration. Speaking of dry skin, our skin type is one thing we should be thinking about when we go in search of moisturizers. From lotions to serums and gels to creams, there's a lot to choose from. Knowing what kind of moisturizer you should be applying on your face could be the difference between good and bad skin. 
If you look at the labels closely, you'll see that some have "cream" printed on them and others say "gel." What's the difference? You might not think there's much to worry about with terminology, but there is a way to tell when you're using the wrong moisturizer for your skin type. Here's the difference between creams and gels. 
Creams are oil-based and gels are water-based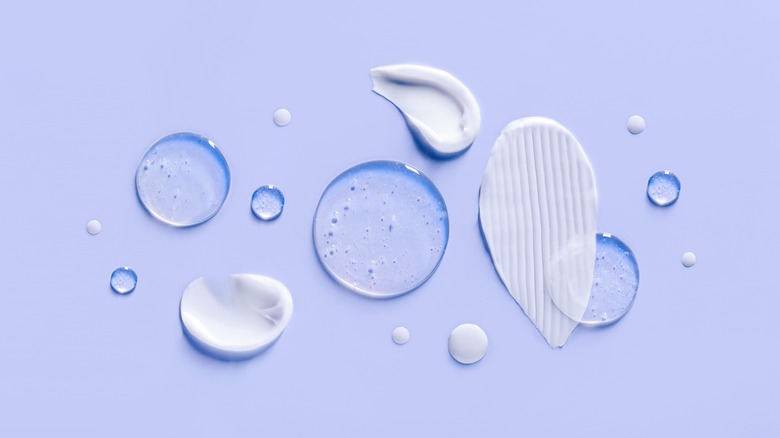 Ekaterina_Klishevnik/Shutterstock
If you've applied a moisturizer on your face that felt light, airy, and gave you a matte finish, you were using a gel moisturizer. Gels are largely water-based, and you can see the difference simply by squeezing some onto your fingertips. The consistency should feel much more liquid-like, and your skin tends to absorb these moisturizers a lot quicker.
Board-certified multi-specialist physician Dr. Azza Halim told Sunday Edit, "Gel moisturizers are typically oil-free and have more of a light, water-like feel. They hydrate without clogging pores." If you have oily and acne-prone skin, gel moisturizers are the way to go. Despite their lightweight feel, however, gel moisturizers work by boosting internal hydration. They're also perfect for warmer weather conditions.
Cream moisturizers feel a lot richer, heavier, and pastier to the touch. This predominantly oil-based kind of moisturizer has "a longer-lasting protective barrier for the skin," per Halim. If you have extremely dry skin or live in a cooler climate that makes your skin dry up faster, you might want to think about getting yourself a cream moisturizer, which is rich in fatty acids and vegetable oils. Both gels and creams contain emollients, but the latter has a higher concentration of them.
How to moisturize your skin properly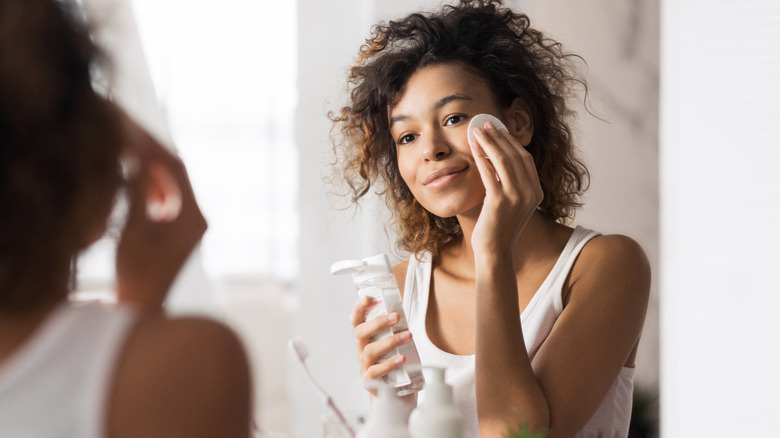 Prostock-studio/Getty Images
The first and probably most important step before moisturizing is to make sure your face is clean. In the mornings, that means washing away dead skin cell buildup overnight, and in the evening, it's about cleansing your skin from the dirt and grime of the day. You can also try applying your moisturizer of choice — cream or gel — on slightly damp skin. This method is known to lock in more moisture, and who doesn't love that?
Board-certified dermatologist Debra Jaliman shared with Healthline that exfoliating before applying moisturizer can be good too. "This helps to take off the dead skin on the face so that the moisturizer penetrates into your skin," she explained. You might want to go easy on exfoliation, however, as it's not recommended as a daily skincare practice. Two to three times a week is best. 
Take a pea-sized amount of the moisturizer, apply it on your face and neck, and massage it into the skin in circular movements with your fingertips. It's important to be gentle with the process. One more important tip — always use a moisturizer with SPF, and your skin will thank you.