Always Use A Moisturizer With SPF And Your Skin Will Thank You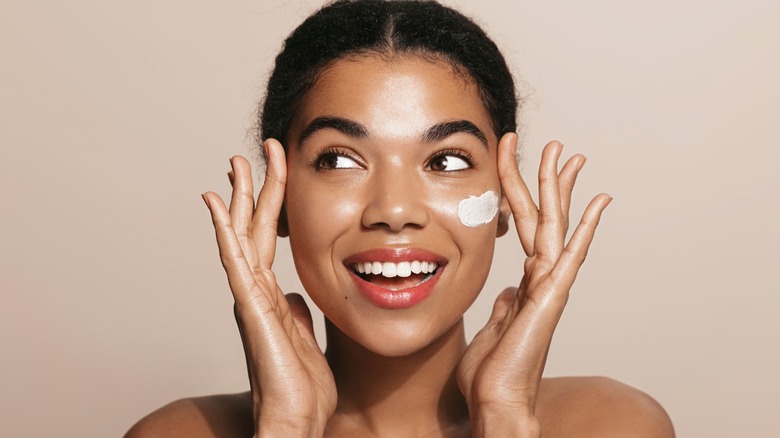 Lyubov Levitskaya/Shutterstock
We may receive a commission on purchases made from links.
We already know how important SPF is in our daily lives. According to the Skin Cancer Foundation, once you reach six months of age, you should apply sunscreen daily, regardless of your time spent outdoors (even if you are inside all day long, you still need SPF) or the season you are in. In addition to sunscreen, we should apply moisturizer daily to ensure our skin stays healthy, hydrated, and firm. According to The University of Tennessee Medical Center, using the right moisturizer — you'll want one that has vitamins A and B5 as well as vitamins C and E — can help us look younger and fight skin damage.
But what about moisturizers that include SPF in them? Some of your favorite moisturizing products may already have a certain amount of SPF in them, but is this what you want, or should you use the two products separately? Here's why using one product will have your skin looking better than ever.
Why SPF in moisturizer is so important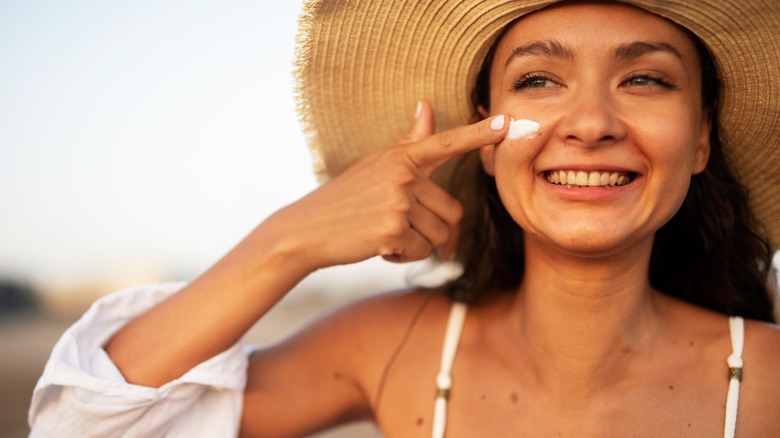 Pepper cinema/Shutterstock
According to board-certified dermatologist Dr. Tiffany Libby, moisturizers that already include SPF are great for our skincare routines, via Healthline. This is because any place we think to add moisturizer also needs a bit of SPF protection. Combining the two takes the work out of our routines and ensures that the two most important parts — sun protection and damage protection — are included.
When looking for the right moisturizer, UT Medical recommends one with at least SPF 15. They also recommend patting your skin dry before applying the moisturizer, as a little water on the skin will help it absorb more nicely. And while every part of our bodies can benefit from an SPF-based moisturizer, you want to make sure you don't skip your face, ears, neck, or chest, as these are the most susceptible to damage from environmental factors. If you are on the hunt for the ultimate moisturizer with SPF, here are a few of our favorites.
The best SPF moisturizers to use
There are a ton of different moisturizers out there, and finding the right one can be tricky. The first thing you need to do is understand your skin type, which can range from dry or oily to normal or combination, per the American Academy of Dermatology Association. When in doubt, Jason A. Clark, MD, FAAD, a board-certified dermatologist in Atlanta, recommends a cream-based moisturizer, which is ideal for those suffering from dry skin or anyone over 50. If your skin is super oily, a gel may be best to ensure your pores aren't clogged with more product.
If you are looking for the best of the best, consider Amazon's top-selling facial cream, the EltaMD UV Clear SPF 46 Face Sunscreen. According to Healthline, this cream has a high concentration of niacinamide, which can help with everything from inflammation to skin brightening, not to mention the high levels of SPF. If you are on a budget and hoping for something you can pick up at your local CVS, you can't go wrong with the CeraVe AM Facial Moisturizing lotion. The Glo Skin mineral sunscreen is awesome for anyone with acne, and we also love the SuperGoop Unseen Sunscreen if you are looking for something that doesn't feel heavy on your skin.