The Beauty Benefits Of A Bubble Mask (Beyond The Fun Instagram Moment)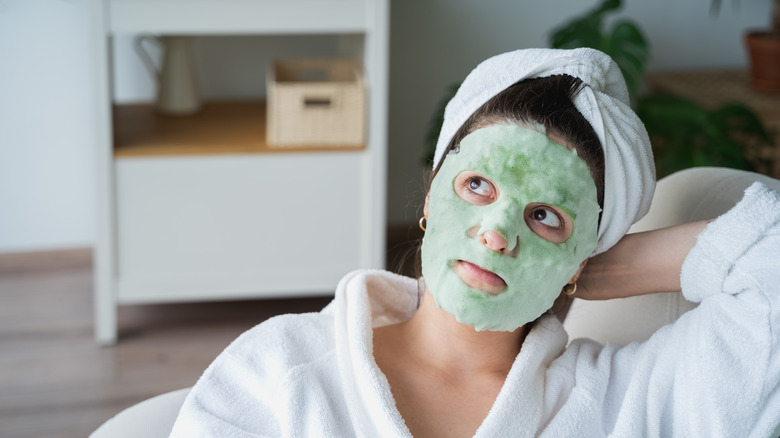 Irina Velichkina/Getty Images
We may receive a commission on purchases made from links.
Back when Instagram was more popular, skincare mainly hinged on how "Instagrammable" it was instead of whether it actually benefited our skin. Dethroning Instagram as a driving force of trends, TikTok has played a significant role in educating people on the importance of having a skincare routine and springing for products that help their skin rather than simply purchasing aesthetically pleasing items. More than ever, people are purchasing higher quality skincare.
Yet, this doesn't mean that certain skincare favorites we once cherished weren't efficient. One trend that is still a beloved item to this day is skincare masks. From the sheet masks on Amazon that were 10 for about $12 (damn you, inflation) to charcoal masks, they gave you a fun selfie and a ton of skin benefits after 15 minutes of wear. However, a forgotten skincare mask that we still love is bubble masks.
What are the benefits of bubble masks?
As the name implies, when applied, bubble masks foam after a few seconds on the skin. This results from oxygen gas that's put into the max before it's sealed away in pressurized packaging. An at-home, affordable version of oxygen facials, the popular masks started in Korean beauty. The oxygen in the mask, along with the other foaming agents, can improve blood circulation and increase collagen production in the skin.
Their best feature, however, is the deep cleansing the bubbles give to your skin. Much like how foaming face washes help remove dirt and excess oil, bubble masks can unclog pores, lightly exfoliate the skin, and reduce the amount of sebum your skin produces. As the benefits imply, bubble masks will probably work best for people with oily skin or acne looking to control their sebum production or anyone looking for gentle exfoliation. However, since they're gentle on the skin, people with dry or sensitive skin probably won't have an adverse reaction to using a bubble mask.
Shop the best bubble masks
Arguably one of the most popular bubble masks from back in the day, the Elizavecca Milky Piggy Carbonated Bubble Clay Mask uses charcoal to exfoliate and detoxify the skin. Made with green tea and lavender extract, this mask gives your pores a deep clean while soothing and softening the skin.
Great for acne-prone skin, the Nip + Fab Glycolic Acid Fix Extreme Bubble Sheet Mask utilizes glycolic acid to exfoliate dead skin cells away while charcoal extract lifts dirt and debris from the face. It also contains hyaluronic acid, hydrating and smoothing for soft, plump, moisturized skin. Made without alcohol and fragrance, this Matykos Green Tea Carbonated Bubble Mask is as refreshing as it is powerful. Green tea extract soothes inflammation and hydrates skin while reducing dirt and oil and getting rid of blackheads formed deep within the skin. It also comes with an application brush to keep the product germ-free.