The Viral Small Business Selling Denim Shorts For Bigger Thighs Will Save You From Chafing This Summer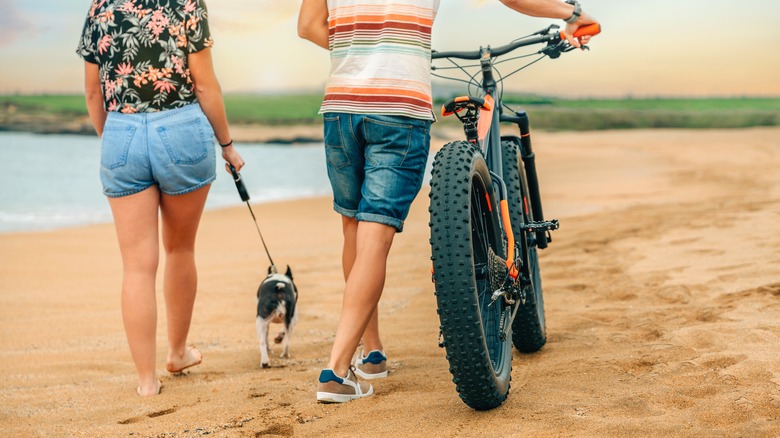 David Pereiras/Shutterstock
Jean shorts are the number one summer staple to keep in your wardrobe collection. Not only are they perfect for the warm weather, but they also have the added benefits of elongating your legs and matching everything. Biker shorts have nothing on denim shorts. In fact, when you're pressed for time and are late meeting up with your friends, all you need to do is pull out your trusty shorts and pair them with your favorite top.
The best types are made from durable denim that is made to last, fits you nicely, and with a hem that hits your thighs at the right place. But as versatile as jean shorts are, they aren't always size-inclusive. The fashion market is in desperate need of more denim cut-offs that are curvy girl friendly. Because of this, there's a science to finding the right pair that includes asking yourself if they chafe or ride up when you walk. Do they fit your hips snugly and give your thighs enough breathing room? A small business currently blowing up online is putting in the work to rectify that.
Shiny by Nature wants you to say goodbye to chafing forever
Shopping as a plus-size woman can be frustrating at times because of how limiting and sizeist the fashion industry can be, especially when it comes to the cut and fit of denim shorts. There is nothing more awkward than a waist gap that is often a signature to these bottoms, or too tight of an inseam. Luckily, a TikTok plus size style blogger and founder of the fashion brand Shiny by Nature, Alex, created the ultimate solution for chafing and shorts that ride up.
The brand has gone viral on social media because the jean shorts are catered for bigger thighs. Over on TikTok, Alex shared the vision behind her brand and detailed her struggle with finding denim shorts that were flattering without having to size up. If the constant struggle of wearing shorts or cut-offs that are suffocating or ill-fitting resonates with you, Shiny by Nature's selection of shorts might be the perfect remedy.
The anti-chafing, waist-gap-free shorts
Having thicker thighs shouldn't get in the way of you expressing yourself with your style. If your search for jean shorts without any thigh rubbing has left you empty-handed, Shiny by Nature's medium-wash denim shorts may check off all of your boxes. In other words, not only will they accentuate your butt, but they're also loose in the thighs. They're the perfect length and hit the middle of your thighs, making them easier to cuff if that's your style. Plus, it also has an elastic hidden in the waist.
On the other hand, vintage lovers may fall in love with the light-wash overall shorts, namely because the heart-shaped front pocket is so hard to resist. Luckily, for those who prefer darker denim, the overall shorts also come in a medium-wash. Shiny by Nature is truly size-inclusive, with sizes ranging from extra small to 5X. Bye-bye, awkward sizing. It's a denim match made in heaven.