Why We Can't Wait To Ditch Biker Shorts In 2022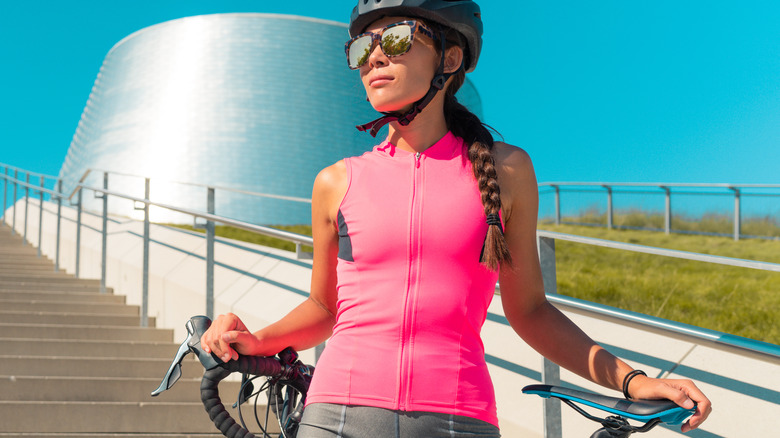 Maridav/Shutterstock
In recent springs and summers, we've all seen people wearing those awkwardly long, legging-like biker shorts. While it seems like they popped up out of nowhere, there's some history behind their evolution in fashion. According to British Vogue, the beloved late Princess Diana wore biker shorts in the '90s, which initially started drawing attention to them. Then, biker shorts were spotted in a Chanel fashion show in '91, which helped them branch out from being an athleisure item to an everyday trend.
While we were hoping that biker shorts would stay in the '90s, they became trendy again in 2020, and haven't faded out just yet. Popular retailers such as Forever 21, H&M, and Shein have all been selling them, making them an easily accessible item for trendy shoppers. This trend was everywhere in 2020 and 2021, and plenty of celebrities jumped on the bandwagon. Some celebrities spotted in bike shorts include Bella and Gigi Hadid, Kendall Jenner, and Shay Mitchell (via The Zoe Report).
While those celebrities all look beautiful no matter what they wear, we, unfortunately, can't wait for this trend to hit the decline stage in 2022. Here's why we're so excited for the end of the biker shorts trend.
We're ready to say goodbye to their awkward length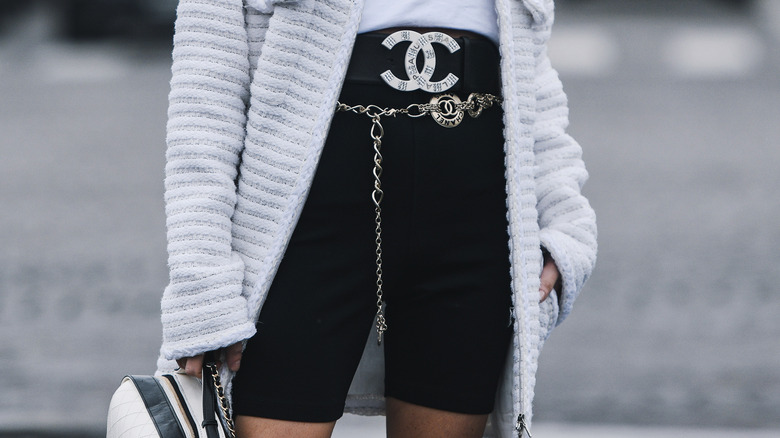 Creative Lab/Shutterstock
While we have no problem with seeing people rocking biker shorts on their bikes, we're tired of seeing them everywhere else. The main reason we don't like them is because of their awkward length. Since biker shorts have a length that stops a bit above the knee, they make legs look shorter rather than longer. As The Wall Street Journal pointed out, not everyone has long legs, so they aren't particularly flattering, especially on people with short-to-medium-length legs. Even if you're one of those lucky people with long legs, wouldn't you rather wear something that makes them even longer rather than shorter?
Also, they aren't comfortable for different types of weather. Since they're a form of shorts, they definitely wouldn't be appropriate for chilly fall or winter weather, so we typically see them in warm spring and summer weather. However, they don't seem particularly comfortable for hot summer days, as the combination of the longer-than-usual length and tight, stretchy material under the sweat-inducing sun's hot rays just seems like a recipe for discomfort. 
Comfort aside, biker shorts aren't realistic because they don't match with much besides athletic clothes. While InStyle brought up that biker shorts look good paired with some items, such as oversized T-shirts and sports bras, they're difficult to style. Since they're hard to dress up, they're not practical to wear to work, dates, parties, or restaurants, so they should be reserved for athletics only.
We want to see colorful and classic denim shorts instead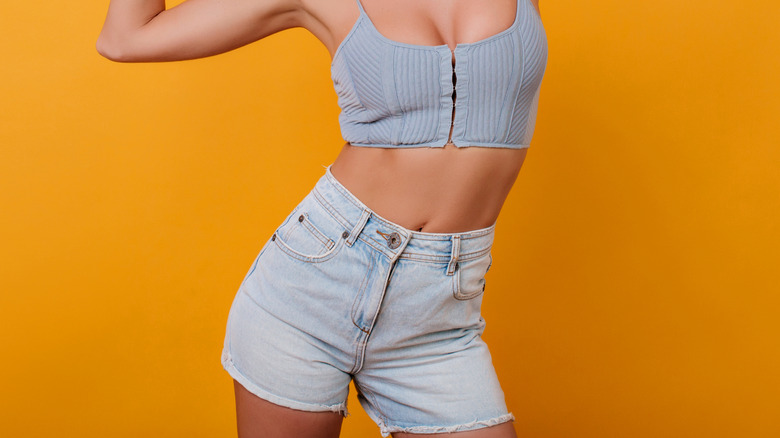 Look Studio/Shutterstock
While we may not be fans of biker shorts, we still love shorts in general. In particular, we adore colorful denim and corduroy shorts, which are fun for making a statement on a warm summer day. According to Refinery29, the color purple is a significant trend for 2022, so we're ready for purple shorts! If you're looking to buy a pair of purple shorts, Shein is currently selling an adorable pair of High Waist Solid Denim Shorts in lilac for only $17.00. If you're like the corduroy style, you should check out the lavender Cuffed Corduroy Shorts available at Forever 21.
While we're looking forward to seeing purple shorts for a bold look, we know that you can never go wrong with a classic pair of denim shorts. This summer wardrobe staple looks excellent with every top you can think of, and with successful styling, denim shorts can give off a plethora of different vibes, such as casual, brunch-ready, flirty, French-inspired, vintage, and beachy (via Byrdie). If you want to add more pairs of denim shorts to your wardrobe, the High Rise Cuffed Denim Shorts by Madewell, are available at Nordstrom right now and have a rating of 4.5 out of 5 stars. If you love rocking mom jeans, you're in luck because Zara is selling Mom Fit Roller Shorts, currently priced at $35.90.
We can't wait to ditch biker shorts and say hello to denim shorts!