Single Vs. Double-Waver Hot Tools: Which Is Right For You?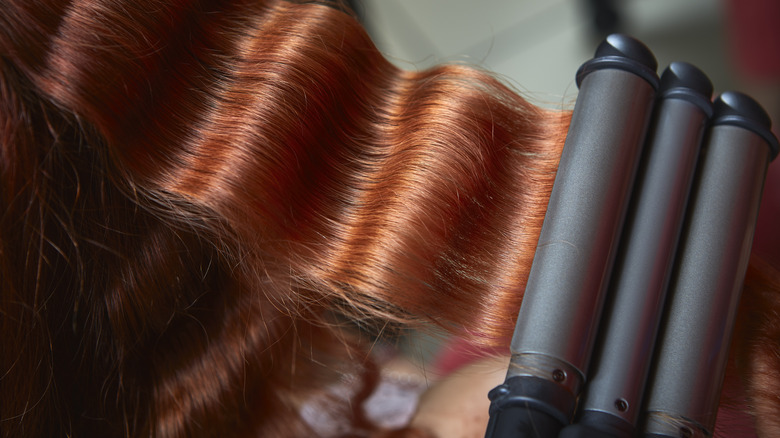 Photosebia/Shutterstock
Hair-waving tools are officially in vogue. Hair waver irons, in particular, are effective for building volume, texture, and movement. These tools are designed to help users work their hair into a mermaid or beach-style wave. With their ceramic crimping plates, they're effective and only take a few seconds to heat up.
The heating plates are typically made of ceramic, as this material produces negative ions that counteract the positive ions that are produced when your hair is heated — this helps your tresses appear shinier and with less frizz. Some models even feature ceramic barrels that are infused with oils, such as keratin, argan, and coconut — these oils nourish and protect your hair from heat damage. Choosing which tool is right for your hair can be a minefield, however, as there is an overwhelming range of choices. Let's focus our attention on single and double-waver hair tools to help you identify which one is suitable for you.
Why you should use a single-waver hair tool
A single-hair waver tool has only one ceramic crimping plate, making it look more similar to a traditional hair curler. A single waver tool allows the user to have more control and precision over each clamp-and-press stroke. A double or triple waver — although less time-consuming — can be harder to control.
Cultural ambassador for educational and hair styling product brand Sam Villa, Andrew Caruthers, gave a tutorial on a single-waver hair tool. He explained that the tool can be fairly versatile depending on how you used it. "Depending on your section size and depending on how long you leave the iron clamped you can make very, very soft natural looking waves or you can create a very defined texture in the hair," he explained for Sam Villa on YouTube.
In comparison to a double-barrel waver, the single-waver can be far more time-consuming because you will work with a smaller section of hair with each stroke. This tool also tends to leave you with smaller, tighter waves. In general, this means the single waver tool is a better option for people looking for defined, tidy waves — even if they take a little longer.
Why you should use a double-waver hair tool
A double-waver hair tool has two ceramic crimping plates that create an "S" shape. This design enables users to proceed through hair waving more quickly than a single-plated model. Thinner barrels can create tighter waves whereas bigger barrels create more flowing and relaxed waves. Even though this tool is twice as large as the single-barrel tool, it produces a similar wavy look. However, it can also be used to mimic a hair curler while working a lot faster.
The tool can be used to create defined waves by holding it in place and then moving down each strand of hair. Alternatively, it can be used in a swiping motion to create looser, freer waves.
If you're someone who loves a wavy hairstyle, it's worth trying both the single- and the double-waver tools. "Wavers will save you so much time. They're insanely faster than using a regular curling or flat iron, especially for making glam lux waves," Lindsey Olson, Sam Villa Ambassador, told Bang Style. "And yes, they are different, so don't choose one over the other, trust me, you need both!"