Here's How To Do Your Own Finger Waves At Home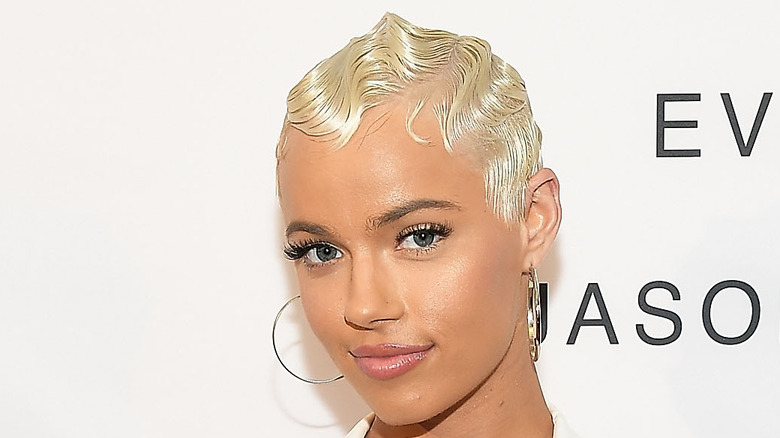 Matt Winkelmeyer/Getty Images
In the 1920s, finger waves were all the rage amongst young women but far too modern for older, more conservative adults, per Fashion. The design was meant to soften the edgy look of a short, straight bob, and it quickly became all the rage. When stars such as Josephine Baker and Bette Davis helped popularize the look, it became the iconic 'do of the decade. Missy Elliot is credited with bringing back the style in the 1990s, and to this day, finger waves are admired for their sleek, classy appearance.
If you're looking to recreate finger waves at home, the first tool you'll need is patience. It might take some time to find the right product, the right methods, and the right styling tools, but by practicing the technique, you will quickly get better at creating the style. There are two main methods of creating finger waves: with mousse, if you have very short hair, or a curling iron if you have long hair.
If you have a very short hairstyle, such as a pixie cut, mousse will be your best friend in creating finger waves. Byrdie suggests that you purchase a mousse that provides control, shine, and definition, such as the Doux Mousse Def Texture Foam. For long and short hair, you will also need a small-tooth, rat-tail comb. If you have frizz-prone hair, a hooded hair dryer could be a valuable investment.
How to use mousse or a curling iron to create finger waves
Robin L Marshall/Getty Images
TikTok influencer Britney, who goes by Lovequeenb_ on the app, demonstrates the finger waves process on short hair. She recommends using a heaping portion of mousse and combing it through the hair to ensure that every strand is coated. Once this is complete, Britney uses her comb to curve a section of her hair in a C shape. She then uses the pointer finger on her other hand to hold the hair in place while she forms another wave in the opposite direction. She repeats this process from her forehead to the base of her neck.
YouTube channel Create Beautiful Hair offers a finger waves tutorial for longer hair. In the video, she uses a curling iron to create three barrel curls on the side of the head where the waves will appear. Once the curls are pinned and have rested a while, she brushes them out and begins creating the waves with a small-tooth comb. "The comb needs to be parallel to your finger," she states. "Don't have the comb at an angle." The YouTuber combs the section into the first C shape, then clips the wave into place. She repeats this with the waves going in opposite directions, then lets the hair rest in clipped sections. When the hair can hold its own shape, she takes out the clips and replaces them with small, hide-able pins. The style is complete with a few spritzes of hairspray.