What Is A Plexigel Manicure, And How Does It Differ From Regular Gel?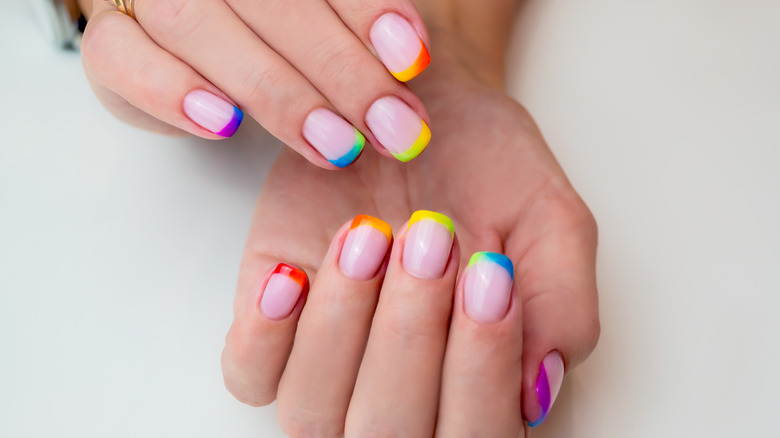 Yuliya Ufimtseva/Shutterstock
The number of options at the nail salon can be overwhelming if you're not entirely sure what you want before your appointment. There's always the choice of which design you want, and which color you want. Then, you have to decide what type of manicure you want all together.
Plexigel manicure technology from CND was developed around 2020 and started popping up at salons in 2021. If you have damaged nails, you're going to want to know what it is before getting your next manicure. Unlike other manicures, the process does not require dipping or mixing chemicals, and it looks as nice as a soft-gel manicure. When it was first created, CND Plexiglass co-founder Jan Arnold shared that it was meant to change the nail industry. "This innovation pushes the boundaries of premium service that CND stands for, giving you beautifully enhanced nails with ease," Arnold told Nails Magazine. Here is what you need to know about Plexigel.
The plexigel manicure is more durable than a gel manicure
While a Plexigel manicure looks very similar to a traditional soft-gel manicure, it is said to be more durable than gel because it's classified as "semi-hard." Like a traditional manicure, the process includes the use of a bonder, shaper, and builder. The Plexigel itself is just one step for ease of application. 
Nail artist and CND founder Julie Kandalec says that plexigel is harder than soft-gel manicures, which allows it to hold up for longer. "The system is designed to be a multi-problem solver for flat, brittle, or torn nails," Kandalec told Refinery29. "The Plexigel is a flexible yet tough coating that glides on to plump, lengthen, or repair a multitude of nail issues. It also protects the natural nail underneath the enhancement." No matter which type of manicure you end up deciding on, it's essential to take care of it over time to make sure it lasts as long as possible.
Plexigel manicures still need to be removed by a professional
Kandalec told InStyle that the plexigel manicure should last three weeks but will have to be removed by a professional at the salon, as it is a gel-based manicure. The process involves having the enhancement filed down and then soaking off the rest. "A great reminder is to never peel your nails off," Kandalec told the publication. "Peeling an enhancement off takes layers of your natural nail plate with it, which in turn makes it even harder for the next coating to adhere to the nail."
Plexigel generally takes about 20-30 minutes to remove, according to NailCrazy. On the bright side, Plexigel is much less damaging to your natural nails than acrylic nails. Kandalec shared that no damage is inflicted on the natural nail while wearing Plexigel, whereas acrylic nails may be damaging. Think about choosing the healthiest manicure for your nails before heading into the salon.