Tinted Lip Balm Is The Barely-There Lipstick Alternative That Can Gives A 'Your Lips But Better' Look
Have you ever had the urge to rock a fresh-faced cosmetic look with only a barely there lip color? Deeply pigmented lipsticks aren't exactly suitable for the subtleness you're going for, and gloss may be a bit too lustrous. Somewhere in the middle exists a lightweight alternative that is not necessarily a color, but more so a tint with just enough to give your lips a delicate hue that offers a classic look equipped for any time of day.
Known as "French-girl lips" throughout the beauty industry, this style typically excludes lip liner and is meant to offer an effortless appearance that makes it seem like you could have woken up looking like that. This is best pulled off with the help of tinted lip balm. While some may view lip balm in a makeup routine as dull, this component can bring your natural beat to life with some added advantages.
Tinted lip balm adds color and moisture to your lips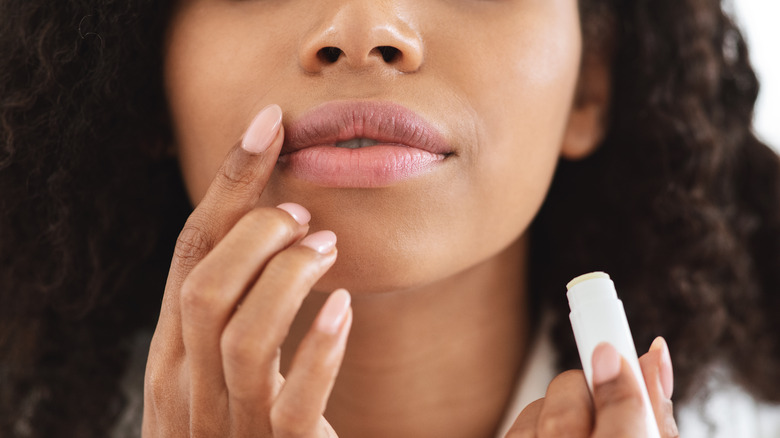 Prostock-studio/Shutterstock
For some, the cold winter months can bring about chapped, sore lips. As Cleveland Clinic points out, other serious conditions, such as dehydration, may also be the cause of cracked lips. Therefore, applying matte lipstick or even some glosses may only exacerbate the dryness. For situations such as this, tinted lip balm can be the lifesaver you're looking for.
Lip balms are created using moisturizing compounds such as petroleum jelly or shea butter that prevent water loss. Wax is then usually included to make it stick to the lips. When applied, this combination heals the thin skin quickly and adds a protective boundary to prevent further damage. Now, incorporate color into the mix, and you have beautifying qualities in addition to some much-needed pout soothing.
You can even take this nourishment a step further by applying a tinted lip balm with an SPF 20. As with regular sunscreen that you'd apply at the beach to protect yourself from the sun, lip balms with this component offer protection to your mouth region. While your lips may not be as dry in the spring and summer, utilizing SPF-packed balms can protect your lips from those bright rays.
Tinted lip balm can be worn with any makeup look
Many tinted lip balms are shades of pinks, tans, reds, and browns, as the point is to make your lips look inherently and perfectly colored without the heaviness of actual lipstick. While this is usually utilized with a more subtle aesthetic, the simplicity of this lip trend allows for pairing with any style.
Let's say you've grown tired of realistic makeup and want to rock something intense like a reverse smoky eye look. Tinted lip balm, while not available in full-color shades like its pigmented counterparts, can still offer "French-girl lips" with your semi-glam face. This can tone down the overall style, allowing your eyeshadow to be the standout in this instance. 
Whether you're familiar with the "French-girl lips" or not, tinted lip balm is certainly worth a try. With so many variations on the market, finding the best lip balm that works for you can mean a life-long addition to your cosmetic bag. Even if you don't think the lack of vibrant hues is worthwhile, you'll still walk away with moisturized lips that aren't chapped. It's a win-win.