Why You May Want To Avoid Shimmery Blush Products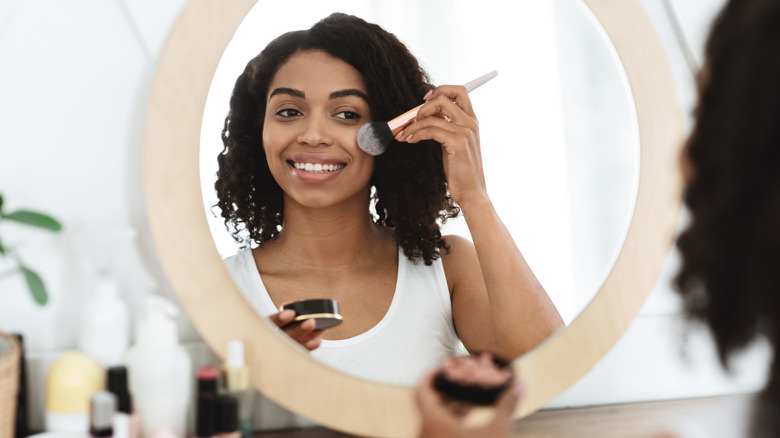 Prostock-studio/Shutterstock
Blush has only gotten more pronounced in the 2020s, with stars like Dove Cameron and Tessa Thompson carrying color to the bridges of their noses, under their eyes, and even to their foreheads. The trend's origins can at least in part be traced back to Douyin, the Chinese version of TikTok, as well as Japenese Igari makeup in the early aughts, per Teen Vogue. As celebrity makeup artist Allan Avendaño explains to Glamour, more and more people have taken their blush game up a notch post-pandemic. "I think people really missed some color in their lives," he reasons, adding, "With the pandemic, we were inside a lot. Now that we have much more freedom to go out, it adds color and brightness to the face." 
Along with this liberal application technique, the beauty world has seen a rise in unconventional blush colors — oranges, purples, and blues are all the rage. On top of that, metallic hues are having a moment. If you've been tempted by these shimmery pigments, it's important to first consider you're skin type and texture. Sometimes, sparkle can call attention to the very thing you're trying to conceal. 
Shimmery blush draws attention to fine lines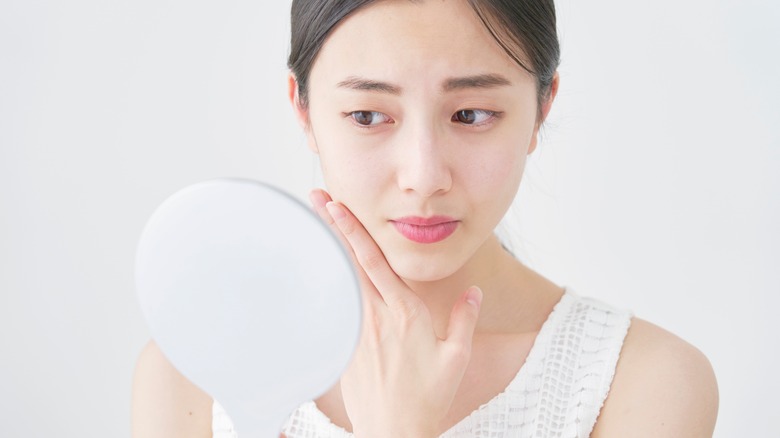 siro46/Shutterstock
Makeup artist Jenny Patinkin recommends steering clear of shimmering blush products if you're hoping to hide fine lines and wrinkles. "Those shimmery particles are heavier than the powder particles, so they sink to the bottom of fine lines and accentuate them," she explains to Self. Because the skin produces less natural oil as it ages (via MedlinePlus), you'll want a product that adds both pigment and moisture to your cheeks. Fortunately, cream blushes are dominating the market. TikTok creator Kim Laughren (aka @thehighlightedhomemaker) shows her followers how to best apply cream blush, using her fingers to place it high on her cheekbones and blending upwards with a brush. If you're going for a full rather than a lifted look, blend your go-to cream brush into the apples of your cheeks.
On the flip side, it's usually best to avoid glitter if you have oily skin. Given the excess sebum, you may find sparkles in unexpected places throughout the day. If you have textured skin, you may also notice that blushes with a shimmery finish make bumps and blemishes look more pronounced. Therefore, mix your cream brush with concealer for long-lasting color, and try not to blend with your fingers, seeing as this will only add more oil to your face.
Embrace glitter if you're going for a Euphoria glam
Still, shimmery blush products aren't always a no-go. "Blushes with shimmer bring sallow skin back to life," makeup artist Laura Mercier tells Allure. If you've had a long week in the office or haven't had the chance to enjoy the sun in a while, compensate with a glittery blush on a night out. Don't have sparkles on hand? Combine your favorite cream or liquid blush product with a highlighter, applying it generously to your cheekbones. Keep in mind that shimmery formulas will shine more brightly under overhead lighting. It's best to avoid sparkle if you're going for a more subtle look.
Along with the popularity of "Euphoria"-inspired glamor and the resurgence of Indie Sleaze have come a rise in bold makeup. From stick-on face gems to glittery Half Magic eye paint designed by the show's makeup artist, Donni Davy, Hollywood beauty teams and TikTok influencers are looking to make a splash. For starters, take inspiration from early 2010s-era Kesha, and apply a generous helping of glitter to both your cheekbones and eyelids. If it smears throughout a night of wear, don't worry — this will only add to the Indie Sleaze grunge-rock vibes.