Do You Need A Hair Toner? Here's How To Make The Right Choice For Your Locks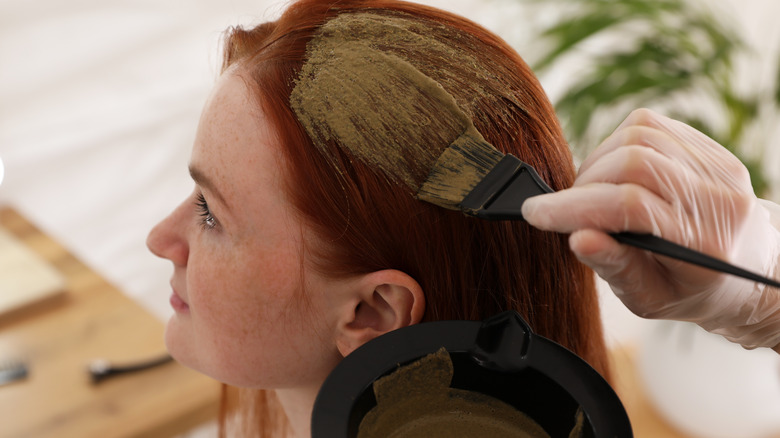 New Africa/Shutterstock
Once you enter the hair care world, finding all the right products can feel overwhelming. Beyond choosing between natural, organic, and cruelty-free shampoos and conditioners, you'll also hear that avoiding sulfates and parabens is a must. If this isn't enough to sort through, it's also important to understand your hair type to know whether you should purchase dry or oily hair products.
Adding color to the equation might be something best left to the professionals. However, seeking their advice and product recommendations is a great way to learn since they will already be familiar with your hair type. While hairdressers use toner to achieve their desired color, it also helps certain undertones become more or less visible.
Often, colors can fade over time and with every hair wash. Therefore, your hairdresser might recommend grabbing certain toning products to keep your hair's color looking natural. This allows you to keep your desired color longer. Of course, toners aren't ideal for everyone, so understanding how toners work will help you decide how to move forward.
Who benefits from using a hair toner?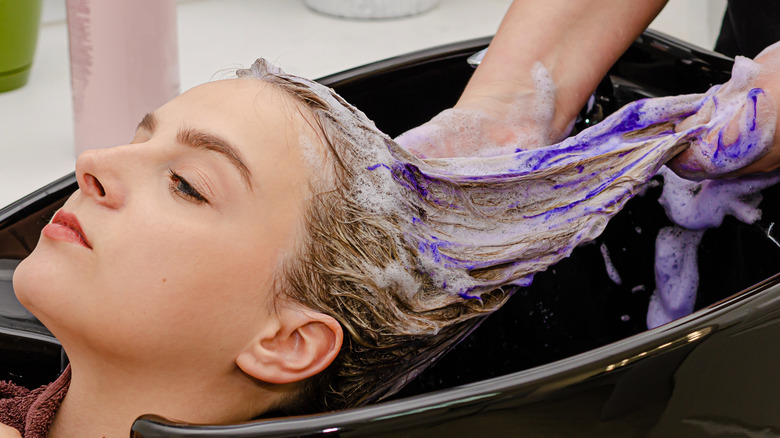 Tetiana Tychynska/Shutterstock
Hairstylist Glenn Ellis explains to Who What Wear that toner is a hair dye with some endurance but won't remain permanent forever. It adds shine to the hair while also helping people achieve a more specific color. Since finding your perfect look can take some trial and error, toner is often relied on, especially for those going lighter, since it counteracts those unwanted hues.
While toners are frequently used during your salon experience, they are also quite accessible for at-home use. One of the main purposes is to assist people in removing undertones or colors in their hair that they do not like. While blondes often reach for purple shampoo to cool down some of those brighter yellow tones, brunettes tend to need blue-toned shampoo or conditioner to remove brassy warm, and orange tones.
Since toner is a neutralizer, its purpose is to change undertones. While this can be done by reducing warmer tones, it can also mean warming up a hair color by balancing out some of those cooler tones. For example, if your cool-toned highlights aren't the vibe anymore, using a semi-permanent red, orange, or honey-toned gloss can warm up your hair and cover-up that ashy color. A hair mask is also a good option, and it's great to know what a hair mask can and cannot do for you.
Hair toner is all about personal preference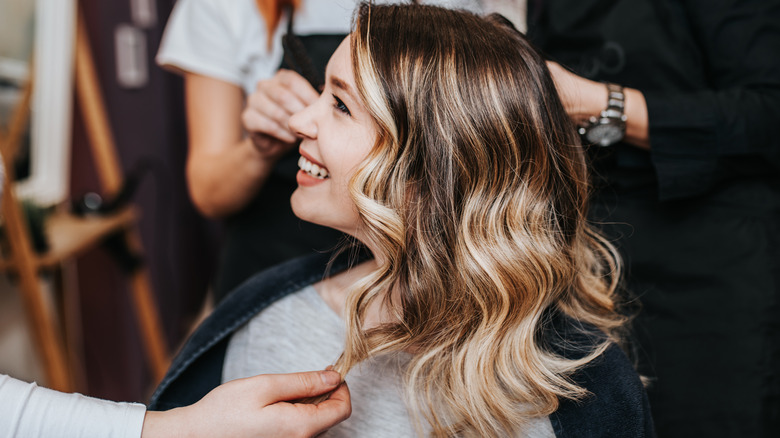 hedgehog94/Shutterstock
While your hairdresser might be using a toner without you even realizing it, it's often to achieve the color you said you desired. Things get a little trickier when you start taking matters into your own hands. Of course, it's only hair, and any mishaps can always be fixed with other products. However, the most important thing to remember when questioning if you need a hair toner is what you want the end result to look like.
If you absolutely love how warm and brassy your hair looks, there is no need to change that with a toner. If the ashy gray tone is what you're living for at the moment, then don't let others influence you. It's okay to set your own trends and make the right choice for your locks.
Ultimately, playing around with different hair colors is a form of self-expression, and uncovering the various undertones to feature can be a fun and creative experience. While toner is always recommended for bleached hair because of its unique ability to counteract those undesired undertones, the key comes from understanding the color wheel and knowing which colors should be added or removed to leave you with an end result you love.