The 'Chaotic Singles Party': The Online Creator Who Started An IRL Dating Revolution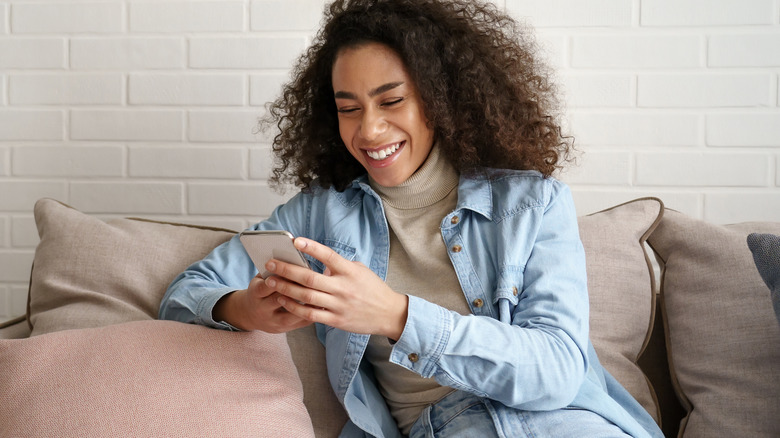 Ground Picture/Shutterstock
For anyone who is actively dating in the modern world, using an app is practically essential. According to a study conducted by Pew Research Center, a significant percentage of younger generations are using dating apps. They state that 48% of people ages 18-29 and 38% of people ages 30-39 have reportedly used these platforms. And while it is extremely common to use these apps, it's often not as common for people to enjoy them. The same study discovered that 45% of people described dating apps to have left them frustrated, while only 28% were hopeful.
If you've used the apps yourself, you probably aren't too surprised by these stats. It's a difficult space to navigate. All of your judgments are based on a virtual representation of your potential date. After examining the few photos they've uploaded and analyzing the messages they've sent, you take the risk of meeting them for an in-person date. You can get an entirely different person in real life from the one you might have expected. But, unfortunately, with this method, you have to ride out one-on-one time with them.
TikTok creator @cassidynashdavis decided she was fed up with this slow and often disappointing process. So, she created a solution to her dating app fatigue — the "chaotic singles party." And, the idea went viral.
How the 'chaotic singles party' was created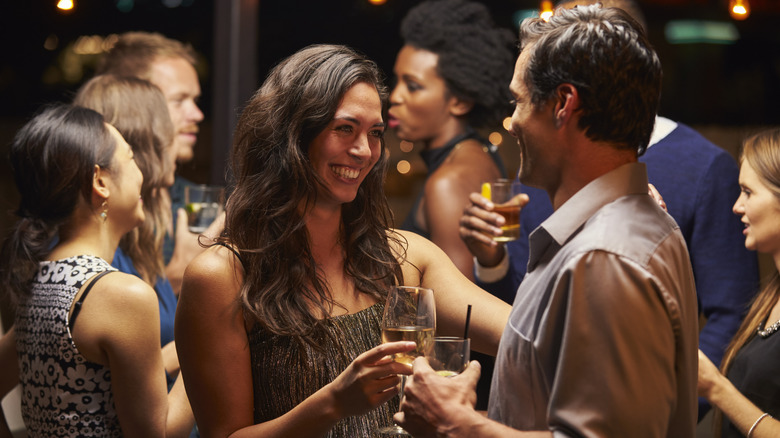 Monkeybusinessimages/ Getty Images
According to her website bio, Davis is an "actor, producer, writer, and filmmaker living in Los Angeles." In an interview with Good Morning America, she said she spent a lot of time dating various artists in the City of Angels. However, Davis revealed that dating these bachelors was far from heavenly. She became sick of dating apps and instead wanted to meet a partner IRL. Appearing on the podcast "First Round's on Me," Davis explained, "I was just like painfully single in L.A. for the last five years . . . I was tired of going on really bad dates. I was tired of really awkward first dates, the conversation going nowhere, and just being like so uncomfortable. So, I was like, 'let's make dating fun again!'"
Her quest to revive and revamp the dating scene began on Valentine's day in 2022. Davis told Good Morning America that she and her girlfriends were collectively exhausted from dating. She explained that she "was just so sick of being alone on another valentines day, so I told them all, 'let's do something crazy, let's all invite a random man on a dating app to my house for a party.'" She would have never guessed all that would follow.
How the 'chaotic singles party' became such a success
In conversation with "First Round's on Me," Davis laid out how the first "chaotic singles party" went down. She told nine of her single girlfriends to invite their best dating app matches to the party. Then, in a moment of pre-party anxiety about attendance, Davis blasted out invites to 65 of her Tinder matches. According to Davis, 40 men showed up. "The guys who came were the sweetest, coolest guys ever . . . for the most part everyone had that same energy of, like 'I'm gonna show up, and I'm gonna do this, and even though it's a little bit crazy, let's see what happens."
She documented the event and posted it on TikTok. People absolutely loved the idea, and the video, racked up 1.7 million likes, per Insider. Not only did the party give Davis a massive following, but she also told Good Morning America that she found her boyfriend there as well. Though she is no longer in the dating scene herself, Davis is continuing to plan "chaotic singles parties," with Insider reporting that she went on to host 17 others in the course of 2022 and more are hopefully on the horizon.