Does The Viral 'Skin Flooding' Hack Actually Do Anything For Your Skin?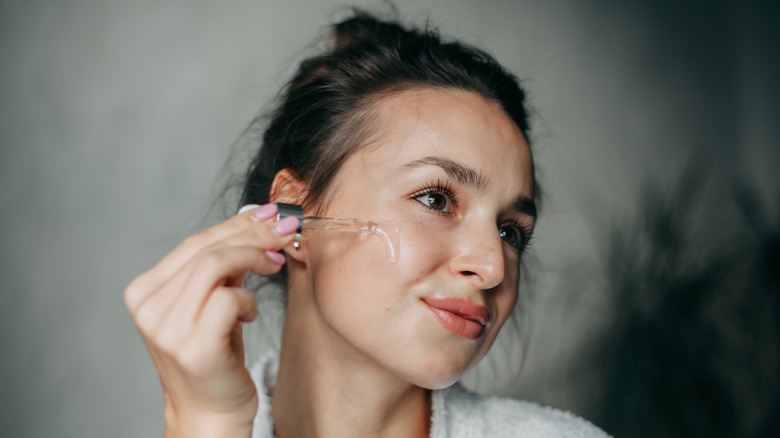 Aleksandra Shamonina/Getty Images
It seems like every week there's a new beauty trend that's going viral and can help you achieve the dewy, glass skin of your dreams. Those who struggle with dryness know how frustrating it can be to constantly apply moisturizing products, only to be left with dehydrated skin. It can seem like no matter how much product you use, it just doesn't penetrate far enough. Skin flooding is the latest trend that everyone is raving about on social media that's all about boosting hydration. Videos tagged under "skin flooding" on TikTok have garnered nearly two billion views, making it buzzworthy enough that it's quickly become one of the most popular skincare trends online. 
Skin flooding is when you carefully layer products onto your skin to trap moisture and hydrate your skin. When layering products, you need to be mindful of the order you apply the products in, as applying products incorrectly can end up doing more harm than good. Marisa Garshick, M.D., a dermatologist in New York, tells Sunday Edit, "This method is meant to 'flood' the skin with intense moisture by layering moisturizing products onto damp skin from thinnest to thickest to ensure proper penetration."
What is skin flooding?
Skin flooding is a method dermatologists have been using for years, and when done correctly poses many benefits to the skin. Alice Henshaw, founder of Skincycles, tells Real Simple, "Using hyaluronic acid and other smaller molecular serums on damp skin can help them to draw moisture in, allowing them to hydrate the skin on a deeper level." With this skincare trend, you can soothe and hydrate your dry and sensitive skin, especially during the frigid winter months.
Skin flooding can work for all skin types, including sensitive and oily skin. If you struggle with dry skin, it's best to practice skin flooding daily at nighttime, while if you have oily skin, you'll benefit most from skin flooding once a week. Those who suffer from acne should be cautious when practicing skin flooding, as combining products can sometimes lead to breakouts. Make sure that you are familiar with the products you're using and consult a dermatologist before trying the skincare trend.
How to try the viral skincare trend at home
To try the viral skin flooding trend, start off by cleaning your face with a cleanser to remove any dirt and buildup. After rinsing off the cleanser, don't completely dry off your face with a towel. Instead, leave it slightly damp. This way, you'll be able to seal in more moisture and get the most out of your products. Then, start layering your skincare products from thinnest to thickest. Finish off with your moisturizer to trap all of the moisture in place and give your skin as much hydration as possible.
If you have dry, sensitive skin, we recommend using Olay's Regenerist Micro-Sculpting Cream. It's a cult favorite, fragrance-free, and gives skin a hydrated, dewy glow. For oily skin, we recommend trying La Roche-Posay's Effaclar Mat Oil-Free Mattifying Moisturizer. This oil-free moisturizer works to reduce shine and mattifies your complexion to help tighten your skin and reduce the appearance of pores.