Hair Gloss Vs. Hair Glaze: Which Is Better For Your Hair?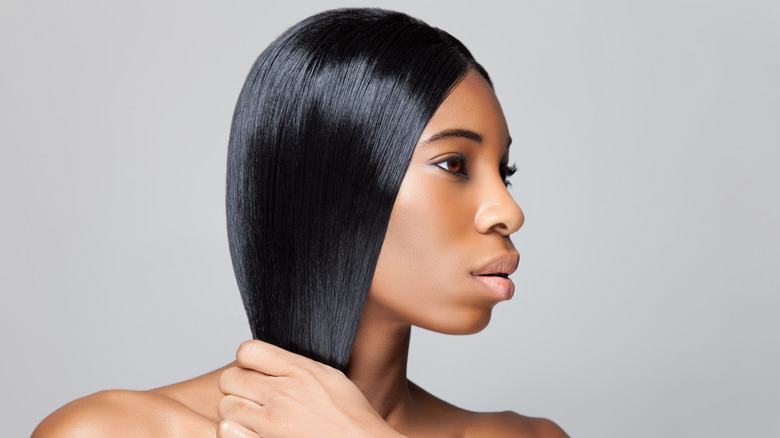 And-one/Getty Images
On our journey to perfect tresses, we encounter several interesting products along the way. Each one takes us down a different road that either promises to fix our hair woes, change our vibe, or give us the lusciously soft and shiny locks we've always dreamt of. Social media platforms like TikTok further add fuel to our passionate fire with a variety of haircare recommendations, alongside simple tips and tricks. 
We've seen everything from brownie batter hair to the jellyfish haircut, so it's only natural that our definition of the perfect tresses changes like the weather. One day we'll want to dye our hair, and the next get a pixie cut. In a world full of promising products and our neverending curiosity, it makes sense to try out as many things as possible. Two promising products that have most likely drawn your attention are hair gloss and hair glaze. 
There have been countless videos on social media demonstrating how to apply these products and showing off the mesmerizing results. When they're termed so similarly, it's easy to think both products accomplish basically the same thing. While they're both great for bringing a shine to your hair, there are a few fundamental differences between the two that you should know before you decide which one is best for you. 
What exactly is a hair gloss?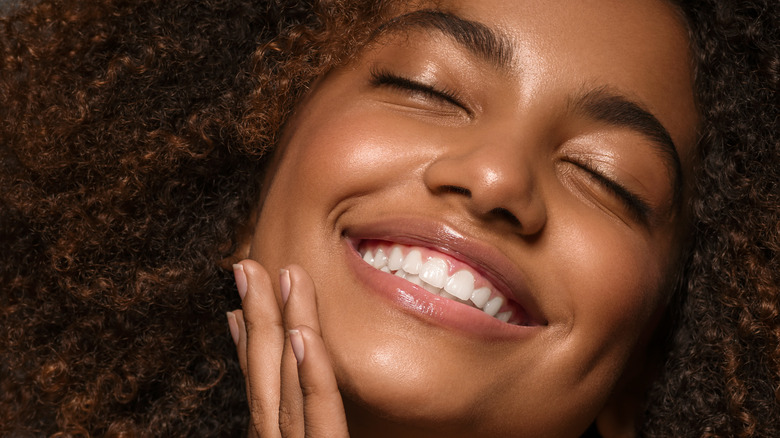 Irina Bg/Shutterstock
When we talk about hair gloss, there are two major categories that serve similar purposes. If you simply want to bring a shine to your hair, you should opt for a clear gloss treatment. But if you have colored hair and you want to keep it looking fresh and shiny, you can do so with a colored gloss treatment. This is also a fantastic option for people who want to experiment with hair color tones but don't want to commit fully. 
When she spoke to Elle, colorist Lucille Javier revealed some unique benefits of a color gloss treatment: "If you don't have much grey, there are ways to blend in your color." Likewise, Javier pointed out, "Blondes can get away with glossing their hair in different tones, even if it's just the ends. Also, if your hair is light enough, you can just deposit tone [to color correct]."
You can choose to get your hair gloss treatment done at a salon or opt for an at-home kit. Obviously, an at-home treatment will be a lot more cost-effective and less time-consuming. But a salon treatment will give you a better look overall because the gloss will be applied more evenly by a professional. Generally, though, you'll only have to refresh your hair gloss treatment every 4-6 weeks.
Should you go for a hair gloss or a hair glaze?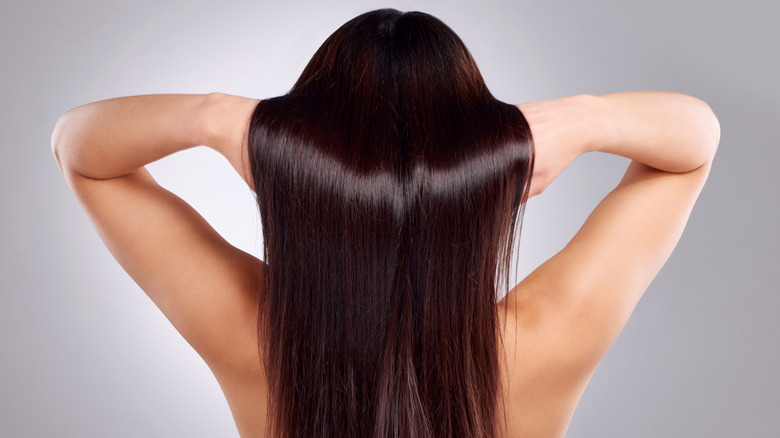 Peopleimages/Getty Images
As celebrity colorist Matt Rez explained to Mind Body Green, "A glaze is basically a semipermanent color that coats the hair shaft with shine and lasts up to a few washes." It can help you get rid of brassiness and bring a new shine to your hair in a nourishing way that won't cause much damage. Similar to a hair gloss, you can get a glaze done at home or in a salon. While they sound similar, a hair glaze produces different results.
If you're looking for a lasting shine, a hair gloss might be a better option because it digs through your hair cuticles to nourish them from the inside out. A well-applied gloss can last up to six weeks, whereas a glaze might only remain around for as little as seven days. A glaze could be a more viable option when you've got an important week. Unfortunately, a gloss's lasting look is due to chemicals like ammonia and peroxide.
Recently, there's been a lot of debate about ammonia's use in hair coloring products because of its harmful side effects. If you're looking to keep things gentle on your hair, you should definitely opt for a hair glaze. However, that lack of chemicals in a hair glaze comes at the cost of ineffectiveness, especially if you want to get rid of grey hair. In that case, you're better off going for a hair gloss.