'Nontouring' Is The Low Effort Contour Alternative You Need To Try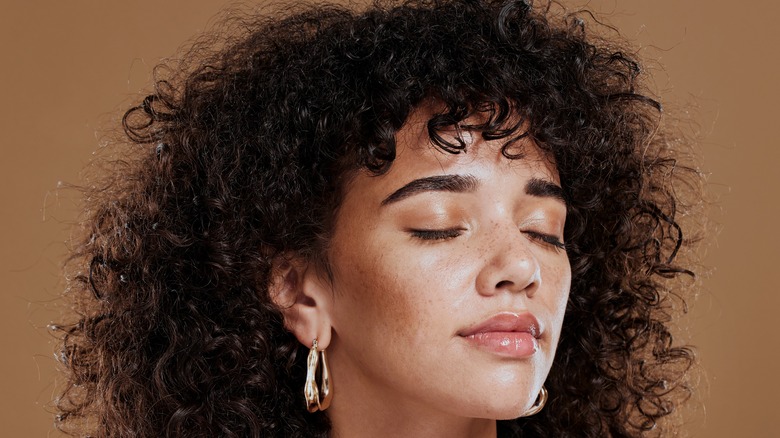 PeopleImages.com - Yuri A/Shutterstock
We all know the feeling that comes with waking up late and being rushed to get ready for the day. Perhaps it's the lazy drudge as you put on clothes or makeup for work. Luckily, low-effort looks are now officially trendy. For some, makeup brings out our most confident selves by highlighting our most striking features, and one way to use it to sharpen them is contouring. Some people contour their faces daily, using concealer under their eyes, bronzers to chisel their cheekbones, and highlighters on their high points.
While that sculpted look can be eye-catching, you may not have the time, energy, or products to contour your face. In fact, you should think twice before putting on all that makeup everyday. The build-up of makeup in your pores can clog them, leading to skin breakouts. "We all know in the long run less is more," stylist Teresa Karpinska told Vogue.
If you're looking to invest less time, effort, and product in your makeup routine, we have your back with this new trend.
What is 'nontouring?'
Have you noticed that glossy, dewy makeup looks seem to be all the rage right now? The culprit to that trend is none other than this new makeup technique: nontouring. As the opposite of contouring — in which loads of products including heavy concealers, bronzers, and highlighters are applied to one's face — nontouring focuses on using lighter products to brighten one's features. Like contouring, nontouring's goal is to make your face look more sculpted. However, the process used is totally different and achieves a more natural look. 
"Nontouring is all about the skin, where you use highlights to accentuate features of the face, thus bringing more structure to the face without using a contour product," Katie Mellinger, a celebrity makeup artist, told Byrdie.
Lovers of the nontouring trend have been around for a while, with Allure and Refinery29 catching wind of the trend back in 2016. Nonetheless, we're here to tell you that the nontouring trend is picking up even more speed. If you're a low-effort type of person when it comes to makeup, it's the next look you should try.
How to properly do the 'nontouring' trend
Through the years, the nontouring trend has seen a few different iterations, but the main point has always been a focus on the healthy, natural glow of your skin. "The key here is the skin more than the contouring. Keep the skin dewy and fresh-looking," Fiona Stiles, a makeup artist, told Allure. TikTok has given a second life to this trend, with thousands of videos appearing under the #nontouring hashtag. The dewy makeup look is beloved by Gen Z, making nontouring an ideal way for many to chisel their bone structure with as little product as possible.
The nontour look relies heavily on what you do beyond your makeup routine, and it all starts with skincare. "My favorite way to achieve a nontour look would be to prep the skin with tons of hydration and add some facial massage techniques to sculpt and contour," celebrity makeup artist Rachel Pagan told Byrdie. From there, be sure to keep natural-looking skin in mind. Apply foundation lightly — a BB cream or tinted moisturizer is best — and remember not to overdo it. After that, apply a glossy highlighter on your high points — your cheekbones, the tip of your nose, and your cupid's bow, if you're feeling it.