Who Are All Of Taylor's Children On The Bold And The Beautiful?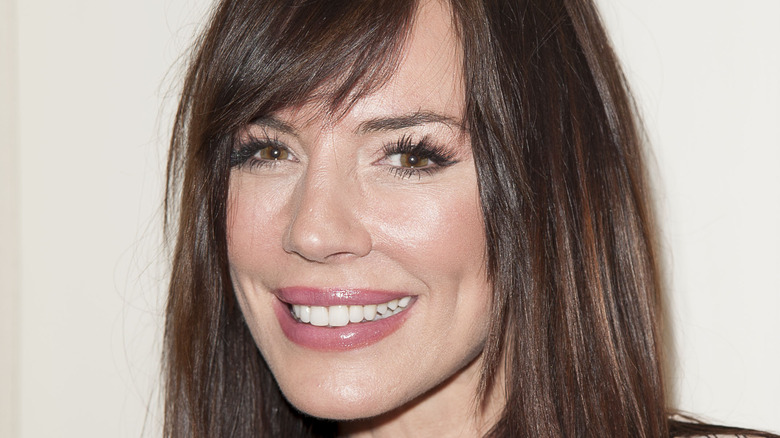 Lilly Lawrence/Getty Images
Taylor Hayes has played an integral role in the fabric of "The Bold and the Beautiful" since Hunter Tylo originated the role in 1990. Tylo played Taylor off and on for nearly 30 years before being replaced by Krista Allen in 2022. A large part of Taylor's storyline throughout the years has centered on her relationship with Ridge Forrester (Thorsten Kaye) and the love triangle between them and Brooke Logan (Katherine Kelly Lang). However, after decades of fighting with Brooke over Ridge's affection, the women turned the tables on him, choosing themselves and putting an end to the longstanding feud. 
Besides her relationship with Ridge and her profession as a therapist, viewers know Taylor as a mother willing to do anything to help her children. She fiercely protects them and her grandchildren as well, occasionally going to great lengths to do so. At one point, she shot Bill Spencer (Don Diamont) because she was under the impression he took advantage of her daughter, using her for sex during a vulnerable moment. That act is being used against her, making her susceptible to blackmail by Bill and the villainous Sheila Carter (Kimberlin Brown). 
However, Taylor has more than just one daughter, in fact, she has three other children. Some thriving, some living, some deceased, some estranged. Taylor's journey as a mother is complicated, but it wouldn't be "The Bold and the Beautiful" without high-stakes drama. 
Taylor's oldest son is Thomas Forrester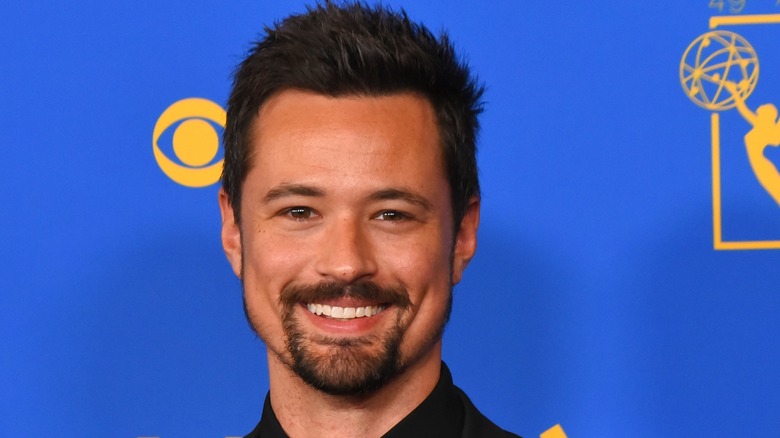 Michael Mattes/Shutterstock
Taylor Hayes' oldest son, Thomas Forrester, is a work in progress. He is unpredictable and sometimes even dangerous, and his inability to stop obsessing over Hope Logan (Annika Noelle) has caused many problems for Taylor. It seemed that Taylor and Ridge Forrester were finally destined to get married after his relationship with Brooke crashed and burned, but Thomas plotting behind the scenes ruined everything. 
Thomas faked a CPS call, framing Brooke Logan and providing Ridge with a valid reason to break off their relationship. Thomas used a voice-changing app to make himself sound like Brooke, which tricked Ridge into thinking his wife betrayed him. Thomas' son Douglas Forrester (Henry Samari) confessed everything to his aunt, Steffy Forrester (Jacqueline MacInnes Wood), right before the wedding. Taylor walked in on a tense moment, and she was tasked with an impossible decision because of Thomas. She could either confess everything to Ridge at the altar, or she could stay quiet and start her marriage on a foundation of lies. 
Ultimately, a tearful Taylor chose not to say anything, which didn't sit right with Steffy. Steffy had no choice but to speak up, outing Thomas' deceitful move. Taylor was hurt by her son, but it wasn't the first time she felt pain because of a child. The next time was even more tragic though. 
One of Taylor's twin girls, Phoebe Forrester, died in an accident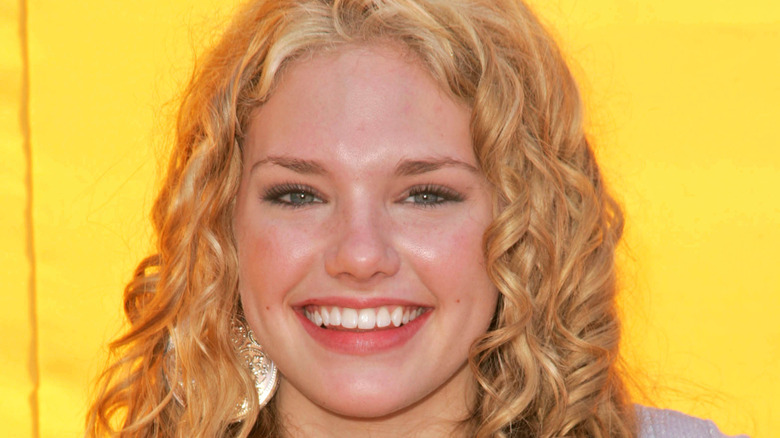 s_bukley/Shutterstock
The tale of Phoebe Forrester (MacKenzie Mauzy) is a tragic one, and one that caused Taylor Hayes immense and unimaginable pain. Once the twin girls were rapidly aged, something commonplace in daytime dramas, Phoebe shined through like a star, but her attraction to Rick Forrester (then Kyle Lowder) proved to be her downfall. She was young and in love, and she made several poor decisions that led to a moment that rocked everyone in the Forrester family to their core. 
Phoebe didn't like that Rick and Taylor had a connection and had physical moments with each other, which prompted a deadly car ride. Phoebe started escalating an argument in the vehicle with Rick, ultimately causing him to lose control, sending the car into a ravine and causing mortal injuries. Luckily, Rick found Ridge Forrester in time so he could be there during his dying daughter's final moments. 
However, Taylor thought of herself as the reason for the crash. If she had never been romantically involved with Rick, this wouldn't have happened. Somehow though, despite someone dying in this instance, what Taylor has been through with Phoebe's twin, Steffy Forrester, has been worse, and it's still causing problems in the present. Taylor's past actions are putting her daughter's family in grave danger, and there's nothing she can do about it. 
Steffy Forrester is Taylor's other twin daughter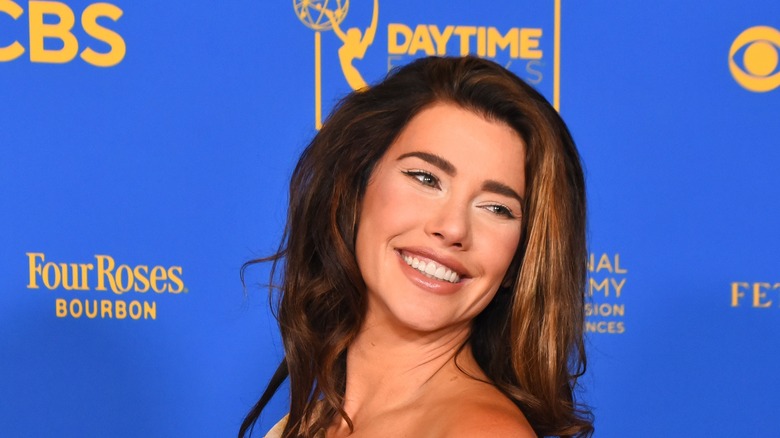 Michael Mattes/Shutterstock
Steffy Forrester is the child that Taylor Hayes spends the most time with. However, when Steffy caught her former husband, Liam Spencer (Scott Clifton), kissing Sally Spectra (Courtney Hope), she turned to her father-in-law, Bill Spencer, for support. Taylor misinterpreted the moment and took it upon herself to exact revenge for her daughter. Taylor walked into Bill's house on a dark and stormy night and shot him with his own gun, letting Liam believe for weeks that he shot his own father. 
Bill agreed not to press charges, and he stayed quiet for many years about the topic, but once he entered into a twisted relationship with Sheila Carter, the topic reared its ugly head again. In order to ensure Sheila stays out of prison for shooting Steffy and her husband, Sheila's son, Dr. Finn (Tanner Novlan), they blackmailed Steffy. If Steffy goes to the police, they will tell the cops everything about the night Taylor shot him. 
Taylor has tried to turn herself in on several occasions, but Steffy won't let her. However, it remains to be seen what the outcome will be. As of this writing, Sheila is still a free woman, her reign of terror continuing because Taylor has listened to everyone around her and elected to keep quiet about her role in Bill's shooting many years ago. 
Taylor gave up son Jack Marone after he was revealed to be biologically Brooke's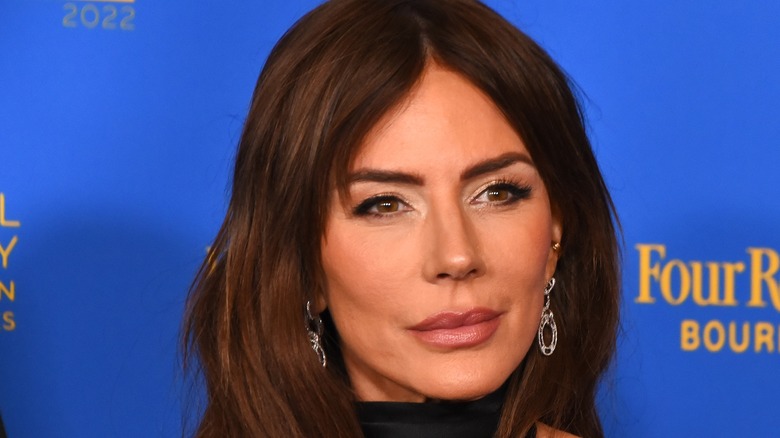 Michael Mattes/Shutterstock
Taylor Hayes has another child that's often forgotten about because of the set of bizarre circumstances surrounding their birth. Taylor was elated when she became pregnant with a child with Nick Marone (Jack Wagner). Unfortunately, what actually happened regarding the birth of this child was something out of a dark nightmare, causing a great deal of distress for Taylor, even causing her to relapse and drink heavily again. 
After a mistake in the lab, Taylor was implanted with her enemy's embryo instead of her own. The baby she was carrying actually belonged to Nick and Brooke Logan. This devastated Taylor, but there was nothing she could do about it. Despite her best efforts, she couldn't form the kind of bond required between a mother and her child. She couldn't get past the reality that the son she thought was hers belonged to Brooke instead. 
After a nasty custody battle, Taylor gave one last shot at being a mother to Jack, but it couldn't happen. Taylor withdrew herself from the picture, giving Brooke the freedom to be his mother if she chose to do so. However, Nick eventually left town, and neither he nor Jack have been seen since. Despite everything they went through, this has never been discussed during the recently blossoming friendship between Brooke and Taylor.