How New BFFs Brooke And Taylor Share A Son On The Bold And The Beautiful
Brooke Logan (Katherine Kelly Lang) and Taylor Hayes (Krista Allen) have been rivals for decades on "The Bold and the Beautiful." The root of their issues has been Ridge Forrester (Thorsten Kaye), who's been married to both women multiple times. In a move that stunned fans, Brooke and Taylor finally came to their senses recently, realizing that fighting over a man that couldn't decide who he wanted to be with was pointless, and both rejected Ridge. The two have now become best friends with the stress of battling over a man behind them — even high-fiving each other when they were finally free of him.
The competition between the women started back in the 90s when Brooke decided she wanted to be with Ridge, but he was married to Caroline Spencer (Joanna Johnson). When Caroline died from leukemia, Brooke saw this as an inroad to getting Ridge for herself. However, Brooke was married to his father at the time, so Ridge began a relationship with Taylor instead. Eventually, everyone believed that Taylor had died in a plane crash, so Ridge finally ended up in Brooke's arms. However, when Taylor returned from the dead, it was like a pinball game as Ridge bounced between her and Brooke for years, and the women's hatred for each other only grew.
Despite all their years of animosity toward one another, Brooke and Taylor share one special bond they couldn't truly appreciate when it occurred.
Taylor was shocked to find out who her egg donor was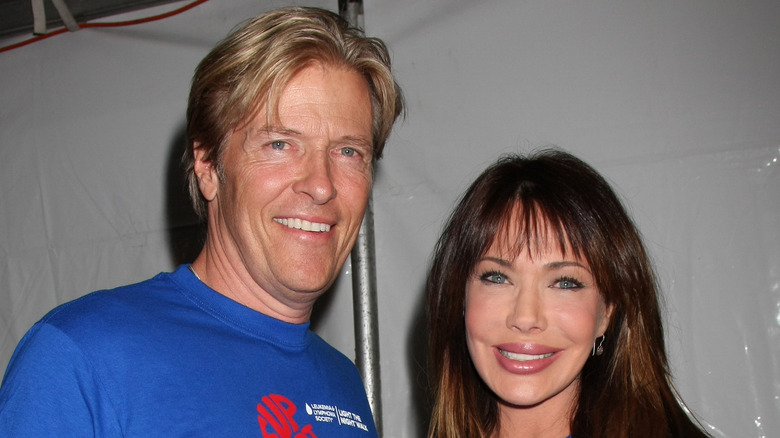 Kathy Hutchins/Shutterstock
In the mid-2000s, Taylor Hayes (then Hunter Tylo) was a psychiatrist who had counseled several people in Los Angeles, including Ridge Forrester's half-brother, Nick Marone (Jack Wagner). Eventually, the two fell in love and got married. The couple had difficulty trying to have a baby, so they agreed to try in vitro fertilization. When their son was born, they named him Jack Marone in honor of Taylor's father, Jack Hamilton. However, it was soon discovered that baby Jack had an immune deficiency that endangered his life. Only a bone marrow transplant could save the baby, and the doctors worked hard to find a viable donor. Nick wasn't a match, so they looked to Jack's maternal side.
While everyone thought the eggs for the in vitro process had come from an anonymous donor, the doctors soon learned there had been a laboratory mix-up, and Brooke Logan's eggs had been implanted in Taylor. Aghast that her bitter enemy was not only the biological mother of her baby but also the only one who could save the child, Taylor had no choice but to allow Brooke to donate her bone marrow and save Jack's life.
Taylor wanted Brooke to raise Jack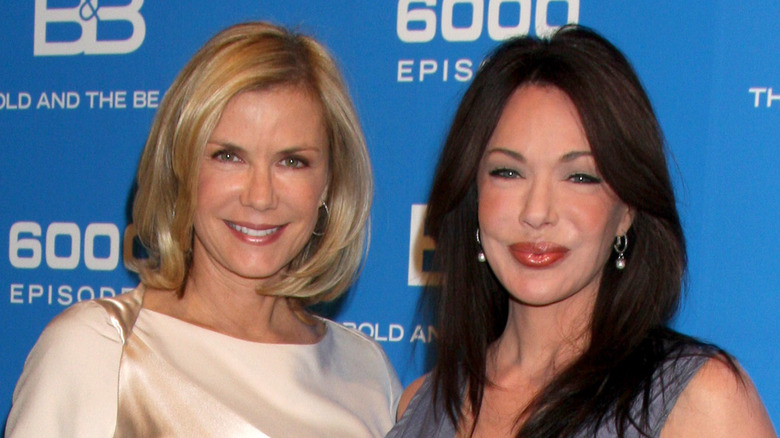 Kathy Hutchins/Shutterstock
Little Jack Marone survived and recovered from the precarious situation. As time passed, Taylor Hayes found she couldn't properly connect with Jack and became nearly inconsolable, even attending therapy herself. Nick Marone tried his best to help his wife, to no avail. Nick had previously had a relationship with Brooke Logan, and when he revealed to Taylor that he still harbored feelings for her, the couple divorced. Ultimately, Taylor decided that what was best for the baby was for Brooke to raise Jack with Nick.
Brooke's sister, Katie Logan (Heather Tom), became concerned that the revelation of Jack's maternity and Taylor's desire for the other woman to raise him would destroy Brooke's relationship with Ridge Forrester. So, Katie worked hard to get Nick back together with his previous love, Bridget Forrester (Ashley Jones) — even helping out by babysitting Jack so that Nick and Bridget could have quality time together. However, Katie soon started developing her own feelings for Nick, and the two had a brief affair resulting in a pregnancy. Sadly, Katie lost the baby, but it was too late — Bridget broke things off with Nick. After facing and defeating lung cancer, Nick took Jack and sailed away into the world.
Now that Brooke and Taylor are best friends, Soaps feels that Jack should return to the canvas as an adult to mix things up with his moms.