George, Charlotte, And Louis' Mother's Day Messages To 'Granny Diana' Will Melt Hearts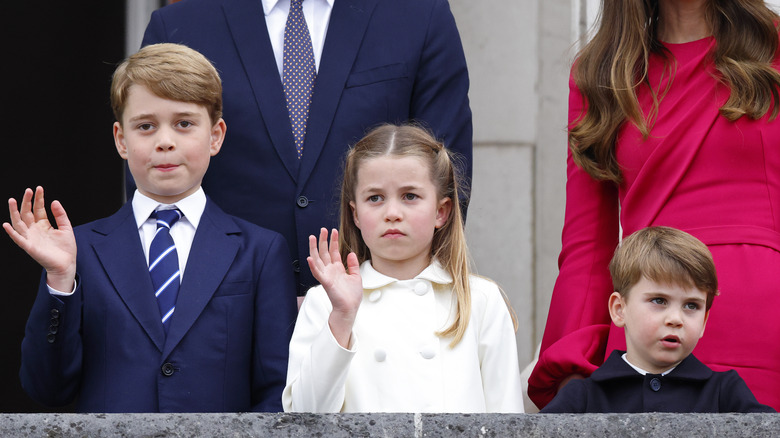 Max Mumby/indigo/Getty Images
When Princess Diana died in August 1997, she was only 36 years old. Although her life was brief, Diana managed to impact the world, culturally and otherwise. "The people's princess," as she was called, used her notoriety to advocate for important causes, such as spreading awareness of HIV. However, Diana's primary concern was raising her two sons with King Charles III, William and Harry. Tragically, they were only 15 and 12 when Diana died in a car accident. 
William, who earned the title Prince of Wales after the death of his grandmother, Queen Elizabeth II, married Catherine, Princess of Wales, in 2011. The pair now have three young children; Prince George of Wales, Princess Charlotte of Wales, and Prince Louis of Wales. In a 2017 interview with British GQ, William discussed having his own family without his mother. He said, "I would like to have had her advice. I would love her to have met Catherine and to have seen the children grow up. It makes me sad that she won't, that they will never know her."
Despite this, William and his children continue to honor his mother's memory in any way they can.
The children celebrate their late grandmother every Mother's Day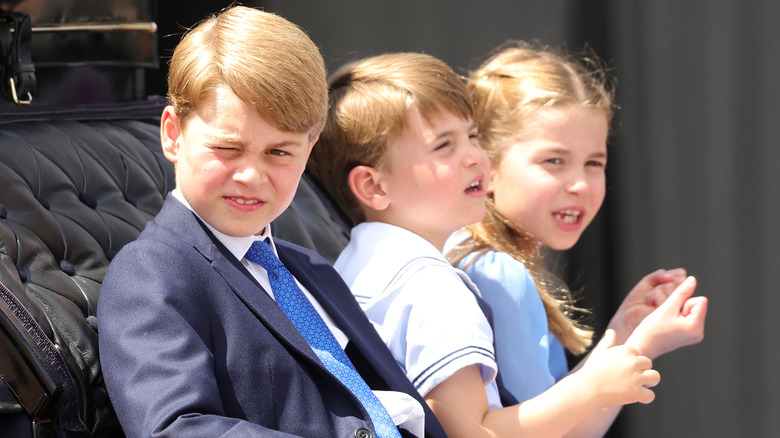 Chris Jackson/Getty Images
In March 2021, William, Prince of Wales, and Catherine, Princess of Wales, uploaded Mother's Day cards that Prince George of Wales, Princess Charlotte of Wales, and Prince Louis of Wales had made for Princess Diana on social media. The caption revealed what Diana's grandchildren call her. Per Instagram, it read, "Each year on Mother's Day, George, Charlotte, and Louis make cards remembering their Granny, Diana, for William." Instagram reports that George wrote his card on green paper and said, "Dear Granny Diana, Happy, happy mothers day. I love you very much and think of you always, Sending lots of love from George xxxxx." Charlotte's card featured a colorful heart drawn on pink paper plastered with stickers.
Charlotte wrote (via Instagram), "Dear Granny Diana I am thinking of you on Mother's Day. I love you very much. Papa is missing you. Lots of love Charlotte xxxxxxxxx." Louis was only two at the time. His card only had his name, but like Charlotte's, he drew a colorful heart and decorated the page with stickers.
Prince Harry celebrated Mother's Day that year by sending flowers to Diana's grave. She is buried at the site of her childhood home in Northamptonshire, England. Harry's son with Meghan Markle, Archie, was not even two years old at the time. The couple's daughter, Lilibet, was born in June 2021.
William talks about his mother to his children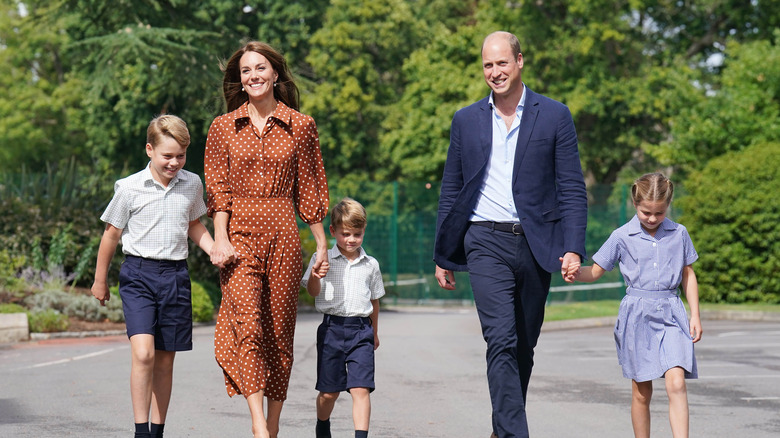 Pool/Getty Images
Although George, Charlotte, and Louis never met Princess Diana, William is ensuring they know who she is. As a tribute to her late grandmother, Charlotte's middle name is actually Diana. Likewise, Prince Harry and Meghan Markle also chose Diana as their daughter Lilibet's middle name. People reported that William revealed that he is "constantly talking about Granny Diana" with George and Charlotte (Louis was born in 2018) in a 2017 documentary titled "Diana, Our Mother: Her Life and Legacy." He said (via People), "It's hard because obviously Catherine didn't know her, so she cannot really provide that — that level of detail."
William added, "So, I do [when] regularly putting George or Charlotte to bed, talk about her and just try and remind them that there are two grandmothers, there were two grandmothers in their lives, and so it's important that they know who she was and that she existed." William noted that their home is full of photos of Diana and that his mother would have loved being a grandmother.
In 2022, William revealed his kids will follow in Princess Diana's footsteps. He told the Big Issue that he plans to expose his children to activism as his mother did for him so that they can use the voice they were given for the greater good.