What Do Princess Diana's Grandchildren Call Her?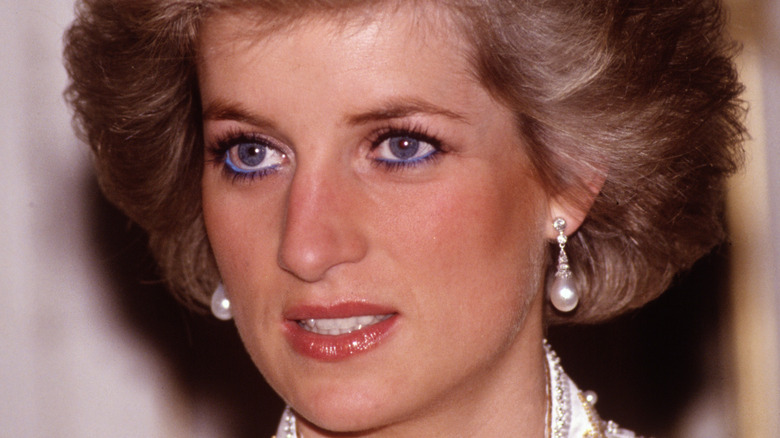 David Levenson/Getty Images
It's hard to believe that Diana, Princess of Wales, would have now been in her 60s. Her life was taken at the age of 36 back in 1997 by a horrific Paris car crash (via People). August 31, 2022, will mark the 25th anniversary of Diana's death.
Sons William and Harry were just 15 and 12 years old, respectively, at the time of their mother's death (via The U.S. Sun). At such tender ages, her loss left a gaping hole in their lives. 
The boys were pressured to grieve in the spotlight, even being made to walk behind their mother's coffin in the public funeral procession. Then they were abruptly instructed by their father, Prince Charles, to keep up with their royal duties (via Today).
It eventually led Harry to turn to alcohol to combat the pain and deal with the resulting panic attacks and anxiety. "I was willing to drink, I was willing to take drugs, I was willing to try and do the things that made me feel less like I was feeling," he said (via NBC).
Diana's sons continually honor her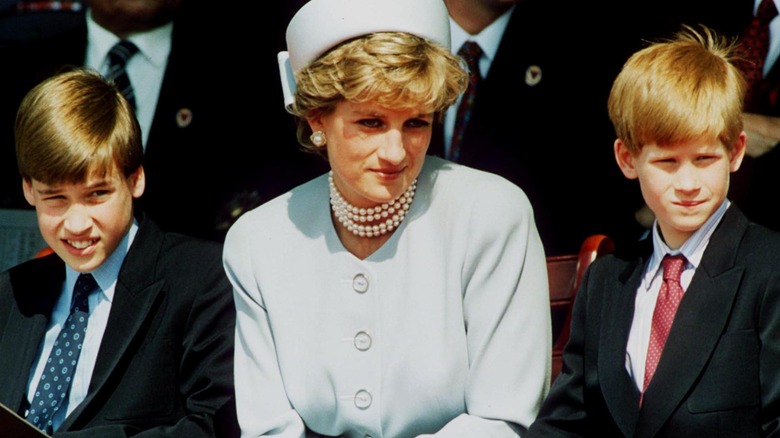 Anwar Hussein/Getty Images
Now, as grown men with families of their own, both the Duke of Cambridge and the Duke of Sussex have honored their mother over the years in different ways.
Perhaps the biggest way is their philanthropy. They both actively work with various charities, just like Princess Diana did.
Early on, Diana inspired William and Harry to devote energy to helping people experiencing homelessness. She took her sons to shelters, which made a lifelong impact on them (via Time). William is currently interested in finding ways to transform land owned by the royals into homeless shelters (via Marie Claire).
Though you may have heard of the Duke of Sussex founding the Invictus Games, an international sporting event for wounded service members, one thing you may have never known about Harry is that, like his mother, he's very involved in helping children in Africa (via Harper's Bazaar). He co-founded Sentebale, an organization that assists vulnerable children in Lesotho.
"I wanted to work with kids who had lost one or both of their parents from HIV, to better understand my mother's work and see if there was a way to keep her legacy alive in the fight against AIDS," he said (via Sentebale).
Diana's grandchildren call her 'Grandma'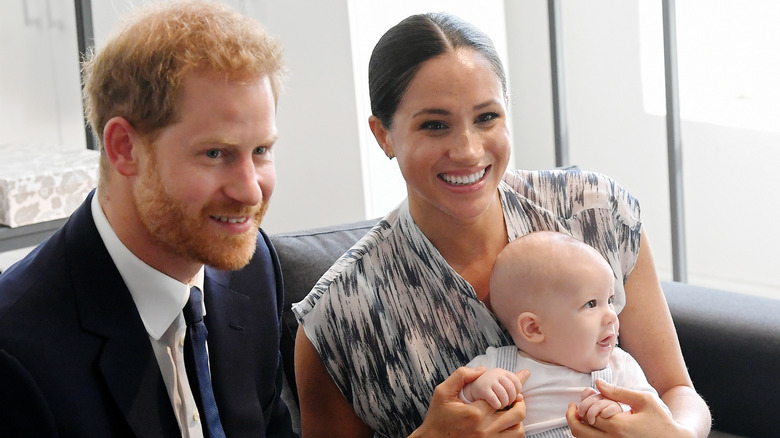 Pool/Getty Images
Another way Princess Diana's sons honor her is through their own children. Prince William and his wife, Kate Middleton, named their first-born daughter Charlotte Elizabeth Diana, after her beloved grandmother.
Similarly, Prince Harry and his wife, Meghan Markle, named their firstborn daughter Lilibet Diana, after the People's Princess (via Marie Claire). Both girls also have a nod to Queen Elizabeth in their names.
It's evident that Diana's grandchildren are being raised to know who she was. The Duke of Sussex talked about his kids with Hoda Kotb in a "Today" show interview. 
She asked him: "Do you tell them, or do you tell Archie, he's old enough, about your Mom?" He answered, "Yes, very much so. I don't tell him all the stuff that happened but certainly that this is Grandma Diana." He went on to say that he feels Diana's presence all the time and that Harry believes she's been helping him in a major way.
In "The Me You Can't See," the Apple+ series co-produced with Oprah Winfrey, Prince Harry shared that they placed a photo of Diana in Archie's nursery.
"One of the first words that he said apart from Mama, Papa was then Grandma. Grandma Diana," he said. "It's the sweetest thing. At the same time, it makes me really sad because she should be here."