How To Recreate The Viral Eras Tour Manicure From Taylor Swift's Instagram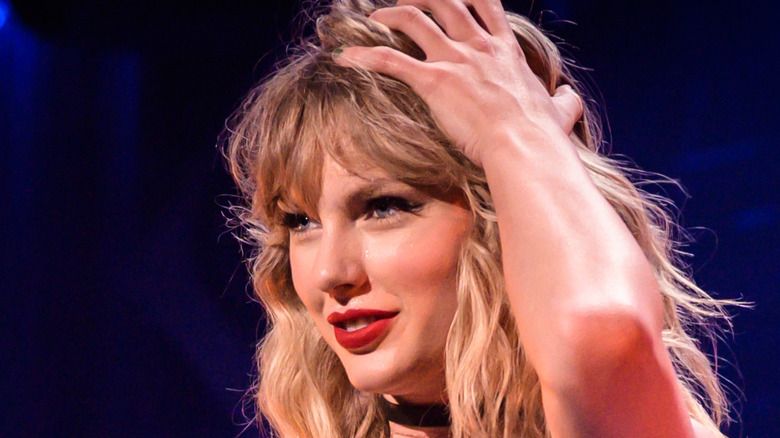 Brian Friedman/Shutterstock
It's been five years since Taylor Swift last went on tour, and the wait is finally over for Swifties as her Eras Tour kicked off in Glendale, Arizona, aka Swift City. The mayor declared it as the city's new name for March 17 and 18, the days Swift would be playing. The concert was over three hours and included a total of 16 costume changes and 44 songs total, with selections from all 10 of her albums. (If you need a cheat sheet, here's every Swift era explained.) Swift's opening night smashed a record once held by Madonna — with almost 70,000 fans in attendance, it's now the "most attended female concert in U.S. history," per Twitter.
It was clear that there would be huge crowds coming out to see Swift based on how hard it was to buy tickets. Swift ended up adding dates to the tour for a total of 52 shows in the U.S. (international dates have yet to be announced). Ticketmaster ended up crashing and glitching during the presale phase for the Eras Tour, and they ended up canceling their public sales for the tickets, per The New York Times. If you were lucky enough to get one of the much-coveted tickets for Swift's tour, you might need outfit inspo for the Eras Tour to decide what to wear based on your favorite Taylor Swift album. But you don't have to choose a favorite album for the latest Swift-approved manicure.
10 nail polish colors for the 10 Taylor Swift eras
On opening night, Taylor Swift shared eight photos from rehearsals for the Eras Tour with the caption "In my Eras era" along with a nail polish emoji. And in the final image, there's a picture of her wearing embroidered overalls and holding her hands out, with each nail painted a different color. "This is reminding us that every era has a color," said one fan on TikTok who broke down Swift's manicure. It's a simple enough design — 10 colors for each Swift era. The colors go in order of the era/album, starting with the left pinky, so when you hold your hands up, you can see the album progression from left to right. If you want to do it yourself, make sure you've got the pattern down.
On the left hand, it starts with a bright mint green on the left pinky for "Taylor Swift," followed by a glittery gold for "Fearless," purple for "Speak Now," bright red for "Red," and turquoise on the thumb for "1989." Over to the right hand, black nail polish on the thumb represents "Reputation," bubblegum pink for "Lover" (more on that one later), a pale lavender gray for "Folklore," nude/cream color for "evermore," and then on the right pinky, a sparkly blue for "Midnights."
The Lovers fingernail might be an Easter egg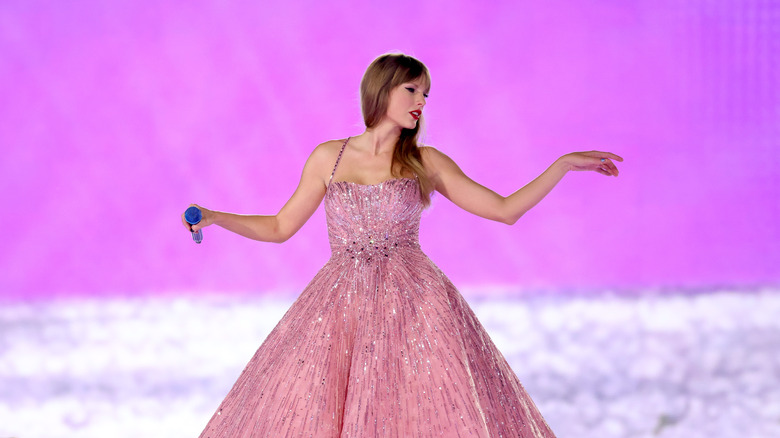 John Shearer/Getty Images
It's a look that you can replicate if you're going to the show, or if you missed out on tickets, you can wear them to let other Swifties know that you're a fan. What makes it an easy-to-achieve at-home look is that there isn't really a lot of detail to it beyond making sure you have the right colors. The only embellishments on any of her fingernails are the two little hearts on her right index finger — they're pink and blue, which match the colors of the vinyl records in the Target exclusive vinyl release of "Lover."
And if there's one thing we know about Taylor Swift, it's that she loves her Easter egg moments. One TikTok theory about why there are two hearts on the "Lover" nail is that she'll be dropping another unreleased track from the era. According to Variety, she's already released one new song from that time, so could it be that her nails are telling us to expect another one? She's done it before — Swift shared a picture of her nails with seven stars on them for her "Midnights" release, per Nailpro. Then the "Midnights (3 am edition)" included seven additional songs on it, as reported by People.
But if you were hoping to go all in on Swift's latest Instagram look, there's some disappointing news — the Free People overalls she was wearing, complete with embroidered roses and cats, are currently sold out.