'90s Supermodel Nails Are A Minimal Manicure Lovers' Dream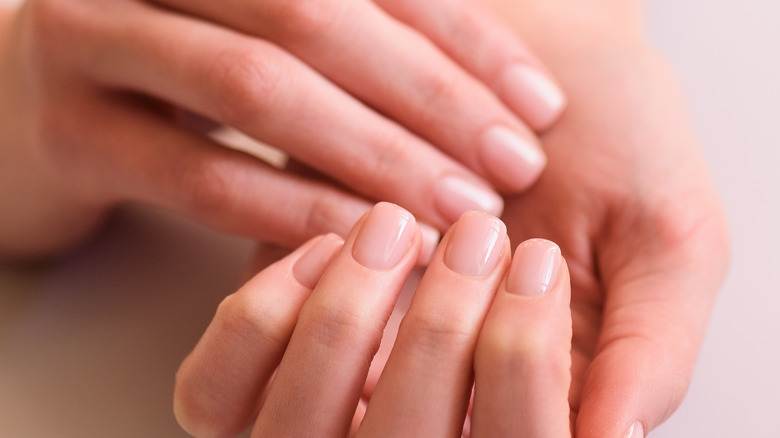 Levchenko Irina/Shutterstock
The '90s are making a comeback in more ways than one, and people are breathing life back into old trends that many thought were long gone. From the iconic '90s blowout hairstyle to plaid outfits like Cher's signature yellow plaid look from "Clueless," this era of fashion isn't going anywhere anytime soon. It's also one we'll be seeing a lot more of this season.
In that same throwback vein, the '90s supermodel nails are all about embracing a minimal and neutral aesthetic that conveys a less-is-more vibe. Nail color trends are shifting from bold, bright, and vibrant to muted and clean blends that have an elegant, classy look. We're stepping away from the shiny glazed donut trend and statement nails to embrace the simple, classic, and timeless styles that still look good today. Much like the vanilla girl aesthetic, this trend leans into soft, neutral, creamy colors without the shine and with a bigger emphasis on pink. 
'90s supermodel nails were all over the oscar's red carpet
This trend has been around for years but was recently reignited on the red carpet of the 2023 Oscars, with celebrities like Kate Hudson, Mindy Kaling, Ana de Armas, and Florence Pugh rocking the simple style. The look was created by nail stylist Tom Bachik, who showed off the glossy manicure on Nicola Peltz Beckham. To create this iconic look, he combined Bio Seaweed Gel, The Gel Bottle Inc, and Essie to achieve a neutral soft pink color. 
The subtle color is eye-catching and will go with just about any outfit you put together. Oval and almond-shaped nails suit this trend the best, but you can rock this mani with any shape of your choice. This nail look was designed to look soft, luxurious, and clean — giving an effortless gloss and shine to your nails that's easy to achieve at the salon or at home.
How to achieve '90s supermodel nails at the salon
Per Byrdie, light pink colors with a more neutral and soft look to them are perfect for this aesthetic. You'll want to avoid colors that are too beige-based or pink, as they'll be too vibrant. When going to your salon, bring in a few inspo pictures from Pinterest to show your technician exactly what you want to achieve. There are a variety of colors you can combine and mix together to create the shade of your dreams. 
According to one TikToker, to achieve the perfect '90s supermodel nail at the salon, ask for one coat of OPI's Baby Take a Vow and one coat of Bare My Soul on top. Another TikToker, Renee Rodriguez, recommends combining two coats of Love is in The Bare and one coat of Put it in Neutral from OPI. If you're not sure which colors to blend, ask your technician what colors they recommend for this simple, classic style.