Pants With Built-In Visible Thongs Are The Newest Trend - But Will It Last?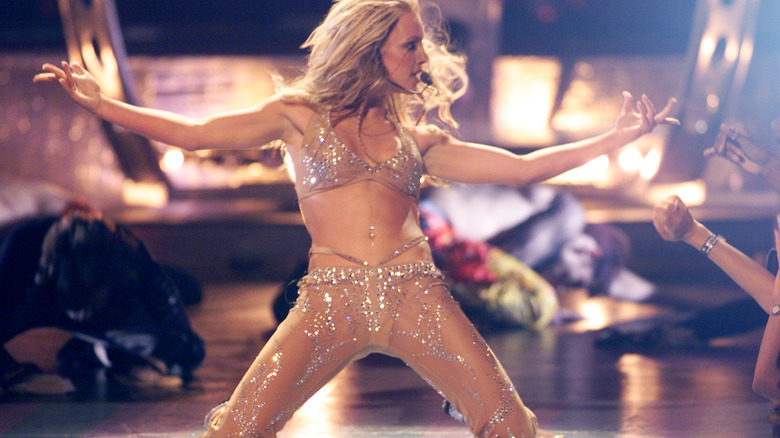 Scott Gries/Getty Images
An early 2000s trend made popular by the "It" girls of the Juicy Couture era, such as Paris Hilton and Britney Spears, has made its way back around. This time, brands have found a way to tweak this risque sensation making it a tad bit more efficient, but is it here to stay? Judging by its current fashion presence, it just might be.
If you haven't realized which trend we're referring to, it's the adored visible thong fad or the "whale tail" as it is commonly referred to. The look is fairly easy to pull off. Its early rendition only consisted of rocking a pair of dangerously low jeans with your thong pulled up high enough for it to be revealed above the jeans. However, in its new reimagining, brands are actually building custom thongs into the pants. Alexander Wang is one of the high-fashion houses leading the craze, with several options. The Crystal Thong Pant In Silk Charmeuse offers an elastic waist for a relaxed look but includes an attached exposed thong with the rhinestone-encrusted logo. For a denim look, the Low-Rise Bikini Layer Jean In Denim consists of a matching black bedazzled thong attached to the low-cut jeans. Needless to say, designers see the value in this refurbished craze, and they may be on to something.
How to rock the built-in whale tail?
Since this look is filled with nostalgia, you can style these visible thong pants in several different ways. In 2020, Kendall Jenner was spotted in a pair of pink I Am Gia's Violet Pants. The slim-fit bottoms offer a slight flare and rhinestones around the waist and on the attached thong. Jenner paired it with the matching I Am Gia Violet Top, a long sleeve-cropped shirt with a plunging neckline and straps that sit on the belly right above the thong.
If co-ords aren't your thing, there are several other ways to spice up this look. You can dare to go bare in a bralette, showing some skin up top to accompany your sassy lower look. Meshki styled its CALLIE Faux Leather Cut Out Side Straight Leg Pant with a plain black cropped bralette for extra stomach exposure that accentuates the built-in leather undergarment, giving off serious Christina Aguilera vibes during her "Dirrty" era.
This look can be recreated at home
The beauty of the exposed underwear look is its simplicity. Just about anyone who owns a pair of jeans and a g-string can make this piece work for them. Sewing the seat of the pants to the back of the panties can certainly keep them in place if you intend to wear that style regularly. However, whipping out the sewing machine may be unnecessary if you want to swap out the thong multiple times for different colors or patterns to add some variety to the look. Simply throw on a unique thong each time you rock your favorite trousers.
If you don't have the budget to drop $400 on the Alexander Wang version, have no fear. Sandra Rose, who currently serves as VP of merchandising and brand at Journelle, told WhoWhatWear that high-waisted thongs are becoming increasingly more popular among underwear shoppers. This works well with the trend even if your jean collection lacks low cuts. The straps of this thong style creep up high on the waistline, being visible with just about any pair of jeans, with the exception of those that are also high-waisted.
How long will the built-in pants be around? That's hard to say, for sure. But what is certain is this look adds a splash of character to pants everywhere. Don't be afraid to try your hand at this iconic look during your next girl's night out.