The Voluminous 'Supermodel Bob' Is The '90s Hair Trend Taking Over Right Now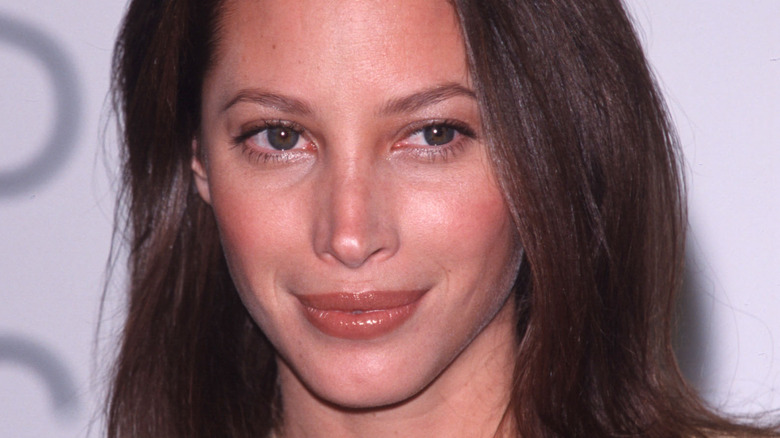 Evan Agostini/Getty Images
The trendy bob is all the buzz in 2023, and certain cuts — including the bixie, the cropped bob, and the lob — can help you achieve whatever hair goals you have. When it's time for a chop, inspiration online is not lacking. Don't be overwhelmed by all the options out there, as choosing the best short hairstyle for your face can make you feel more confident than ever before. If your goal is volume, then one look from a few decades back might work better than all the rest.
A popular possibility is the '90s "supermodel bob," which Kendall Jenner has sported. She wrote on her website in 2016, "Christy Turlington's bob was a total inspiration for me, though mine's a bit longer." Turlington had posted a 1989 photo of herself with the 'do, and the iconic model has been seen wearing it many times.
Voluminous hair is practically synonymous with the '90s. It's no surprise that the decade's looks are making a comeback. Come on, did they ever really go out of style? For short hair lovers hoping to let their locks shine with a classy look, this is the style to ask for.
Feel yourself with the '90s supermodel bob
The supermodel bob of the '90s was beloved by celebs and fans alike. This haircut shows off one's face and makes volume relatively easy to achieve. Though lengths can vary, the cut tends to be between shoulder and chin-length. 
Sacheu Beauty founder Sarah Cheung posted a video tutorial of the hairstyle on YouTube in 2019. "I've always loved Christy Turlington's '90s bob," she said, noting that Kim Kardashian had also adopted the look. Cheung added, "It's so cute, it's so iconic, and it shapes your face so well. It doesn't matter what face shape you have; it just makes people look at you." In 2022, model Lori Harvey showed off her stunning locks, courtesy of celeb hairstylist Ray Christopher. "...very much 90s supermodel," he said when captioning a video of Harvey's hair. 
When deciding which route to take with a bob, London hairstylist Luke Hersheson simply told Glamour, "I think they're all great; it's just about whether you want something a bit more polished, or if you want something a bit grittier," adding, "There's no right or wrong." We agree. The best perk of the '90s supermodel bob is its ability to exaggerate the volume of your hair with a quick tussle of your fingers. If you are looking forward to a big chop to attain this refreshing '90s style, here's what you should ask for.
How to get the quintessential 'supermodel bob'
In addition to having some inspo pics on hand, be sure to keep in mind these key details for your stylist for when you get your '90s supermodel bob haircut. Ask for "textured ends" to attain as much volume as you can, with face-framing pieces hanging wispy in the front. Famous stylist Larry King uses these techniques, he shared on TikTok.
Of course, there are no rules against using products to maximize that supermodel volume once you get home with your everyday look. Apply mousse to your hair when it's wet and blow dry — preferably with a round brush — brushing outward and twisting down. "Make sure to create some tension and roll the brush for a few seconds to bring the ends inward and create that '90s look," explained Militza Yovanka in a TikTok tutorial. Hers is a longer take on the trend (one could even call it a lob), very much in keeping with other '90s model hairdos. The softly curled ends might make your hair look a little shorter, while the round brush technique increases its volume. 
No matter what voluminous look you're hoping to achieve, rest assured that the '90s supermodel bob is a great haircut to test out.