The Most Affordable Outfits Worn By Kate Middleton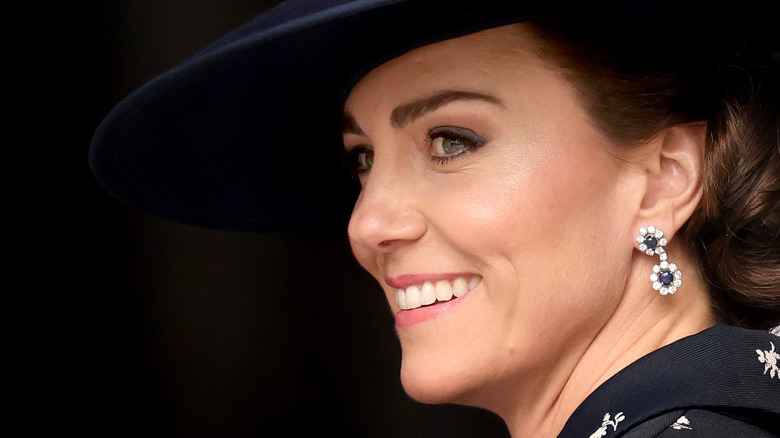 Chris Jackson/Getty Images
When we think of the royal family — and especially the royal women — the first thing that comes to mind is opulence. From the tiaras to the gorgeous gowns to the literal castles they call home, it's easy to think that everything in a royal family member's life is top of the line — especially when it comes to their clothes. Princess Catherine, who adopted the Princess of Wales title shortly after King Charles III took the throne, has often been seen as a fashion trendsetter — just a simple jacket or button-up top on her can throw a brand into a sold-out tailspin, and royal watchers everywhere comment on her clothing options whether she's stepping out in a casual pair of sneakers or is dressed to the nines for a state banquet.
Though she is often seen as a royal symbol of sophistication, Catherine hasn't always sought out the most expensive items money has to offer. Instead, she has given new meaning to the term "workwear" and has often bought clothing from popular U.K. retailers, dressing in affordable options that have then sold out almost instantly. From Gap to famed British label Topshop to even bargain online retailer ASOS, Catherine has loved stepping out in a look that can be easily replicated by those at home who love her style. She might be known for amazing gowns and incredible crowns, but Catherine has worn some great affordable outfits that are at everyone's price point.
Catherine wore an affordable dress from Zara on one of her first royal outings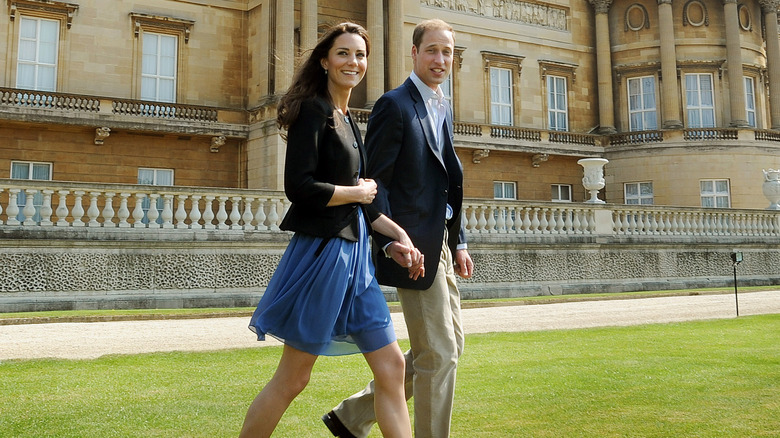 Wpa Pool/Getty Images
When Princess Catherine first came onto the scene, she was known simply as Kate Middleton, Prince William's girlfriend from college who was waiting out a proposal if it killed her — even earning the nickname "Waity Katie." When William finally popped the question, the world was thrilled to witness a royal wedding and embrace the new Duchess of Cambridge, the title she was bestowed after they tied the knot. As such, all eyes were on her wardrobe amid the wedding and appearances thereafter, and a young duchess pleased many when she stepped out in an adorable blue dress from retailer Zara (per What Kate Wore).
While on her way to her honeymoon with her new husband, Catherine wore this sweet ensemble and looked glowing — she had just gotten married, after all! Though the exact dress isn't available for purchase anymore, a dress from Zara will set you back anywhere from $50 to $100 these days, which is definitely a fair price point for anyone, let alone a duchess. Catherine was spotted in the same dress in appearances after her honeymoon, and we love that she repeated an outfit (and an affordable one, at that).
Catherine's honeymoon dress, of course, was a far cry from the Sarah Burton for Alexander McQueen wedding dress that was said to set her family back about $434,000 – not exactly an affordable option for most (if not all of us).
Her choice for this holiday appearance was appropriate and inexpensive
Nothing is more Irish than St. Patrick's Day, and you'll surely be pinched on the international day of drinking if you don't wear green. Princess Catherine certainly got the memo while ringing in the celebratory day in 2021, and during a video appearance with Prince William — who also sported a dark hue of forest green — she looked the leprechaun part in a perfectly appropriate green blazer (via YouTube). What made her choice even better was that it was wonderfully affordable — great for anyone who wants to replicate her look both on the holiday and throughout the work week.
Appearing on-camera, Catherine dazzled in a double-breasted suit jacket from Zara, in an appropriate shade of light green (per Page Six). The jacket retailed for about $90, and of course, was sold out immediately following the princess' look. Catherine also paired her festive ensemble with a gold necklace in the shape of a shamrock. She was definitely on trend.
Catherine and William definitely poked fun at one another during the video. After her husband spoke a little bit of Irish — and Catherine carried on in English — he quipped, "How come you got that easy bit?" before recalling the couple's visit to Ireland the year prior. "The warm welcome that we received everywhere was a testament to the friendship between our two countries, and the strength of the relationship between the U.K. and Ireland," Catherine said.
The duchess wore a skirt from Banana Republic that was fun and affordable
There are a few stores that really dominated the mid-2010s, and Banana Republic — the choice destination for moms everywhere — was one of them. The perfect place to get everything from cargo-style jackets to appropriate work wear, the store was — and still is — a fun but affordable go-to option. As for Princess Catherine, she sported a skirt from the retailer back in 2016 and looked incredibly put together — naturally. Pairing her Banana Republic option with a simple white blouse, Catherine balanced a geometric-inspired skirt with a bold blue and white pattern (per Popsugar). She made a statement while also choosing an option that many could replicate and afford, and we love to see it.
Catherine sported the look while visiting the Heads Together launch, a charity that aims to address mental health, alongside Prince William and Prince Harry. The event was appropriately hosted at the Queen Elizabeth Olympic Park which was built for the 2012 Games, and they greeted charity and initiative representatives on their way into the facility. And, putting her Banana Republic skirt to the test, Catherine threw on some boxing gloves while promoting the physical health and exercise portion of the charity, smiling as she threw a couple of punches — and she looked so glamorous while doing so (per YouTube). A skirt from Banana Republic costs her — and you — about $100.
Catherine's cute polka-dot dress from Topshop cost less than $100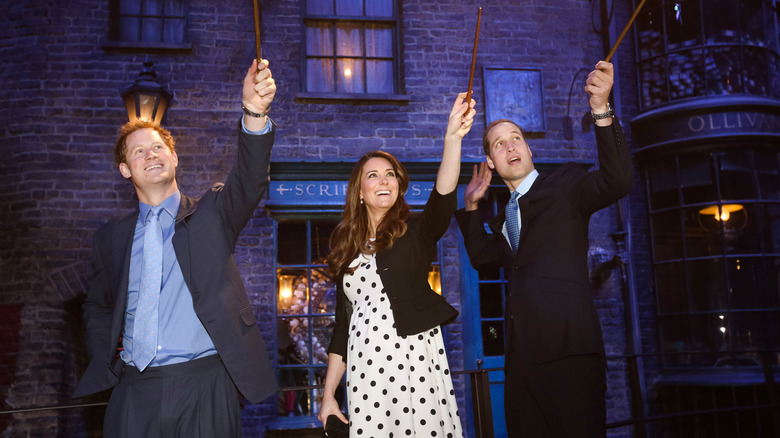 Wpa Pool/Getty Images
There are a few clothing brands out there that are known for embracing the British fashion sense of streetwear, and Topshop is absolutely one of them. The line has been around for a while now, and yet the designs continue to push the envelope on stylish looks that embrace a hint of sophistication — sounds like the perfect combination for a young royal, right? Princess Catherine has been a fan of Topshop for years now, and when she stepped out at an event while pregnant with her and Prince William's first child, Prince George, in 2013, she rocked an adorable dress from the label and had fun while doing so (per The Daily Mail).
Joining Prince William and Prince Harry at Warner Bros. in Leavesden, where they took a Harry Potter tour — it truly could not get more British — Catherine looked lovely in a white Topshop dress with black polka dots. She paired the dress (which is not a maternity-specific design, by the way) with a black jacket from Ralph Lauren and a pair of pumps (how she wore heels while pregnant we will never know), and of course, her winning smile. The dress was said to have cost about $46, and — in a surprise to literally no one — Catherine's white and black polka-dot dress was sold out on the Topshop website almost instantly after her appearance.
The duchess wore Zara during an important milestone for Queen Elizabeth II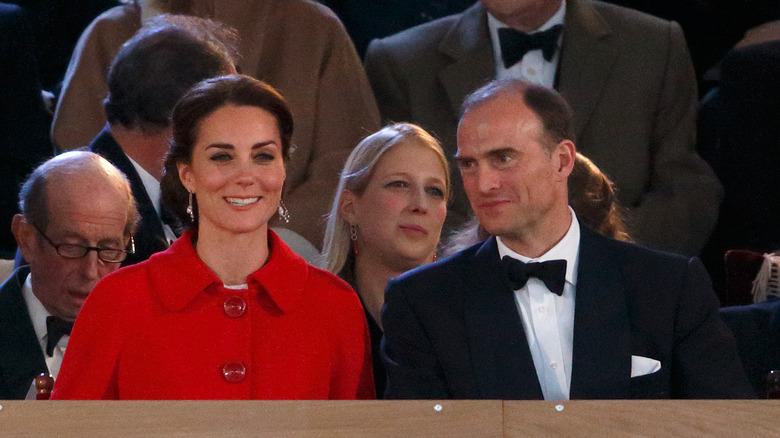 Max Mumby/indigo/Getty Images
You would think that during any event that honored the late Queen Elizabeth II, the royal family would pull out all the fashion stops to really display a sense of regal sophistication — naturally, many would assume that the price tag of any said look would be well out of their price point. However, Princess Catherine proved back in 2016 that no one needs to break the bank to look incredibly put together, and she rocked a coat from Zara while attending the queen's 90th birthday celebration (per Vogue Australia).
Catherine has long been a fan of Zara, which is headquartered in Spain, not too far away from Great Britain, and looked lovely in her choice for the celebration held at Windsor. Choosing a crimson red coat from the label, Catherine's choice in particular featured two prominent buttons on the upper lapel and a perfectly folded collar that hit right at the collarbone. Her cream lace blouse was just popping out from underneath the sleeves, and she — of course — looked radiant with her signature makeup look and her hair neatly pulled up in a bun. With her engagement ring, once belonging to Princess Diana, on full display, Catherine quickly proved that she didn't need to drop hundreds of dollars on a coat to absolutely look the royal part. Outerwear from Zara, like the coat Catherine chose, starts at about $70.
Catherine returned to her Zara roots for this affordable look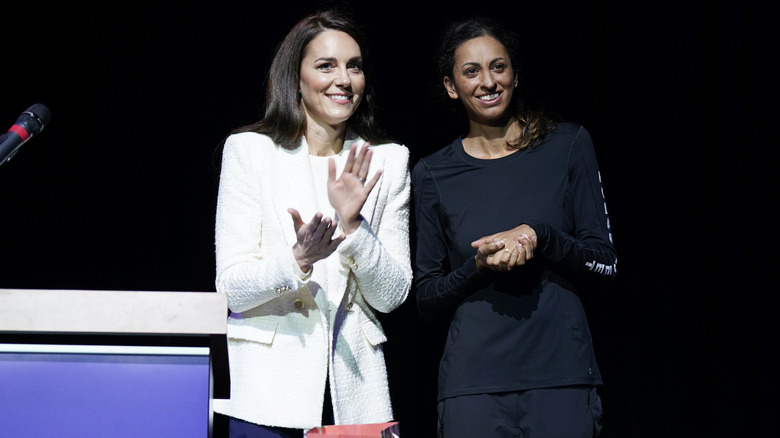 Wpa Pool/Getty Images
We truly don't think there is a look that Princess Catherine can't pull off. From her amazing evening gowns to casual shorts, she always looks effortlessly put together. Her visit to Landau Forte College Derby was no exception, and she looked chic in a white top, a pair of perfectly tailored jeans, and (gasp) sneakers. Of course, the details of the outfit needed to be accessible ASAP for anyone looking to replicate her ensemble, and it just so happens that Catherine returned once again to her Zara roots to complete the look.
While joining Captain Preet Chandi MBE at the event, Catherine capped off her casual yet chic look with a white blazer from, you guessed it, Zara (per Hello). Its textured detailing made the garment look expensive, and the gold buttons and shoulder pads gave it a sort of 1980s vibe that we absolutely loved on the princess. Pairing the look with a pair of the ever-popular Veja white sneakers, this is absolutely an appearance that's going on our outfit inspiration list.
Catherine has been seen in a number of Zara looks over the years, and while she seems to be moving away from affordable labels as she assumes the role and responsibilities of the Princess of Wales (which we'll get more into later), it's very nice knowing that she too has rocked Zara looks that many can replicate themselves. Blazers from Zara retail for about $90.
She wore maternity clothes from big brand ASOS and looked stylish while doing it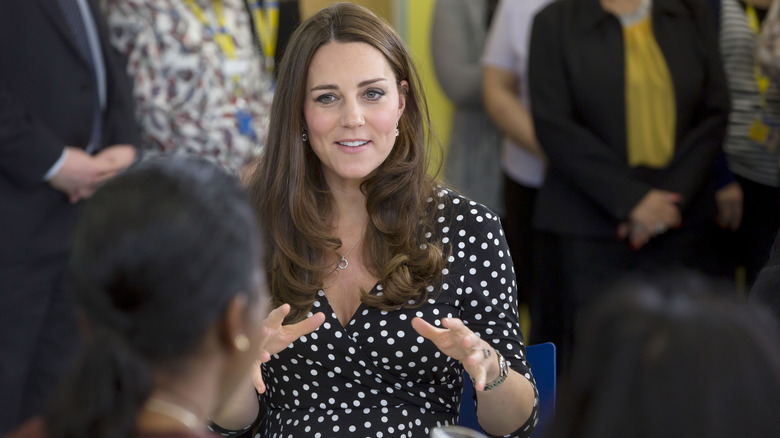 Wpa Pool/Getty Images
We actually couldn't believe it when we found out that one of Princess Catherine's cutest maternity looks came from one of the most affordable online retailers out there, but that happens to be the truth. Any fan of online shopping knows of ASOS, a powerhouse British retailer that has since reached international recognition for its cute designs and super reasonably priced garments. Though we're sure she has a fashion war chest at her disposal, Catherine seems to love a look that can be replicated by others, and while appearing at an event in 2015 — pregnant with her and Prince William's second child, Princess Charlotte — Catherine looked lovely in a black dress with white polka dots. That's right, it was from ASOS (per Grazia).
Catherine was visiting the Brookhill Children's Center on this particular outing, which seemed rather appropriate given that she was expecting! She chose the skater dress from the online retailer and paired it with simple jewelry, her watch, and black pumps, with her signature curls grazing her shoulders. The dress — naturally — sold out instantly after her appearance. We get it — not only did Catherine wear it, but it would've only set you back about $42. What's not to love about a bargain, a super cute dress, and the princess' seal of approval?
The duchess wore a Topshop dress in 2017 and her choice had a wild impact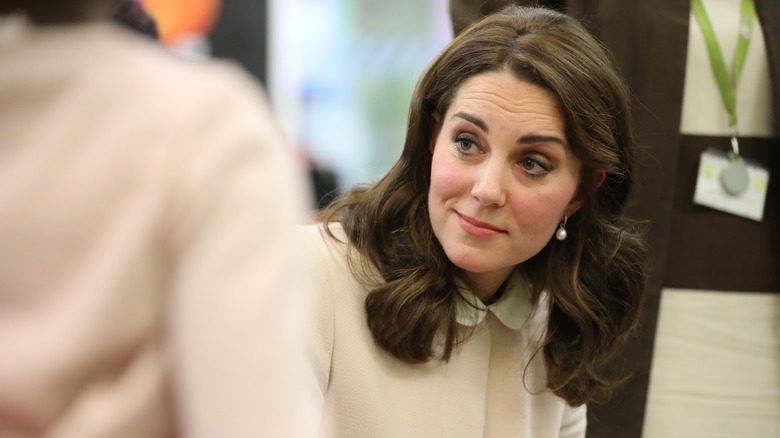 Wpa Pool/Getty Images
Princess Catherine proved in 2017 that affordability was the name of her fashion game at the time, and she chose Topshop once again while out and about in London. Specifically, she visited the Hornsey Road Children's Center and looked lovely in a neutral coat over a contrasting collared dress from the affordable label (per Kate Middleton Style). Of course, the dress — which likely set her back about $80 based on Topshop's dress prices – sold out instantly, proving once more that her power to create a trend was unstoppable.
However, this 2017 appearance marked the last time that Catherine wore Topshop — at least as of publication — and royal biographer Tom Bower estimated that the timing had to do with Prince Harry and Meghan Markle's engagement. Of course, any royal watcher will tell you that Catherine appeared to step up her fashion game once Meghan came on the scene, and has even been seen replicating some of Meghan's stylish looks, incorporating more pants into her wardrobe and more trendy moves. Coincidence? Bower doesn't think so.
"Ever since Meghan hit the scene, Kate has had to revise her game," he said of Catherine's fashion sense, noting the timing of her Topshop abandonment (per Express). "She could no longer be the docile middle-class shrinking violet. She had to appear good, she had to dress much better, have better makeup, and perform better."
Catherine wore an affordable dress by Seraphine while pregnant with Prince Louis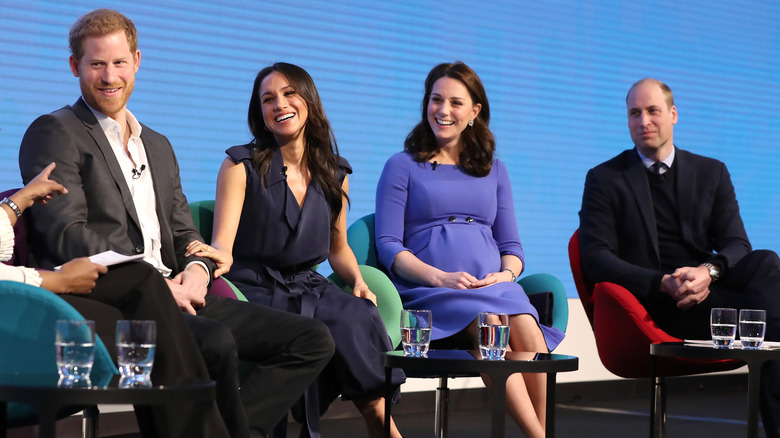 Chris Jackson/Getty Images
There's nothing more important than being comfortable while pregnant, and Princess Catherine seemed to find the balance between chic, sophisticated, comfortable, and stylish while pregnant with her and Prince William's third child, Prince Louis. While appearing at a forum alongside William, Prince Harry, and Meghan Markle — which marked the foursome's first joint appearance ahead of Meghan and Harry's 2018 wedding — Catherine looked lovely in a maternity dress from the label Seraphine, which retails for $115 (per USA Today). The retailer, of course, took advantage of Catherine's wearing of the dress and has tailored their own website to reflect her fashion choice, highlighting that one of the most popular royal family members chose their merchandise.
"This formal maternity dress is a favorite of Kate Middleton, the Duchess of Cambridge, who wore it several times throughout her third pregnancy," Seraphine details. "Cut for an elegant A-line shape and draping beautifully to the knee, this dress will take you from the office to a stylish cocktail party."
Of course, the Fab Four — as they were back then — weren't at a cocktail party but rather an event supporting the Royal Foundation. Meghan stunned in a blue Jason Wu dress, and her outfit's color palette alongside Catherine's was very pleasing. Any royal watcher will tell you, however, that the cordial relationship between the two couples wouldn't last very long.
She turned to popular brand Mango for this stylish and affordable set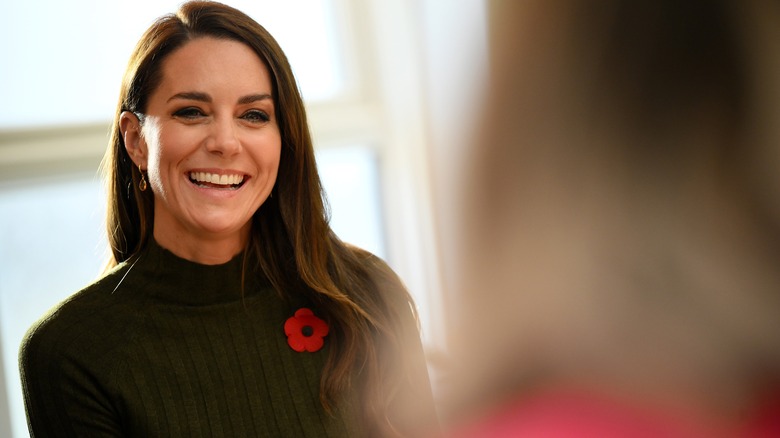 Wpa Pool/Getty Images
There's nothing more we love than a comfortable bodycon dress — the style is where trendy, fashionable, and comfortable meet, which is arguably the perfect combination. Everyone either has one or needs to have one, and what better way to know what trend to follow than by looking at Princess Catherine's wardrobe? Luckily for those who want to replicate her look to a tee, her dress option worn at the Colham Manor Children's Center is incredibly affordable, music to the ears of those who want to shop on a relatively lower budget (per Vogue).
This look of Catherine's was a perfect example of how she mixes affordable fashion with designer looks. The ribbed dress that she chose, pairing it with a chic belt, was from retailer Mango, and designs like it sell for about $80 – of course, it was sold out instantly following her appearance. On top of the dress — and certainly while outside in the chilly English air — the princess paired the dress with a Hobbs coat and a pair of heels from Gianvito Rossi (per Kate Middleton Style). However, her look just goes to show that there's absolutely nothing wrong with mixing bargain and designer, and given how effortless she looked, you would never guess that the outfit's main star cost less than $100.
Catherine looked lovely in an affordable maternity dress while visiting New York City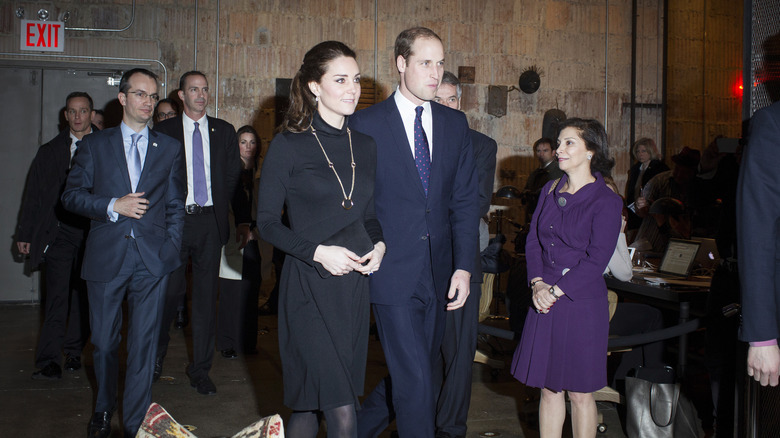 Pool/Getty Images
It's always a big deal when Prince William and Princess Catherine come to the United States, and well ahead of the couple's Boston visit where everyone was craning to see her in gorgeous green, all eyes were on Catherine when she embarked on a tour of New York City in December 2014. Pregnant with Princess Charlotte at the time, Catherine was all about finding the balance between fashion, function, and comfort, and her black turtleneck dress from Seraphine was the perfect option (per What Kate Wore). The dress features a high neckline, long sleeves, and a hemline that sits just above the knee and was a great choice for the princess — naturally, Seraphine jumped on the opportunity to tell the world that Catherine wore one of their designs, and you'll be pleased to know that it only costs $95.
"Worn by Kate Middleton, the Duchess of Cambridge, on her first official visit to New York, the Vanessa maternity dress is an elegant style for before, during, and after pregnancy," Seraphine details on its website, pointing to the soft fabric and the A-line silhouette, perfect for anyone expecting. "Featuring a curved empire waist — the Seraphine Vanessa dress is a timeless wardrobe staple," the label continues, and Catherine's impact clearly made the appeal that much stronger.
The duchess has not shied away from shopping at Gap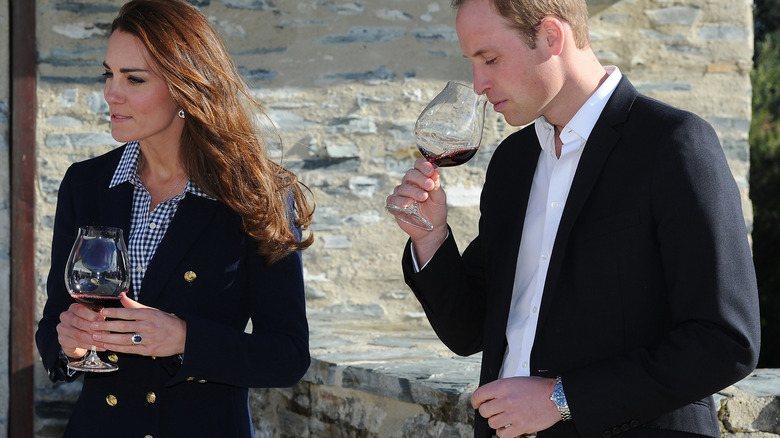 Pool/Getty Images
There's a saying out there in the world that you have to be better than Gap, and we absolutely disagree with that sentiment. There's something so incredibly timeless and approachable about the retailer, and we're not alone in our affinity for the store — Princess Catherine has been seen in clothing from Gap on multiple occasions, firmly solidifying that Gap is here to stay.
Perhaps our favorite look of Catherine's that features a garment from Gap was her appearance at the Amisfield Winery in 2014. On a three-week-long tour of New Zealand and Australia at the time, all eyes were on Catherine as she stepped out in royal fashion flare — certainly impacting trends for the foreseeable future. While at the winery, the princess wore a white and blue checked collared shirt from Gap and placed it under a chic blazer with gold button detailing (per Vogue Australia). Holding a glass of red wine and rocking just the most gorgeous smile, Catherine looked effortless and proved that you don't have to drop hundreds on a look for it to be classic, timeless, and trendy.
A collared shirt like the one that Catherine sported in New Zealand will cost you about $60, which is music to our ears.