Retinol Sunscreen Could Change Your Summer Skincare Game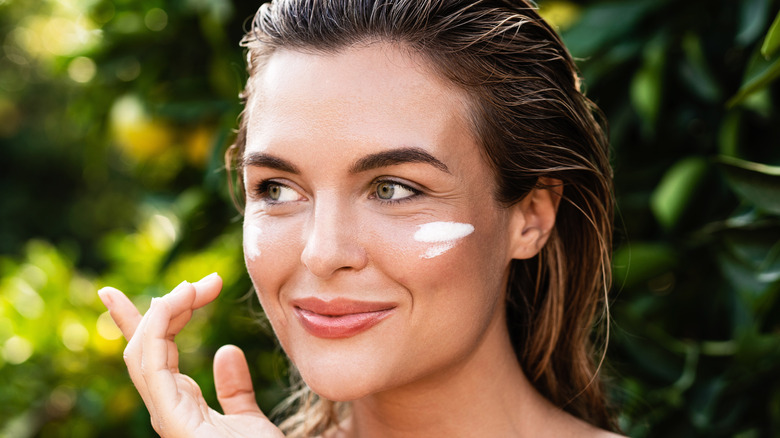 Jun/Getty Images
We may receive a commission on purchases made from links.
Is there anything better than a two-in-one duo? From mint chocolate chip, PB&J's, and skincare with niacinamide and vitamin C, some things just go better together. Sure, they're okay on their own, but why settle for simply okay? Like many skincare ingredients, retinol doesn't work well without its trusty partner, sunscreen.
When using retinol, your skin is dramatically transformed. Rough, textured skin is smoothed away, fine lines and wrinkles disappear, pigmentation fades, and the appearance of pores is banished. A derivative of Vitamin A, retinoids work to quicken up the turnover of skin cells, brightening and smoothing the face.
However, it can cause some problems, such as a destroyed skin barrier and something that dermatologists have dubbed the "retinol uglies." When first using the powerful ingredient, you'll go through a purging period where your skin may look worse than it did before. While it's only temporary, sunscreen helps make the time a bit more bearable.
What is retinol sunscreen?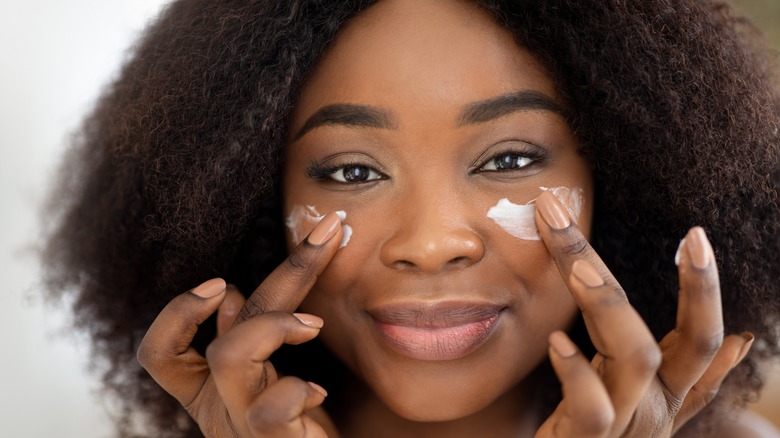 Prostock-studio/Shutterstock
As the name implies, a retinol sunscreen is a sunscreen that contains retinol, or vice versa. In order to delay signs of aging, fade hyperpigmentation, and get smooth skin, people tend to use retinol or sunscreen as the key to better skin. However, the best answer is to use both of them. Without sunscreen, retinol is rendered useless because it will only damage your skin.
Retinol works by functioning deep under the outer layer of your skin, boosting the production of collagen, and giving your skin a plump, renewed look. While it works to provide newer-looking skin, sunscreen is necessary to maintain it. It blocks UV rays from darkening pigmentation, causing fine lines, and burning your new, sensitive skin cells. The two work in tandem, simultaneously undoing and preventing years of aging and uneven texture and discoloration.
As summer approaches, using a retinol sunscreen is the best way to stay protected while bettering your skin. If you tend to wear retinol at night but forget to apply your SPF when you wake up, this product will ensure that all your bases are covered. For people hesitant to begin a retinoid in the summer, retinol sunscreen can give them some peace of mind. Thanks to the humidity in the warmer months, your skin's natural moisture works well with retinol, too.
Shop the best retinol sunscreens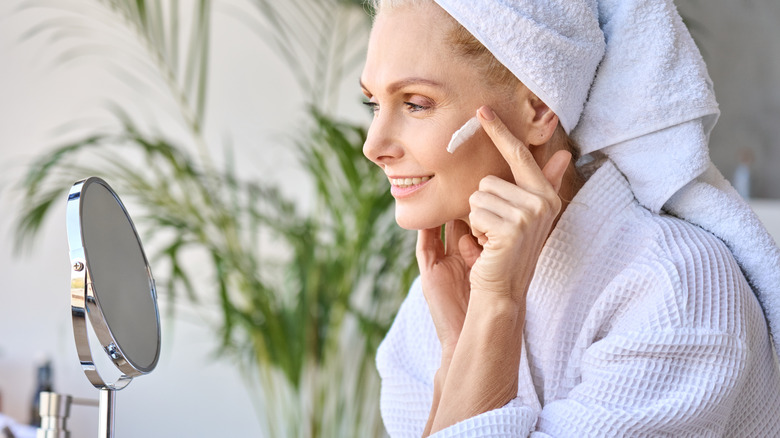 Ground Picture/Shutterstock
The RoC Retinol Correxion Deep Wrinkle Moisturizer hydrates skin while reducing the appearance of wrinkles. A broad-spectrum sunscreen that protects the skin from both UVA and UVB rays, its hypoallergenic and non-greasy formula is a godsend for sensitive skin that flares up with other retinol products.
Made with ceramides to nourish your skin barrier, the CeraVe Skin Renewing Day Cream protects the skin from the damaging effects of both retinol and UV rays. Containing an SPF 30, the day cream fights off visible signs of aging. It also contains encapsulated retinol, slowly releasing the ingredient to diminish fine lines and wrinkles.
The Supergoop Daily Dose Bioretinol + Mineral SPF 40 Sunscreen combines powerful ingredients with retinol and sunscreen for effective sun protection that revamps the skin. Formulated with L-Carnosine, a collagen-boosting peptide, and Olive Esters, it plumps and hydrates the skin. It also contains grapeseed, green tea, and English oak bark extract, which brightens and smoothens the skin.