Your Tinted Moisturizer Can Replace Your Regular Moisturizer Depending On These Conditions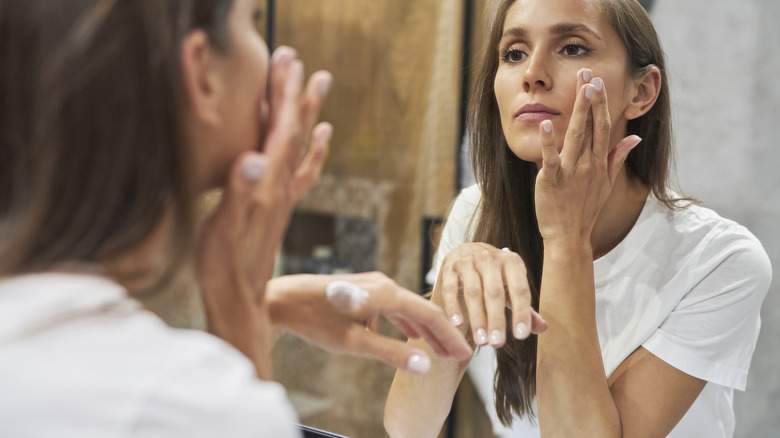 Gpointstudio/Getty Images
We may receive a commission on purchases made from links.
"No makeup" makeup is taking over social media, with the hashtag earning nearly 800 million views on TikTok alone. Often associated with the so-called "clean girl" aesthetic, celebrities like Selena Gomez and Bella Hadid are huge fans of the look, opting for minimal, natural makeup in favor of the heavy contouring that dominated the 2010s. For starters, the key to "no makeup" makeup is creating a clear base. 
In other words, caring for your skin is just as important as foundation, concealer, and highlighter. Why create the illusion of flawless skin when you can work on achieving the real thing? However, especially in this era of filters and FaceTune, the "perfect" skin we see advertised by celebrities and influencers is usually a product of technology, not expensive products. If you're hoping to clear up painful acne, discoloration, or texture, it's always best to consult a dermatologist.
Keep in mind that good skin is subjective too. As the skin positivity movement, which embraces wrinkles and acne, gains steam, it's time to flaunt your natural features rather than conceal them. Consider opting for a lightweight tinted moisturizer rather than a high-coverage foundation. It will even out your skin tone while still letting your face breathe. Best of all, tinted formulas can sometimes replace your regular moisturizer depending on certain factors. 
You can use tinted moisturizer alone in humid weather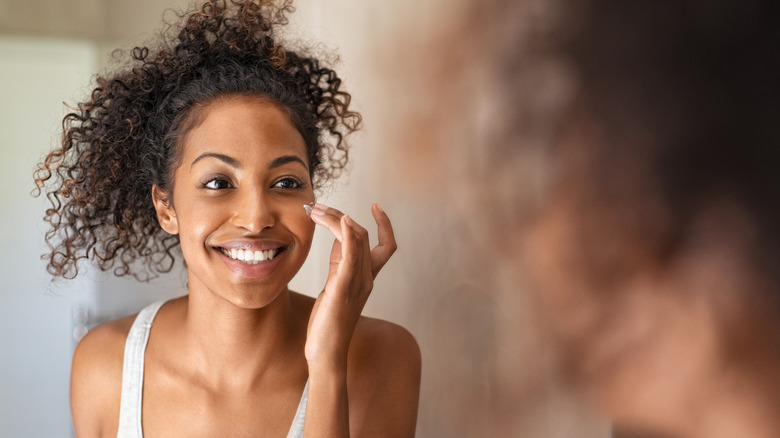 Ground Picture/Shutterstock
If you live in a hot, humid climate, it's usually safe to forgo your regular moisturizer in favor of tinted moisturizer by itself. "It depends on your skin type, the time of year, and environmental factors like the humidity in the air," San Fransisco-based dermatologist Dr. Caren Campbell clarified in a conversation with Makeup.com. However, if your skin leans dry, layer tinted moisturizer on top of your regular routine: cleanser, toner, serum, moisturizer. Always keep in mind, too, that the better prepped your skin is the less color-correcting you'll need.
It's a common misconception that those with oily, acne-prone skin should avoid moisturizers. In reality, they can benefit your breakouts. If you use too many dehydrating products, your body may produce excess oil to compensate, clogging your pores in the process. If you're dealing with acne, use an oil-free moisturizer before working to even out your complexion with a tinted one. Some of these pigmented products even contain helpful skincare ingredients. Specifically, look for hyaluronic acid and niacinamide. While you're at it, steer clear of fragrances.
Tinted sunscreen shouldn't replace regular SPF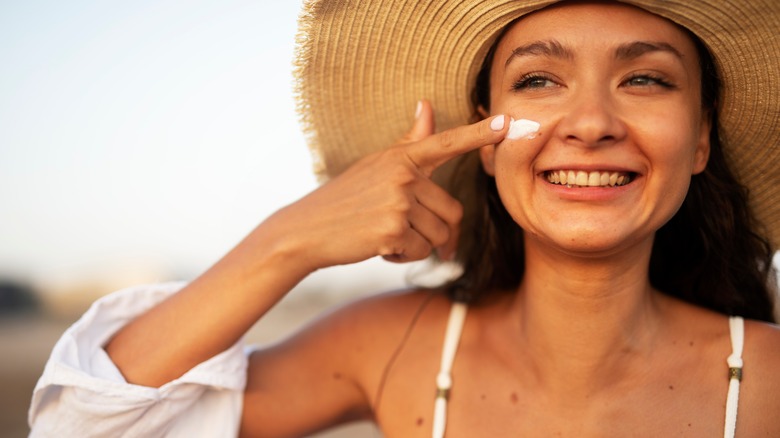 Pepper cinema/Shutterstock
Although tinted moisturizer can replace your regular moisturizer depending on environmental factors, you should avoid using tinted sunscreen on its own. In fact, the amount of SPF you really need to protect your face from damaging UV rays is probably more than you'd think. "​​We tend to recommend ¼ teaspoon or ⅓ teaspoon on the face," board-certified dermatologist Erum N. Ilyas, MD, MBE, FAAD, shared with Healthline. 
You'll need another ¼ teaspoon for your neck and chest as well. Ultimately, the amount of protection you get from tinted sunscreen likely isn't enough unless you're blending multiple, generous layers of product. Instead, after applying your serum and moisturizer, add a layer of sheer face SPF. La Roche-Posay's oil-free sunscreen is TikTok-famous and dermatologist-approved. On top, add their tinted SPF 50, and you'll be good to go.
As a bonus, unlike regular sunscreen, tinted versions will protect your face from blue light as well as UV rays. So, even if you plan to stay inside all day, tinted sunscreen will shield your skin from your phone and laptop screens.