Choosing The Right Type Of Hair Extensions For A Fuller Look If You Have Thin Hair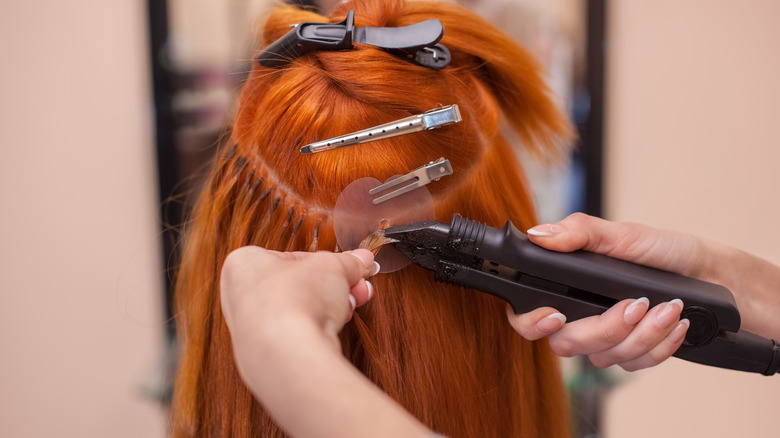 Dimid_86/Getty Images
With all of the social media love surrounding hair extensions, it might seem silly that using extensions used to be a hush-hush secret. But the rise in social media and celebrity posts featuring frequent — and dramatic — hairstyle looks has increased the use of Hoodini-ish hair helpers. The popularity of extensions can be traced back to celebrity hair stylists like Chris Appelton. The famed stylist, who also works as the global creative director for Wow Hair products, has over 3 million followers on Instagram. He uses the platform to regularly post A-lister transformations like Jennifer Lopez's hair evolution and the ever-changing (and 100% enviable) Kardashian-Jenner looks.
This type of exposure, combined with 1.6 billion TikTok views for hair extension-related content, has made extensions as common as brow shaping or false lashes. "Hair extensions are just so normalized now," NYC-based hair stylist Lilybeth Vargas explains to Glamour. In her work as an extension specialist, she finds that "most people wear hair filler to fix gaps in sparse areas, not just for length."
Whether your hair is naturally fine — or if you're experiencing thinning due to common causes such as alopecia, pregnancy, or damage due to chemically processing your tresses, hair extensions can provide an added volume boost. Fortunately, there are plenty of options for temporary and semi-permanent hair extensions, but deciding which option is best for you will depend on your goals, budget, and how much time you want to devote to the maintenance process.
Thinking about hair extensions? Choose real human hair
Hair extensions fall into two main categories — real human hair and synthetic. Investing in natural hair extensions is generally considered the best value since real human hair extensions will blend with your hair in terms of texture and movement. Remy hair is the industry standard, and "means all the cuticles (the outer layer of the hair) are intact, running in the same direction at the time of collection," explains hair extension specialist Julia Venturin. In an interview with POPSUGAR, the Luxy Hair representative says, "This allows for almost no tangling and ensures that the extensions remain smooth and silky throughout their lifetime."
Synthetic hair extensions, on the other hand, "are usually very fine, plastic fibers that are manufactured to imitate real human hair," according to Venturin. Unfortunately, because the strands are created from materials such as plastic, these extensions don't bounce or move the same way as your hair, and their lifespan is usually only a few months — much shorter than the usual one-year life of the Luxy Hair natural extensions. Plus, the material is susceptible to damage from heated styling products. With this in mind, stylists like those at Houston's M Salon recommend natural human hair extensions. But don't reject synthetic hair extensions altogether; they're an affordable option for one-time use for hidden bun volume for a prom or similar event.
Types of hair extensions
Choosing hair extensions depends on whether you prefer a temporary or semi-permanent application. For example, are you looking to change your hair from one day to the next, or is your goal more daily volume? Temporary hair extensions, which include clip-in pieces and halo-style hair inserts, are made of wefts — strands of hair sewn into a small strip of fabric. If you rock clip-in hair extensions, you'll benefit from the flexibility of small strand clusters placed anywhere you want extra oomph. In comparison, a halo is a larger half-circle formation that sits at the crown and increases overall volume.
If consistent volume is the goal, explore semi-permanent hair extensions available at salons. Weaves tend to last the longest (up to 10 weeks) and are an excellent option for those with thick hair since, according to PureWow. If your hair is fine, tape-in hair extensions are lighter and last up to three months. The stylist applies wide extensions to the underlayers, using warm glue.
Lastly, there are keratin and microbead (i-Tip) extensions. Both last about four months and add hidden rows of strand clusters along the roots. But keratin involves a heat application, whereas microbeads rely on small pliers that wrap silicone tubes around the strands. "Microlinks are the safest [semi-permanent] hair extension install anyone can get," explains hairstylist LeAna McKnight. In a review with Women's Health, she explains that the "installation ... causes no tension [on the roots], and the service doesn't require any harsh chemicals."