How To Rock Clip-In Hair Extensions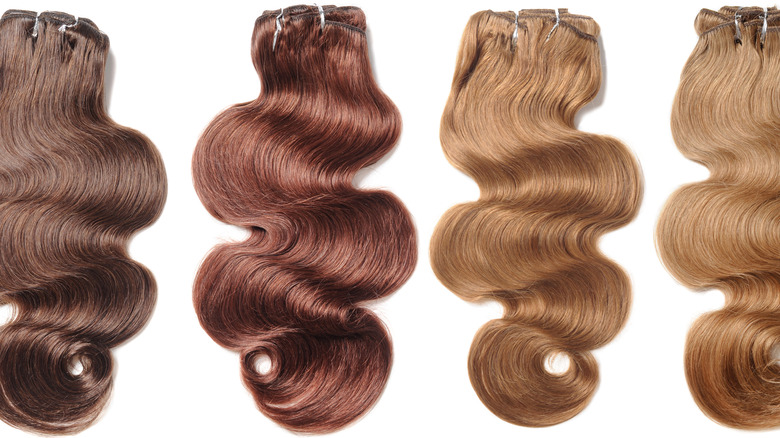 Shutterstock
Have you ever wished you had long hair or wanted to see what it looks like without spending years growing out your locks? There's no denying that one way to drastically change your hairstyle without waiting months or years to grow it out is with hair extensions. Of course, sewn-in and other types of hair extensions are both costly and time-consuming to get, according to Mhot Hair, which can mean they're not an option for your lifestyle. Plus, they only last a few weeks while putting tension on your scalp, which could lead to hair loss. 
However, if you'd like to try out a longer hairdo without breaking the bank, spending hours in a salon chair, and committing to several weeks with the new style, there's good news. According to Elle, clip-in hair extensions, also known as clip-in weaves, instantly add volume to your mane without the need for help from a professional stylist or resigning yourself to several weeks of additional hair (via Mhot Hair). Clip-ins are affordable and easy to wear, use, and care for with just a bit of planning. These lengths of hair are attached to your head via small pressure-sensitive clips, and each set typically comes with a variety of different size wefts.
Tips to create a natural look with clip-in hair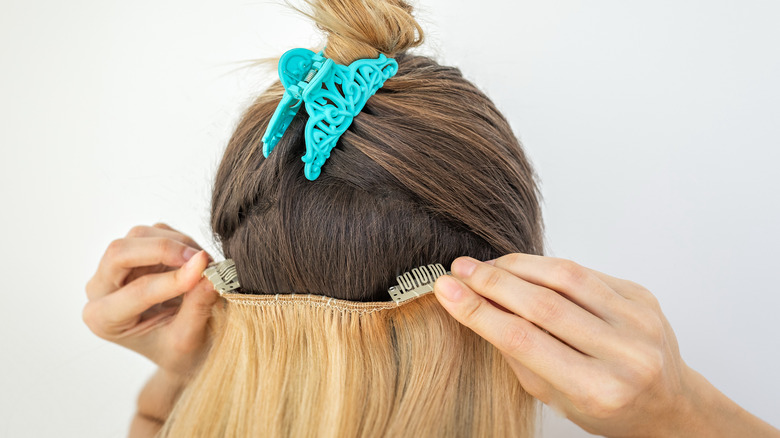 Shutterstock
There are a few great ways to get the most out of your clip-in hair extensions. The Effortless Chic suggests first taking your extensions to your stylist to have them cut to fit in with your current hairstyle. That way, there aren't awkward, blunt ends, drawing obvious attention to the clipped-in hair. According to Elle, choosing natural human hair in a slightly lighter shade than your hair's color also helps mimic highlights in your new fuller, possibly longer 'do. Plus, with human hair extensions, you can wash, heat style, and cut the hairpieces to fit precisely with your look.
To put them in your hair, choose a section of hair the same width as your extension clip, spray root volumizing spray at the roots, and tease the section. Then, simply place the clips as close to your scalp as you can (via The Effortless Chic). Continue the process until you feel happy with the results. Once you're finished clipping in the extensions, you can tease the top layer of your hair to ensure you camouflage the clips.
You can use as few or as many clip-in hair extensions as you want to create a style you love. When you're not wearing them, be sure to protect your clip-in hair extensions by storing them in a dry, dark location like a dresser or cabinet. Cared for appropriately, they can last for months or a year.