The Products You Should Skip Before A Mammogram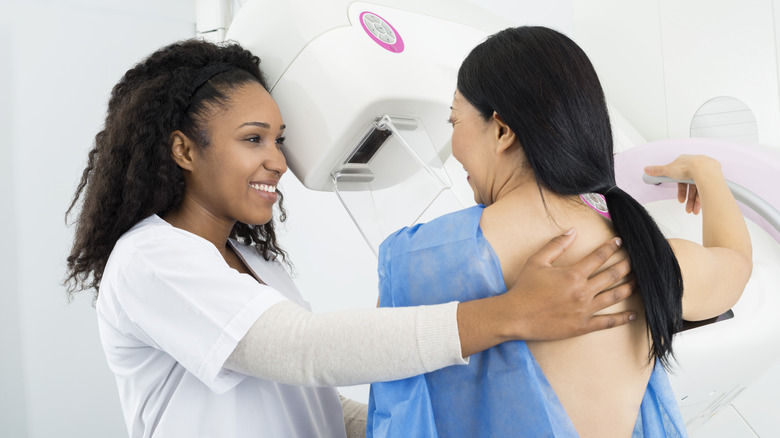 Tyler Olson/Shutterstock
Breast cancer is second only to skin cancer when it comes to diagnoses for women, which is why annual screening is so important. Mammograms allow doctors to evaluate a patient's breasts and detect early signs of breast cancer, which include abnormal masses or distortions. Current guidelines encourage women at average risk — meaning they have no family history and haven't been deemed by their physician to be at high risk — to have their first mammogram between 40 and 44, and those 45 and older to be screened each year. For those who haven't yet had a mammogram, the process might cause anxiety, but it's an important diagnostic, experts advise.
In an interview with Well + Good, Chirag Parghi, MD, a radiologist and the chief medical officer at Solis Mammography, said, "The benefit of catching early cancer massively outweighs the frustrations and the anxiety associated with the pain." As you prepare for your first or next mammogram, here are some tips to keep in mind.
Skip using these products the day of your mammogram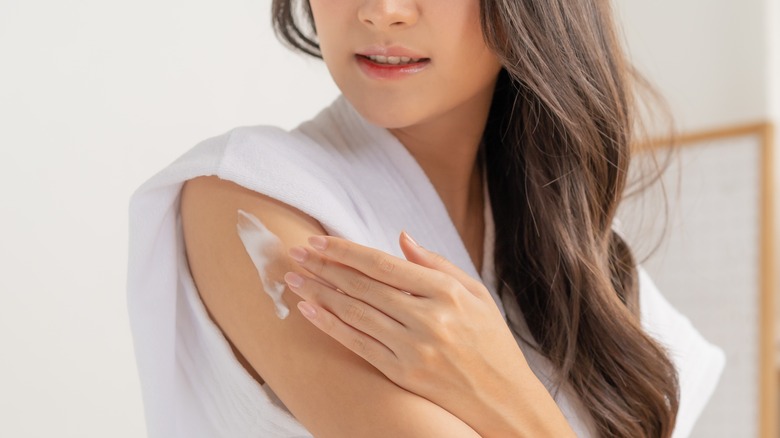 Kmpzzz/Shutterstock
Mammograms are x-rays of the breast performed on a special low-dose radiation imaging machine, which means special care must be taken not to interfere with the results. The American Cancer Society recommends scheduling the screening for a date when your breasts won't be tender or swollen. In other words, don't schedule it around your period. Caffeine can also cause tenderness, so those with caffeine sensitivities should avoid coffee or soda before the test.
Another way you can ensure your results are more accurate is by avoiding certain personal care products the day of your procedure.  The ACS warns that substances such as deodorant, lotions, soap, powders, perfumes, and creams can leave residue on your breasts that appear as white spots on your results. If you forget, don't worry. You'll be supplied with cleaning wipes to remove any personal care products from your breast and underarms, but it's best to avoid the hassle by not applying them until after your mammogram is finished. If you're concerned about wearing makeup, applying it to your face only will help you avoid any problems.
Remember to dress comfortably, too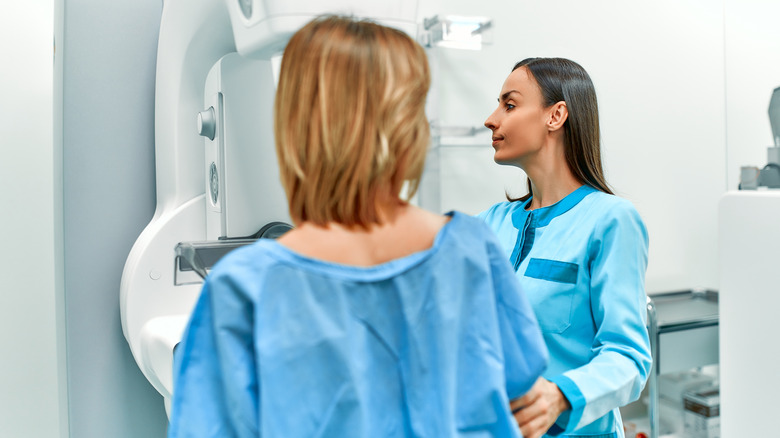 ORION PRODUCTION/Shutterstock
Now that you know what not to put on your skin, here are some tips for how to dress for a mammogram to make the experience more comfortable. It's important to know you'll be asked to remove all clothing from the waist up, and you'll be given a medical gown to cover your front. For that reason, avoiding one-piece outfits is advisable. Skip putting on a jumpsuit that morning, and instead of a dress, opt for a skirt. You'll also be asked to remove any jewelry that interferes with the machine, such as necklaces.
Chirag Parghi, MD, a radiologist and the chief medical officer at Solis Mammography, told Well + Good that one in eight women will develop breast cancer in their lifetime. According to the National Cancer Institute, breast cancer accounts for 15% of all new cancer cases. "The best thing you can do for your health is to undergo a yearly mammogram," Parghi said.