Pamela Anderson Secures Her Iconic '90s Updo With Underwear - And Fans Are Obsessed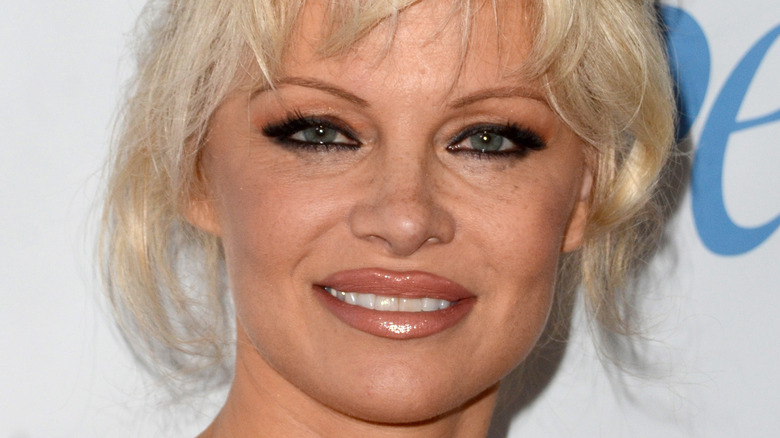 Kathy Hutchins/Shutterstock
Pamela Anderson has been a staple in beauty and fashion since she took the world by storm as C.J. Parker on the hit series "Baywatch." She has recently seen an uptick in fanfare following the controversial Hulu series, "Pam & Tommy" and the release of her documentary, "Pamela, A Love Story," where she spoke her truth to Netflix audiences.
Since coming back into the spotlight, the glamorous Anderson has fans trying to recreate her distinctive fashion. While her sense of style at the height of her fame was viewed as controversial, her signature looks are beginning to come back into vogue. Anderson herself is getting into it too, rocking a red dress to the premiere of her Netflix doc that mirrored the infamous red bathing suits of "Baywatch" fame.
Not only are fans looking to bring back some of her iconic ensembles, but they also want to replicate one of her signature hairstyles, and the star gave an interesting tip on how to recreate the 'do.
Pam's tip for the perfect updo might surprise you
If you're looking to recreate Pamela Anderson's famous updo, she has an interesting tip for you. While sitting down with British Vogue to show off what she keeps in her stunning Stella McCartney handbag, she revealed none other than a thong. Knowing this would surprise viewers, Anderson quickly showed exactly why she kept a spare pair of underwear in her bag, and no, it's not for wearing the traditional way.
Anderson gushed that she had a secret to getting the perfect tousled updo, and it's to use a pair of panties in lieu of a scrunchy. She began to tie her hair back with the underwear, giggling about how 90s this was. She added that all of her famous messy ponytails were styled with this secret weapon. "This is the trick of the trade," she gushed. "A tousled updo? I always hid a pair of panties in them."
Fans can't get enough of the tip
It's no surprise that the clip of sex symbol Pamela Anderson tying her hair in the infamous updo we've all associated with her since the height of her career in the 90s with a pair of panties went viral. Some viewers wondered if that was a trick she did, or if she found a pair of underwear in her purse during the filming process and had to improvise. Whether she truly recommended this tip or not, the beauty gurus of TikTok began implementing the technique.
"This is so smart," one TikTok user wrote as she styled her hair using the technique over the sound of Anderson explaining the process. "I've been doing this for years," one viewer commented on the post. Another chimed in, "I used to do this all the time. It works WONDERS!"
Anderson has inspired fans to try out her signature updo with a unique substitute for a scrunchie, and it appears to be a success.