The Stinky Skincare Product That's Great For Acne-Prone Skin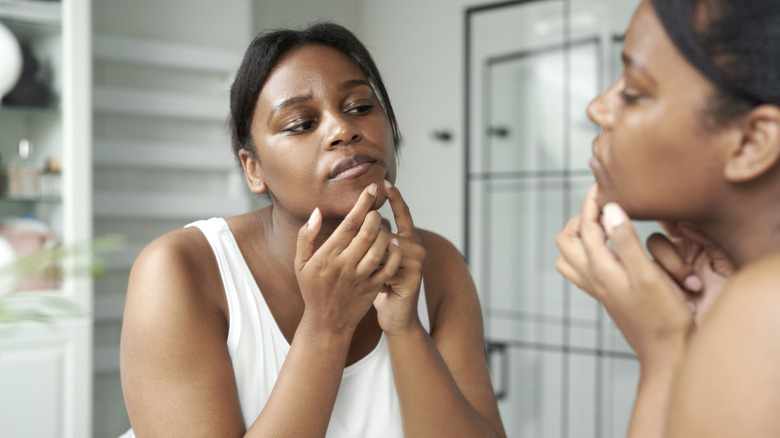 Gpointstudio/Getty Images
We may receive a commission on purchases made from links.
If your skin is prone to acne flare ups, finding the right solution can be extremely frustrating. In addition to the numerous products marketed towards acne-prone skin, there are also different types of acne, all of which have different methods of treatment. There are blackheads, whiteheads, inflammatory acne, and cystic acne, among others. If you are getting acne, there is usually a reason behind it. It could be due to a hormone imbalance, sweat or friction from heat, or even food intolerances.
Regardless of the type of acne you have or the reason you suffer, you have likely found yourself trying product after product to clear your skin. Many of those products probably have some form of acid, whether it's salicylic acid, azelaic acid, or alpha hydroxy acids. But there is one product in particular that may work better for clearing up your skin — you just may have to plug your nose when using it.
Why sulfur may be your favorite new skincare product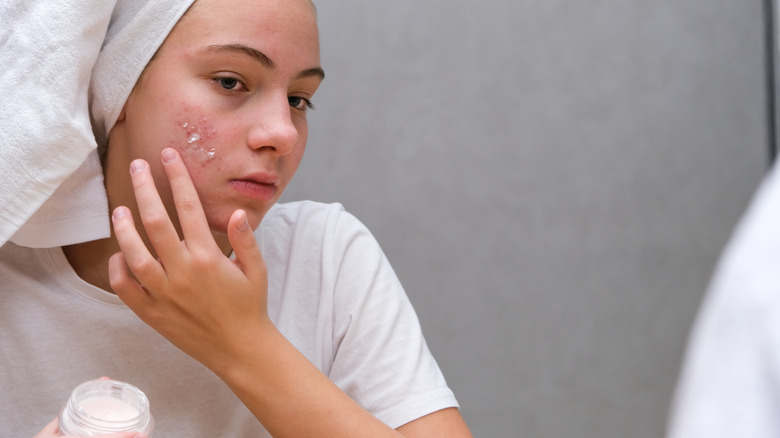 Yuliya/Getty Images
If your first reaction when thinking about sulfur is to scrunch up your nose in anticipation of that gross, "rotten egg" smell, you are likely hesitant about putting it on your skin. But if you can get past the scent, it can actually do wonders for your acne-prone skin. According to board-certified dermatologist and founder of GlamDerm Dr. Lian Mack, sulfur is useful in drying out oily skin, a big cause of whiteheads and blackheads, and helps lower inflammation (via Marie Claire). It also works as an antibacterial product, further increasing the benefits.
Those who have mild or moderate acne will find the best results from sulfur-based skincare products, per Healthline. This is because while sulfur is super effective in treating acne, it only does so at the surface level and is not as strong as other acne products. For those with mild acne, though, sulfur can work wonders, as it can clear up the skin without drying it out.
The best sulfur-based products for acne
If you have sensitive skin and are scared to try new ingredients, you're in luck with sulfur. It is actually marketed for those with sensitive skin. Still, beyond the smell, sulfur can also be drying or irritating for some, so make sure to use it lightly until you're sure it works for your skin. Once you have decided sulfur may be the solution for you, there are a lot of products worth considering.
No matter what you are looking for, whether it be an everyday cleanser or a weekly mask, you can likely find a product that contains sulfur. We love the Dermalogica Gentle Cream Exfoliant, which is great for smoothing out textured skin, and with aloe vera included in the formula, it also calms inflamed skin. If you are hoping for a solution to occasional breakouts, the Sunday Riley Saturn Sulfur + Niacinamide Spot Treatment Mask is a great product for lessening the appearance of breakouts and leaving your skin clear, clean, and smooth. Other great sulfur-based products include DRx Blemish Solutions™ Clarifying Mask, which treats blackheads and breakouts overnight, and the Mario Badescu Drying Lotion, which is great for a quick fix for unexpected breakouts.