A 'Revenge Photoshoot' Might Be The Empowering Practice You Need Post-Breakup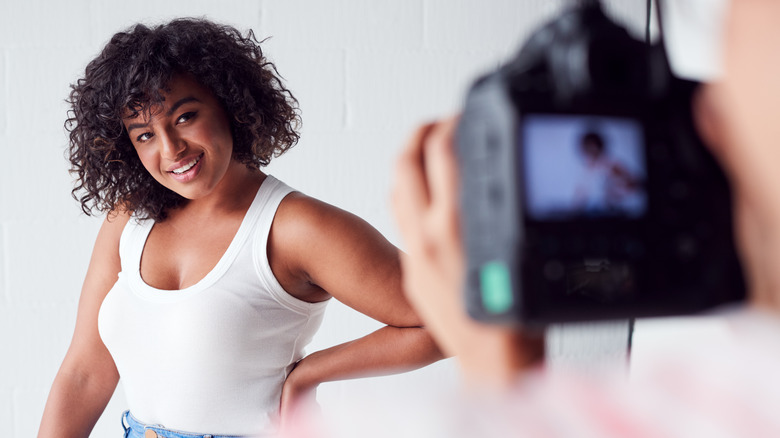 Monkeybusinessimages/Getty Images
Your relationship is over and, understandably, you've spent some time reflecting while sporting all-day bedhead and clutching a pint of ice cream. Grief is a crucial part of the process, but you don't have to stay stuck in sad-mode forever. Breakups are a time of growth, and with that often comes a major glow-up. Letting go of old relationship baggage presents an opportunity to reinvent yourself with a new edgy haircut or fashion aesthetic. By changing how you look on the outside, you can show off the true transformation happening on the inside.
And yes, that inner transformation is real, even on those days you still miss your ex. One study by Maguire Family Law (via ResponseSource) found that 65% of divorced adults in the U.K. reported an improvement in their overall outlook after their split. The majority also noted a boost to their finances, mental well-being, self-love, hobbies, and travel.
To put it simply, once you start to recover from your breakup, you'll look cuter and feel a whole lot better too. In the age of social media, there's no shame in sharing that glow-up online. And what better way than with a revenge photoshoot?
What exactly is a 'revenge photoshoot'?
You know that feeling where you're dying to show off how far you've come? That's the feeling behind the "revenge photoshoot" practice. Sure, the last time your ex saw you, you were red-faced and ugly-crying, but you've processed your breakup and feel more confident than ever — and that's exactly what a revenge photoshoot captures. Allebach Photography, a studio specializing in boudoir photography, recommends booking a photoshoot as a fun (and totally legal) form of revenge. The photos show off your best self, reminding you how amazing you are (and, if your ex sees them, reminding them what they're missing out on).
TikToker and photographer Isabel "Bee" Malia also offers revenge photography, albeit in a neoclassical style. In a clip, she writes, "When you take revenge photos that make your ex and all his ancestors roll in their graves," before revealing photos of solo women, made to look like 1700s muses.
Revenge photoshoots can reflect your new-and-improved, post-breakup life, even without a professional photographer. Influencer Noelle Simpson posted a TikTok video of a revenge photoshoot she did with a friend on a balcony. And in a pinch, selfies can also get the job done.
Why a revenge photoshoot can help you heal — and when it doesn't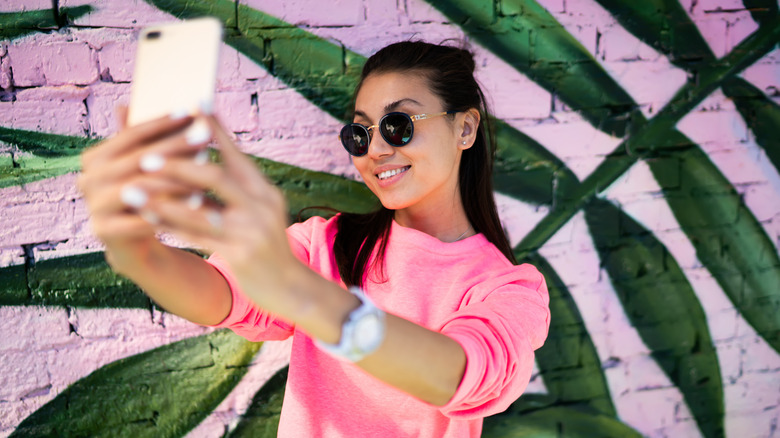 GaudiLab/Shutterstock
Grabbing a camera and snapping photos of you looking your best can be super empowering, according to research. A 2018 study published in the Journal of Health Psychology found a positive correlation between sharing selfies and self-esteem. It can also be a way of solidifying your new post-breakup identity by replacing those outdated couple's photos with new ones from your single era.
Keep in mind, however, that revenge photoshoot pictures aren't thirst traps — they're representations of the real you and the aspects of yourself that you appreciate. Using revenge photos to try to make your ex jealous or win them back may only make you feel worse, says Dr. Mariana Bockarova, an expert on relationship psychology. "The issue with posting in a negatively-motivated way is that if the person you are hoping to impress doesn't respond in the way you hope, it will only bring on an avalanche of negative [e]ffects," she told Cosmopolitan. "However, posting because you are proud of your achievement may bring on positive emotions—as long as they don't hinge on the response of anyone, exes included."
A revenge photoshoot can play a role in cultivating "main character energy" after a breakup. You don't even have to share the photos with anyone, if you don't want to. In the end, the best revenge is really your own happiness.