Nail The 'Baby Part' Hair Trend With These Simple Tips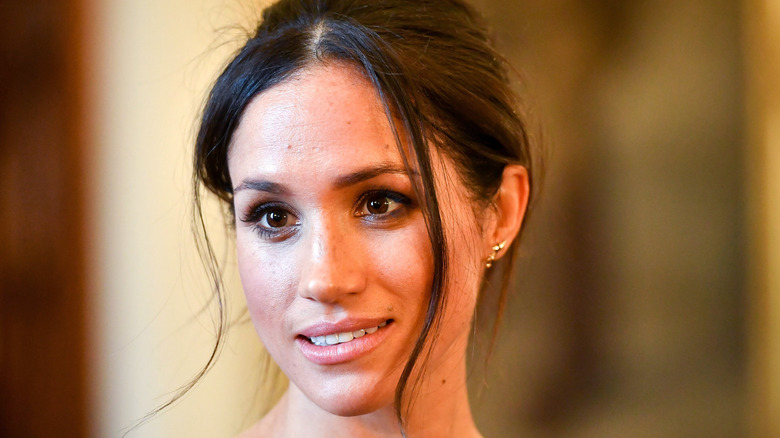 Wpa Pool/Getty Images
Picking the perfect part for your hair can be challenging. While certain Gen Zers believe it's self-explanatory and even took to TikTok to argue that everyone would look better with a middle part, many millennials are sticking to the side part they've come to know and love. However, when debating between a middle part vs. a side part, understanding which style is best for your face shape is helpful.
As with many new hair trends, the "baby part" is just an older trend resurfacing. It's a specific hairstyle that many celebrities popularized nearly two decades ago. If you feel like switching up your hairstyle but aren't ready for a dramatic change in color or cut, creating a new part may be the difference you're looking for. Changing your normal part to a side, middle, or even a zig-zag part can give you a more subtle or dramatic look, depending on the vibe you're after. 
Plus, the sense of versatility can help you work with the hair you have especially if there are cowlicks or regrowth that you feel insecure about. When you bring half parts or "baby parts" into the mix, there are many opportunities to regain confidence in your hair. Luckily, it's not hard to achieve this hair trend. It's also quite flexible and has the ability to enhance a simple hair day into a more sophisticated look with a few simple steps.
How to create your 'baby part' at home
A "baby part" can easily be created on hair that's up or down. Usually, a part can be on either side of your head or in the middle, but it typically parts all your hair. The "baby part" trend stands out because it doesn't create a full part but only a partial one at the front of your face. If you want to leave your hair loose, this trend is as simple as brushing the back half of your part and adding a few loose curls or waves. 
Then, reach for some hairspray to secure the back half of your hair and add some additional volume. Adding a headband to your look can help make that front part really pop too. For the popular slicked-back bun look, create a small part in the front of your head using a comb, then add hair gel to keep it in place. A middle part is ideal for this trend but it's not mandatory. 
Then, brush the back half of your part and the sides of your hair up into a ponytail, leaving about a finger's width or two of your part at the front of your head. Once your hair is secured in a ponytail, simply twist it into a bun and add another hair band to secure it. Finally, set your hair with more gel and spray. The goal is to have a tight and slick-looking updo with no flyaways.
Celebrities love to accentuate their 'baby part'
Since ponytails usually pull all of your hair to the back of your head, the "baby part" is a common occurrence for those with curtain bangs, since that hair doesn't usually fit in the hairband. However, this trend is achievable even if you don't have any bangs or layers in your hair. In fact, many celebrities have been rocking this style for years from Hilary Duff to Vanessa Hudgens, and even the Kardashian-Jenner clan. 
This prominent front part's unique beauty has also made the hairstyle a popular choice for brides. Megan Markle paired this trend with an elegant updo, featuring a headpiece and veil, on her wedding day to Prince Harry, while "Game of Thrones" star Sophie Turner left her hair down but had a slicked-back "baby part" when she tied the knot with Joe Jonas.
There are many ways to embrace this hairstyle and it can be as formal or as casual as you make it. Some TikTokers even embrace this trend when it's not hair wash day and use their natural grease in addition to mousse or product. With the versatility that the "baby part" brings, it's no surprise that people have continued to gravitate toward this look for years.