What Is A 'Nail Facial' And Is It Really That Different From A Manicure?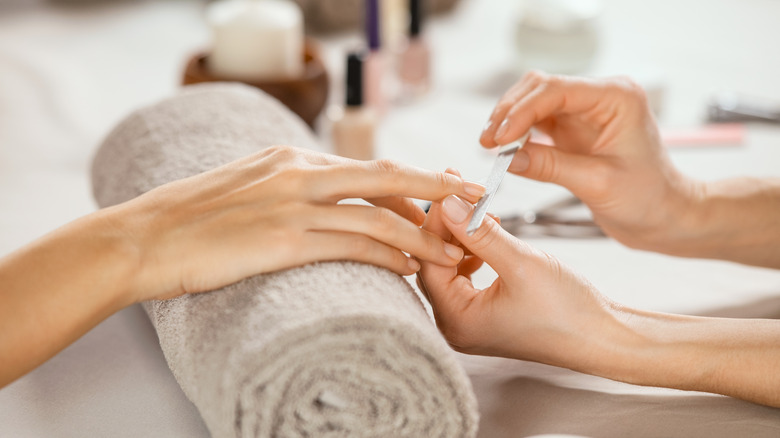 Ground Picture/Shutterstock
All skincare enthusiasts know just how rejuvenating and refreshing facials can be. Why not provide your nails with the same TLC by giving them a "nail facial"? Facials are no longer only for your face and can help nourish, hydrate, and strengthen your nails when you need a night of self-care or pampering.
With a facial, your esthetician pampers your skin with a deep cleanse and a combination of hydrating skincare products that leave you with dewy, glowing skin. Similar to a facial, a "nail facial" treats your nails with cleansing and moisturizing products that target dry, peeling nails. If you struggle with flaky, dehydrated nails that can't seem to grow long, a facial for your nails may be just what you need. Although a "nail facial" and manicure are similar, a few additional steps set these two treatments apart from one another.
How to give yourself a 'nail facial' at home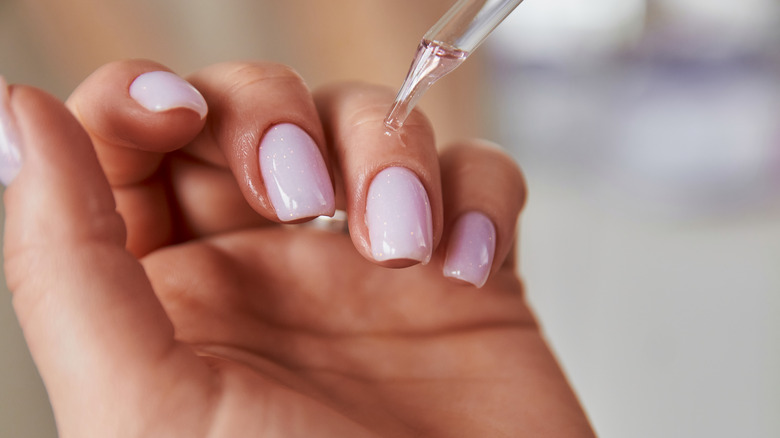 JohnAmarok/Shutterstock
To start, you'll want to seal your nails with a file, which is one of the most important steps in the "nail facial." Nail and beauty expert Leighton Denny tells Refinery29, "The unique surface of a crystal nail file is smooth, and it seals the edge of the nails so that any treatment you do next is going to stay inside." Nail sealing is gentler than filing; you only need to swipe the file across the tip of your nails to eliminate any edges and help them grow stronger.
Next, it's time to gently buff the nail to prep it to absorb the rest of the hydrating ingredients. Buffing is essential because it removes dead skin cells and leaves your nails shiny and glossy. Once you've buffed your nails, put a small bit of cleanser on them to remove any excess dirt and condition them with vitamin E (via The Zoe Report). Add a small dab of hand or nail cream and spread it across each nail for hydration. Once you moisturize, gently buff your nails with the smooth side to leave them even shinier (via Refinery29). Then, just as they would at the nail salon, add a tiny bit of cuticle oil to your nails and let it soak in. According to Denny, "You can never over-moisturize," said Denny, "but you can under-moisturize."
Invest in top quality products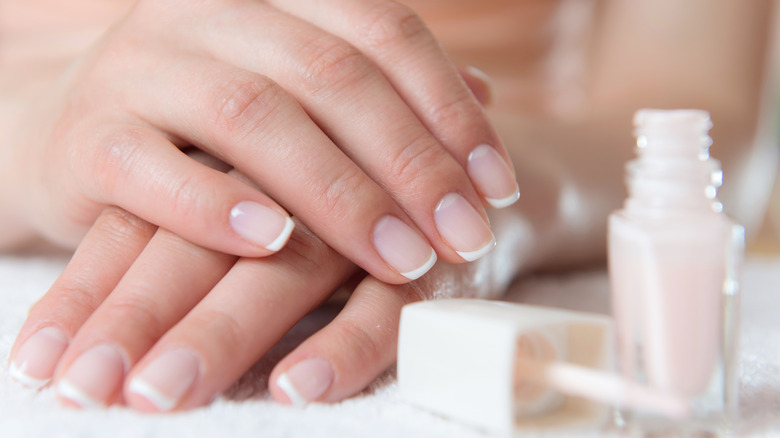 Petrograd99/Getty Images
To get the most from your "nail facial," we recommend investing in quality products to keep your nails hydrated and strong. We recommend the Caudalie Hand and Nail Cream to keep your hands moisturized and free from peeling. For cuticle oil, try the Deborah Lippmann Cuticle Oil for that added hydration and protection. This oil is made with jojoba and coconut oils, as well as vitamin E, which provides your cuticles with intense hydration.
After your "nail facial," if you feel like adding some polish, clean your nails with a small amount of polish remover first to remove any dirt or debris from your nails. Always make sure to apply a base coat first for extra protection. A base coat gives your nails an added layer of protection that will keep them strong and healthy. For a creamy, neutral look, try the '90s supermodel nails or the vanilla French nails for a classic and soft finish.