The Viral Peel-Off Lip Liner From Sacheu Beauty Delivers Semi-Permanent Pigment - But Is It Worth It?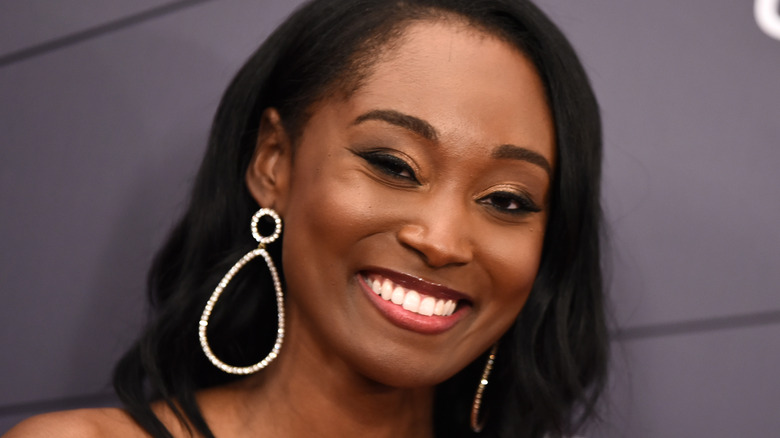 Dave Kotinsky/Getty Images
Whether you're a lipstick, gloss, stain, or balm fan, your kissers are not complete without lip liners. And it doesn't always have to be a bold border. You can embrace the dark trending '90s lip liner look, opt for a clear liner, or any color in between, but this cosmetic should be in your lip care arsenal. In an interview with Stylecaster, celebrity makeup artist Kira Nasrat says, "Lip pencils are beneficial in a sense that when choosing the right shade and texture, you can create the illusion of a fuller lip by manipulating the shape."
Simple liner tricks can make your lips appear plumper so you can skip the filler appointment. Lip liner also keeps your lipstick from bleeding and makes your lip color last longer. Sacheu Beauty's tattoo lip liner is giving lip pencils an upgrade. This beauty product is going viral; you might want to order before they're all gone.
Sacheu Beauty's viral lip liner
Sacheu Beauty's peel-off liner is the result of the founder Sarah Cheung's viral lip liner hack. To achieve the perfect nude lip, Cheung used an eyebrow tint to border her lips. Since this eyebrow makeup is designed to last for days, it was the best alternative to standard lip liner that faded before the night ended. This beauty hack became the inspiration for her cosmetic line. So instead of applying eyebrow tint around your kissers, Cheung's peel-off liner was created and specifically designed for your lips.
The lip liner stain is concentrated with hyaluronic acid and vitamin E to keep your peckers moisturized. HA has plumping effects and can fill lip lines. Vitamin E is not only a plumper but protects the skin's barrier and helps blood circulation. Long gone are the days of sneaking to the bathroom to reapply liner after eating and smooching.
The liner tattoo comes in three shades, muah-ve (medium brown), p-inked (soft pink), and noohde (light tan). You can use the lip liner to play up your cupid's bow, define your lip shape, or get the perfect neutral lip look. But what do the beauty experts think of Sacheu's viral product?
Is this peel-of tattoo lip liner worth it?
As impressive as the smudge-fee, hydrating semi-permanent liner sounds, it is not without said cons from the consumers. Beauty influencer Rudi Berry, who does cosmetic reviews and recommendations, tried the Sacheu Beauty liner. For her, peeling off the dry liner was a little messy. However, she says it wore very well and looked really pretty. Makeup influencer and artist Monica Ravichandran also had a little trouble with the peel. She applied it on the entire width of her lips instead of as a lip liner. It wasn't much different from the average lip stain for her, but she loved the color muah-ve.
Digital beauty creator Stephanie Hui felt the peel was very satisfying. She performed a wear test. After dinner, dessert, and 10 hours Sacheu's liner tattoo still bordered her lips without any touch-ups. You will need precision when applying the stain and up to 20 minutes for it to dry. However, you'll be left with a smudge-free lip stain, perfect for a nude lip look.