How To Use Lip Liner To Play Up Your Cupid's Bow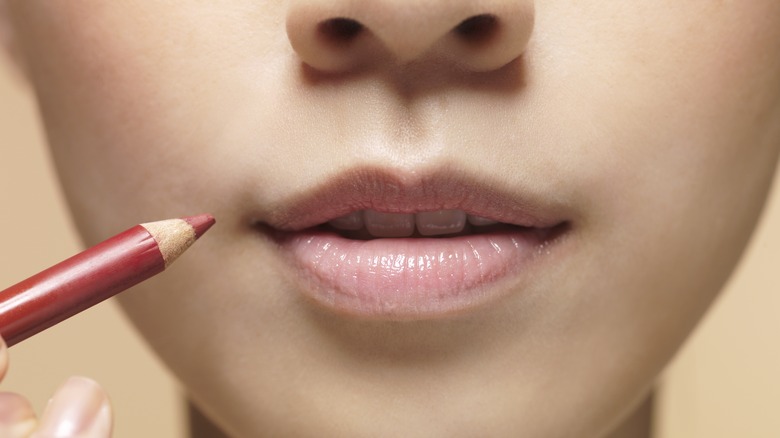 Image Source/Getty Images
Not only is Cupid the unofficial Valentine's Day mascot and the inspiration for Brooklyn Beckham's giant torso tattoo, but the winged Roman god of love is also behind what's called "a cupid's bow," aka that dip in your upper lip. Depending on the decade, this facial feature has fluctuated in popularity. Movie stars of the 1920s like Mary Pickford and Gloria Swanson enhanced their divets with dark lipstick, per Timeline. By the 1990s, bow-less upper lips were in vogue. Today, after a brief dip in popularity throughout the 2000s, rounded, enlarged lips have picked up steam with the help of trends like #bratzlips and #overlininglips.
This new era of virality has sparked conversations regarding appropriation. Insider points to a 2015 tweet from "Bodies Bodies Bodies" star Amandla Stenberg: "While white women are praised for altering their bodies, plumping their lips and tanning their skin, black women are shamed although the same features exist on them naturally." In 2022, model Hailey Bieber was criticized for what she called "brownie glazed lips," a style worn by women of color for generations, per Allure.
For millennia, makeup has been used to celebrate certain features while concealing others. If you're looking to round out your cupid's bow like @anastasile on TikTok, lip liner is a helpful tool. But the same product can also serve to accentuate that little dip in your upper lip. Here's how to best play up the "V" of your cupid's bow with the help of a few simple products.
Use your liner to draw an X on your upper lip
Prepping your skin is the first step in any makeup routine, according to L'Oréal Paris. When it comes to your lips, the site recommends exfoliating before applying a hydrating balm. Next, it's time for liner. In a video that's amassed well over 2 million likes, TikTok's @lipstick_tutorials_ demonstrates the "X" technique. The creator lines their bottom lip before drawing a small "X" in the middle of the top. After carrying the line out to the far corners of their mouth, they fill in between the lines with smudge-proof lipstick.
As showcased by @drhauschka.nl, you can also achieve the look by free-handing a heart rather than an "X." The rounded parts of the shape should outline your upper lip's arches. "For a fuller-looking lip, go over the cupid's bow with a lip pencil in more of a rounded shape, connecting the highest points of the cupid's bow," celebrity makeup artist Gregory Arlt explains to Byrdie. "Blend the pencil into the lips for a more natural look, and add lipstick in a matching or similar color over it."
Lip liner can also act as a contouring tool. "Think of [lip liner] like a cheek contour, but for your lips," makeup artist Vincent Oquendo explains to Vogue. As Huda Beauty illustrates on YouTube, use a darker shade of liner to add dimension to the corners of your mouth. Finally, enhance your pout with three evenly placed vertical lines on your lower lip.
Add extra flair with highlighter and concealer
Concealer is a helpful tool when it comes to lipstick application. Not only can it cover up potential smudges, but it can also add definition. "To truly make your cupid's bow 'pop,' I recommend using a concealer about a shade lighter than your skin," celebrity makeup artist Gregory Arlt tells Byrdie. "Take a bit with an angled brush and apply it just above your lip line, following the shape of your cupid's bow." Start with Fenty's Pro Filt'r Instant Retouch Concealer — it comes in 50 different shades and has earned well over 1,000 five-star ratings on the brand's website. 
As The Telegraph demonstrates on YouTube, you can also use a highlighter stick to emphasize your cupid's bow. This NYX Wonder Pencil allows for extreme precision, but an angled brush and your go-to liquid product will get the job done too. "Using a bit of highlighter on the Cupid's bow is a great way to give the appearance of fuller lips," Megan Curtin, Cover FX's lead makeup artist and head of education informs Bustle. If you're going for an adventurous, futuristic look, the site recommends using a metallic eyeshadow in place of lip liner itself.