Beauty Bar Vs. Nail Salon: Which Is Best For Manicures?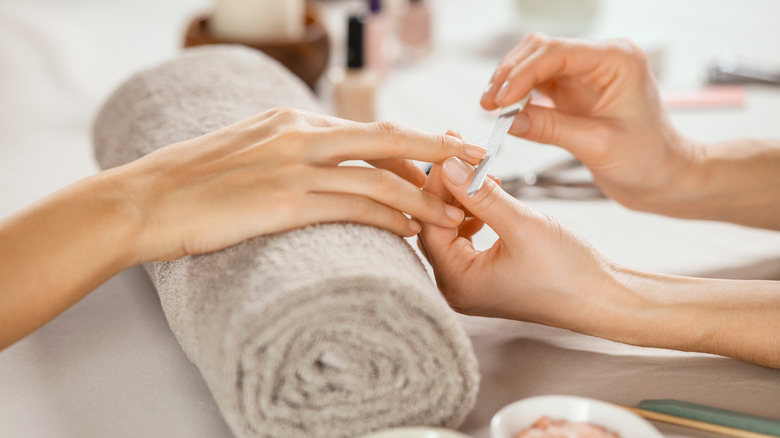 Ground Picture/Shutterstock
We've all been there at one point or another: your manicure from two weeks ago is on its last legs, chipped beyond repair. A fresh, new manicure is in order. However, before you make that call to your favorite salon, make sure you weigh your options.
Needless to say, a nail salon is the classic choice. It's not uncommon for people to find a salon that works for them and call it a day, favoring the specialized, dependable services their preferred nail tech provides. After all, who else can you count on to whip your nails into shape in no time?
If you're itching to try something new, though, consider popping into your local beauty bar for your next manicure. One of the latest buzzy, beauty crazes, beauty bars provide a range of services all in one location. Though you might end up deciding to stick with your nail salon and its reliability, a beauty bar could be your new favorite manicure destination.
What's the difference between beauty bars and nail salons?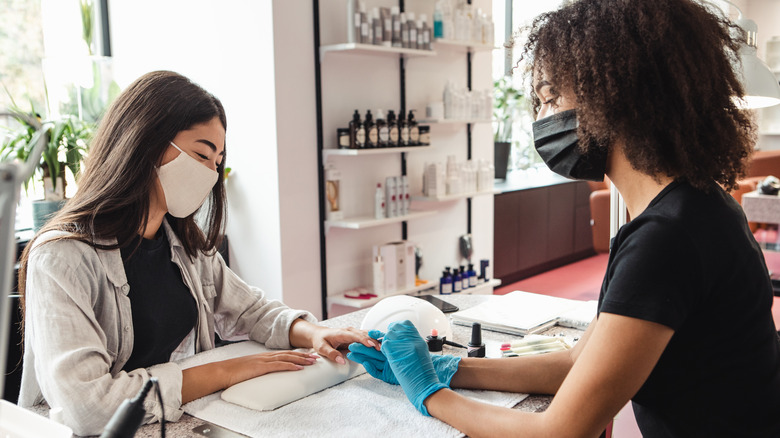 Prostock-studio/Shutterstock
For the uninitiated, beauty bars provide on-demand services for all things beauty. They're specially designed for women on-the-go, who would rather make a pit stop at a beauty bar to get a blowout and an eyebrow waxing, rather than run to five different salons. They've become quite popular in cities, where beauty bar franchises are frequently opening new locations. Though it might be hard to break up with your nail tech, a beauty bar can offer you a wider array of services, including beverage service (yes, we're talking alcohol). Places like the aptly named Beauty Bar in Colorado Springs boast a menu of specialized cocktails that you can sip on while getting your fresh manicure.
Nail salons, unlike their all-inclusive counterparts, offer more specialized services. Nail technicians attend beauty school and often receive degrees in cosmetology or a similar certification. While beauty bar workers are similarly trained, professional nail techs work day-in and day-out, perfecting their specific craft. Your average beauty bar employee may be more of a jack-of-all-trades beautician, instead of a manicure expert. Plus, depending on the location, some nail salons also offer waxing or massages. Sure, it may not be a guarantee, but it's not as if nails are the only thing they can do.
Which one is right for you?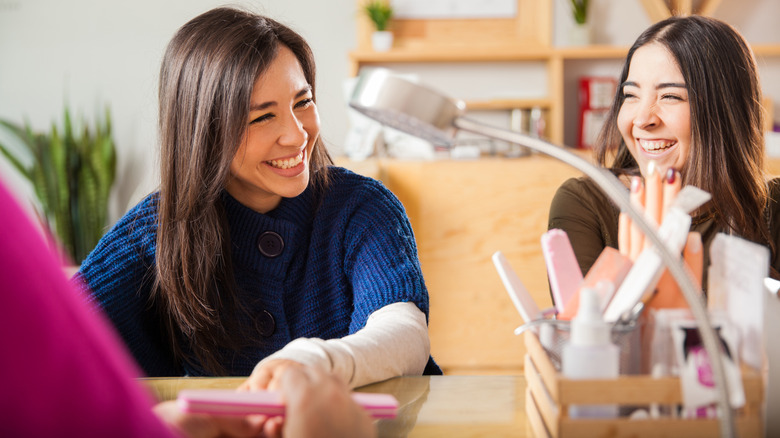 antoniodiaz/Shutterstock
There are a couple of factors you'll want to consider when choosing between a beauty bar and a nail salon. The first? Cost. The average cost of a standard manicure at a nail salon is between $20 and $25. A gel manicure can cost up to $30 more when taking the cost of removal into account. Acrylics typically cost a minimum of $40, including fill-ins. If you want to cut down on the cost of gel manicures, you might want to try adding semi-cured nail strips to your standard manicure.
The cost of a manicure at a beauty bar differs more from place to place. For instance, at Beauty Bar, the price starts at $27 and could potentially cost more, depending on extra services (like an added design, for example). The cheapest manicure at beauty bar Martinis & Manicures in Texas, however, is $30, while Cocktailz Beauty Bar in St. Louis, Missouri offers standard manicures at $25. Your best bet is to find a beauty bar near you and check their specific prices, though they tend to be on the pricier end. Still, depending on the location, you might only end up paying a few dollars more.
Next, you'll want to consider the type of manicure. While beauticians certainly can be skilled manicurists, a certified nail tech is more likely to provide high-quality nail art. If you're looking for a fun experience, manicure included, a beauty bar may be your best option. However, if you're someone who holds your nails to a high standard, look no further than your nearest nail salon.