Princess Margaret's Granddaughter Lady Margarita Armstrong-Jones Stuns In First Magazine Cover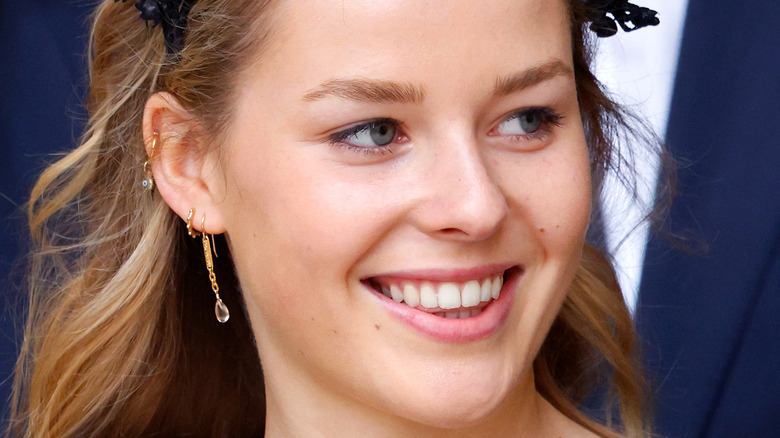 Max Mumby/indigo/Getty Images
If you're a fan of Netflix's "The Crown," you know a bit about Princess Margaret's tragic real-life story. Queen Elizabeth II's younger sister didn't always have it easy growing up in the world of the royals. In fact, some have compared Princess Margaret to another royal spare, Prince Harry. Yet, as Queen Elizabeth's children and grandchildren make waves both inside and outside of their roles in the monarchy, it seems that one of Princess Margaret's descendants is following in her royal relatives' footsteps.
Princess Margaret had two children, David Armstrong-Jones, 2nd Earl of Snowdon, and Lady Sarah Chatto, both of whom have two children of their own. Recently, David Armstrong-Jones' daughter, Lady Margarita Armstrong-Jones, has proven that she's ready to make a name for herself. Lady Margarita, who is currently the 26th in line to the throne, has graced the cover of Tatler Magazine. The royal's high-profile photoshoot has been getting folks' attention, and many can't help but notice the uncanny family resemblance between Lady Margarita and her beloved grandmother, Princess Margaret.
Inside Lady Margarita Armstrong-Jones' magazine cover
Unlike many of the other members of her famous family, Lady Margarita Armstrong-Jones tends to steer clear of the public eye — until now, that is. She's currently living in Paris where she studies photography and jewelry, and despite her well-known title, she can live her day-to-day life without getting recognized by strangers. Just in time for her 21st birthday, however, she's made a leap to being Tatler's May cover girl. 
Though Lady Margarita never actually met her grandmother, Princess Margaret, as she was born three months following Margaret's death in February of 2002, there are similarities to be drawn between the two royals. According to the article that accompanies her cover photo, this isn't the first time that the public has noticed the resemblance between Margaret and Margarita (per Tatler). Yet her latest cover shoot has brought the similarities to even more people's attention. The article's author, Catherine Ostler, says that Margarita shares many similarities with Margaret and the rest of the royal family, explaining that "her look, after all, is Windsor-familiar. She has her grandmother's (and father's and great-aunt's) inquisitive look and her mother's peaches-and-cream coloring. The result: a proper English-rose bombshell."  
Margarita's bombshell status is clear to anyone who catches a glimpse of the cover. While she may enjoy the private life most of the time, we're sure we haven't seen the last of Margarita, and it's certain that she'd be making her lookalike grandmother very proud.