'Logomania' Is On Its Way Out - Why Fashion Is Moving Away From Traditional Branding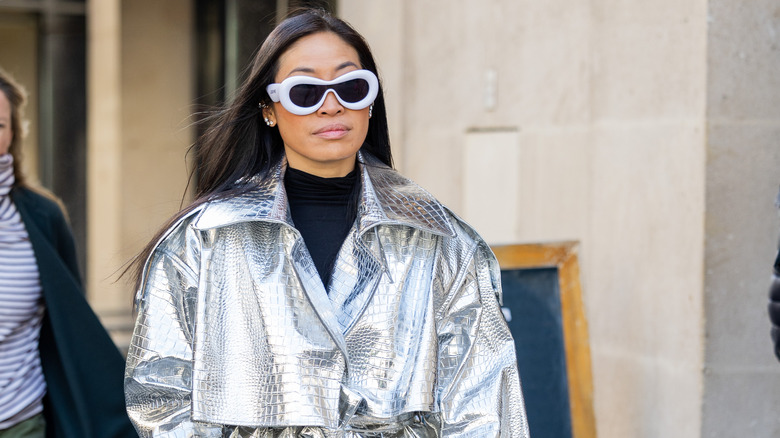 Christian Vierig/Getty Images
Clothing with designer logos across it is nothing new. Iconic designer brands like Michael Kors, Fendi, and Marc Jacobs have embraced the trend with their branded clothing and accessories. Logos, especially those of well-known and high-end designer brands, make clothing more exclusive, high fashion, and instantly recognizable. Over the years, flashy fashion logos and labels have become the norm — just think back to the viral Juicy Couture velour tracksuits. After a quiet few years, fashion logos have re-entered the scene, but not in the traditional sense we're used to. 
Right now, there is a shift happening in the fashion industry where brands are moving away from putting large, flashy, and individual labels all across their clothing and are moving towards a more subtle method of branding. The new trend is much more minimalist, with fashion designers adding abstract logos to their designs that can be hard to spot at times. 
Flashy logos are being replaced by a more modern trend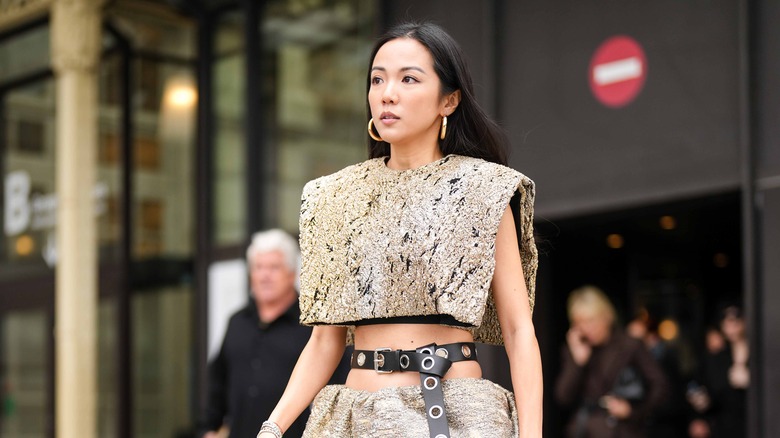 Edward Berthelot/Getty Images
Monograms logo patterns are taking over, with celebrities like Billie Eilish being seen rocking the pattern logo trend when she arrived to the 2019 American Music Awards head to toe in Burberry (via Elle). Fashion designers don't want to completely eliminate the logo, as it does make a statement. When speaking about the importance and influence of the logo within the fashion industry, Dapper Dan told The Cut, "It signifies status, and money, which go hand in hand. The thing is, you can have the status but nobody will know you don't have the money. So that's what gives it such an impact in your look."
Fashion logos aren't just about exclusivity and displaying your wealth. They're also a way for people to communicate their values and personal style. Professor Carolyn Mair, a behavioral psychologist and author of "The Psychology of Fashion," tells Refinery29, "By wearing an item showing a logo, a wearer is showing that they support and share that brand's values."
Abstract and miniature logos are the new it style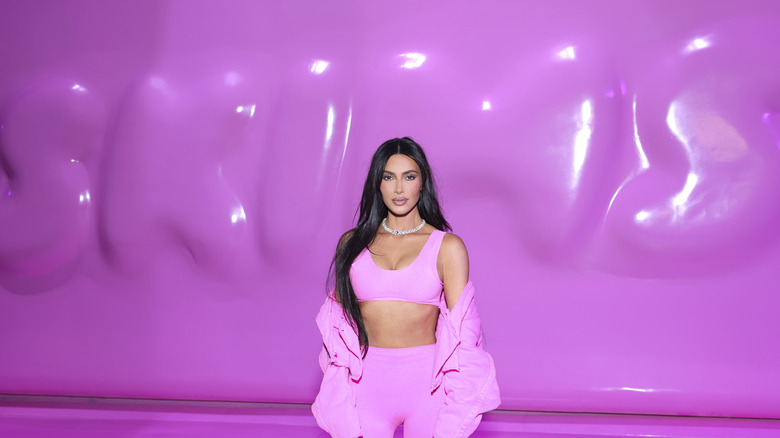 Stefanie Keenan/Getty Images
Sporting luxurious logos on clothing often coincides with the economy. In 2018, people were much less eager to sport logos and opted for more subtle ways to show off their designer wear (via Mission Magazine).
When coming up with a branding design for Mackage, Eran Elfassy, founder and chief creative officer, told The Zoe Report, "I felt that it was important to create a pattern that showed our brand in plain sight." More and more brands are decorating their designs with patterns and monograms that both symbolize and easily identify the brand. The Skims and Fendi collaboration is the perfect example to show how we're moving away from traditional branding, but will still be seeing plenty of patterns that define brands. Notable business woman Kim Kardashian collaborated with Fendi to create some pieces to be adorned with small barely there logos, while others were covered in the Fendi logo in an abstract pattern.