How The Velour Tracksuit Is Poised To Make A Comeback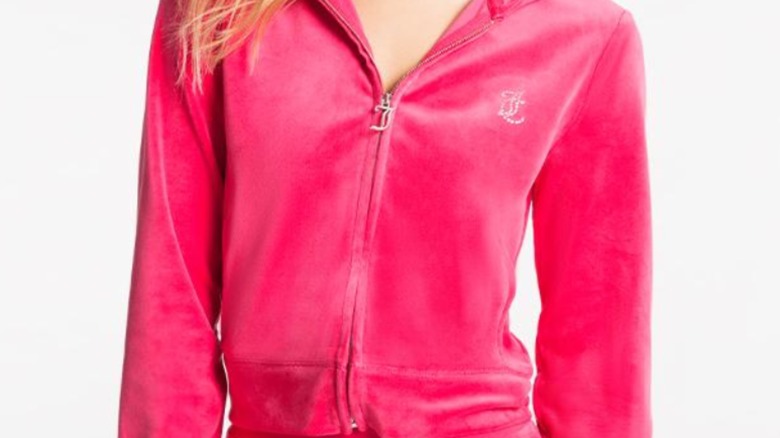 Juicy Couture
The velour tracksuit, particularly from Juicy Couture, was the go-to stylish and comfy outfit in the late 1990s and early 2000s, and was rocked by the likes of Britney Spears, Paris Hilton, and Jennifer Lopez, per PopSugar. Often embellished with rhinestones, they were seen everywhere — including the red carpet. But then, along with other trends of the early aughts like super low-rise jeans, wide belts, and dresses over jeans, velour tracksuits went out of style. Now, some 20 years later, the velour tracksuit is getting another chance at the spotlight.
With the pandemic and resulting emphasis on working from home, people started buying more comfortable clothing, according to CNBC. And what's more comfy and cozy than a velour tracksuit? Velour itself has the look and feel of velvet, but it's cheaper than velvet, per Contrado. And with a matching monochrome set of velour jacket and pants, there's no need to think about coordinating what you're wearing because you're already put together.
Not only is the velour tracksuit coming back in fashion post-quarantine, some celebrities are helping push the reignited trend. Keep scrolling to find out more.
Paris Hilton and Kim Kardashian are helping bring back velour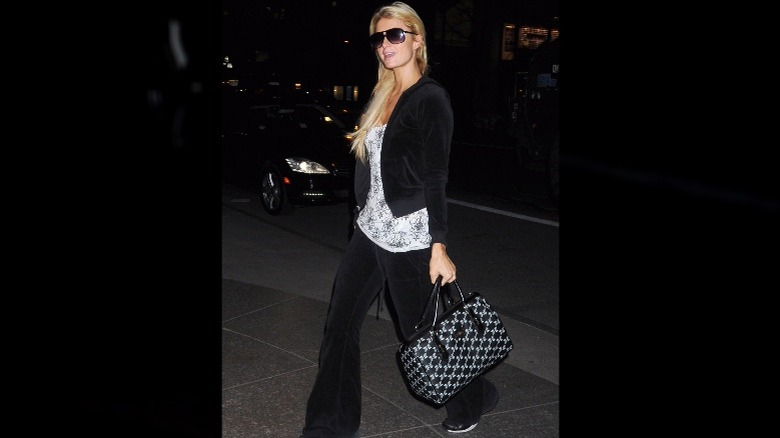 Arnaldo Magnani/Getty Images
Early adopters of the original velour tracksuit craze were Paris Hilton and Kim Kardashian West, and they're ready to bring it back. Hilton posted pics on Instagram of her and former bestie Kim rocking the new collection of velour by SKIMS, Kim's clothing brand. "Velour is one of my favorite collection launches to date!" Kim told Vogue. "It's the perfect blend of 2000s nostalgia and present-day loungewear." And it sounds like Paris was happy to pull on some velour again, too. "I'm living in sweatsuits right now," Paris explained to Vogue. "The Velour collection is perfect for looking hot while being comfy."
Paris and Kim aren't the only ones embracing velour tracksuits again. Juicy Couture is coming out with a new line of velour tracksuits with an update from their iconic original design. "For us, it was about establishing how it was worn then, and what people loved about it," Amy Gibson, head of design for Juicy, told Vogue UK. "From there we tackled how to make that work for 2021."
Some returning early 2000s trends aren't sitting quite right with people, but considering the velour tracksuit has backing from both Kim and Paris, this one might be a hit.