Using A 'Purse Planner' Can Help You Switch Bags Daily (Without Leaving Anything At Home)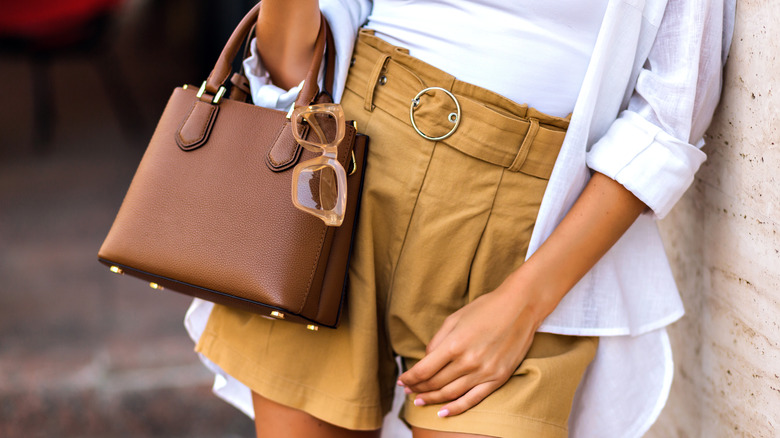 Ann Haritonenko/Shutterstock
Handbags should feel like a fun way to express yourself, not like a chore to carry around. Fortunately, there is a way to take away that stressful element: purse planners. If you're someone who likes to be super prepared for the day or for the evening, you probably pack a lot of important things in your bag — and inevitably end up searching for some in deep corners to find what you're looking for.
Purse planners, which are basically organizers with different compartments that sit at the bottom of your bag, offer solutions to multiple common struggles. Let's be real — no one enjoys digging for a tampon, hand sanitizer, or lip gloss when you're trying to be quick. With an organizer, there's no digging involved. When it comes time to switch out your work purse for your getting-drinks-with-the-girls purse, all it takes is swapping out one purse organizer instead of going through all of your things again. Here's our recommendation for a great collection, and our suggestions for how to plan out all your different "it girl" bags with ease!
Purse planners can change your life
It is indeed possible to end your daily bag transfer struggles by investing in a chic black, white, red, or pink organizer today. Truffle has a collection of purse organizers that includes a variety of innovative items to make your life a little easier. You can choose from clutches, cases, pouches, and wallets and see what works best for you. Give their Clarity Clutch Small a try for essentials like your keys, earbuds, and phone, or their Clarity Jumbo Jetset Case for a heavier load and a large bag.
Using this hack, you can keep up with all the fast-changing styles and stop losing or forgetting things you need in the process of changing bags. Clear organizers come in handy on their own, whether you're traveling and just need a clutch for the important things or you're going to a concert and the venue only allows a clear bag.
Tips for what to put in your purse organizer
Not every purse-planning will look the same — it all depends on the occasion you're preparing for. For example, if you have your period, items like heating pads, tampons, Advil, and tasty snacks make for a super useful collection. On a slightly sexier occasion, like when that first date might continue into the evening, throw in a toothbrush and toothpaste, deodorant, Tic Tacs, and maybe some lube (just in case) into a larger organizer. For a day at the office, it's never a bad idea to pack a water bottle, some gum, and chapstick.
Planning out all your different purses in organizers at the beginning of the day or the night before can give you a sense of calm and readiness to take on any activity. Make it a fun routine by jamming out to a packing playlist while you organize. Gone are the days of purse anxiety!