A 2000s 'It Girl' Bag Is Back With A Vengeance - And It's Trending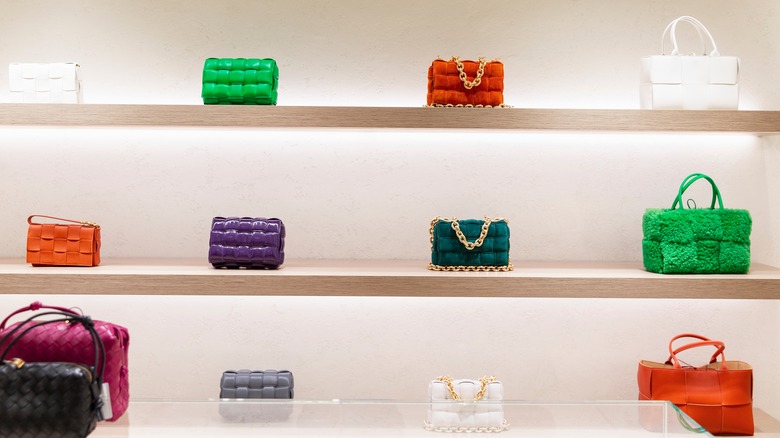 Deman/Shutterstock
We may receive a commission on purchases made from links.
We are not mad about the 2000s fashion trends that are making their comebacks. The revival of Y2K style has been well-received by Gen Zers. While we can't time travel back to the days of "The Hills," "Gilmore Girls," and "The O.C.," we can enjoy what remains of some of the most iconic looks of the early 2000s. From mini tanks and tube tops to pink-tinted sunglasses and cargo pants, looks from the '00s are back and perhaps even better than before.
Of course, you can't forget the most important '00s-era accessory: your bag. There was the Birkin, Chanel, and duh, the Louis Vuitton, but one "it girl" bag carried by some of your favorite 2000s stars has refused to be forgotten. Now, it's once again rising in popularity — perhaps due to the rise of rental luxury bags and Y2K fashion in general. Do you remember this luxury purse, and would you want to wear it again all these years later?
The Marc Jacobs stam bag is back after a decade away
Take it all in: yes, this 2000s celebrity purse has been resurrected from the Y2K grave. The Marc Jacobs Stam Bag is instantly recognizable to designer bag nerds: its quilted leather lining, long chain strap, and short clutch made it one of the major accessories of the '00s. All the celebrities we loved — from Disney starlet Ashley Tisdale to our forever queen Beyoncé — seemed to have this bag as part of their wardrobes.
The bag, inspired by the model Jessica Stam herself, was introduced to the world back in 2005. The style flourished in Hollywood and along the arms of the wealthy and famous. But of course, like all good things, the Stam bag's reign came to an end in 2013 when the design was discontinued. Lovers of the design set their sights on resale opportunities in hopes of getting this not-so-ancient piece of fashion history for themselves, a task that was incredibly difficult — until now, that is.
All over TikTok, fashion fans are hyping up Marc Jacobs' long-awaited revisit to the Stam bag. The Re-Edition Quilted Leather Stam Bag is once again on the market and gaining popularity. For designer purse enthusiasts, the news can't get any better than that.
Where to get the Marc Jacobs Stam Bag
The Re-Edition Quilted Leather Stam Bag is available on Marc Jacobs' website. This new version of the '00s "it girl" accessory will cost you some cash, though: $1,495 to be exact. With the original design donned by celebrities for nearly a decade, that staggering price comes as no surprise here. Made in Italy with lamb leather, per Marc Jacobs, this revamp of the popular purse is indeed everything you would expect out of a luxury bag.
But the Re-Edition is not the only Marc Jacobs Stam Bag available out there. Luxury resale sites like The RealReal have sold their own share of beloved designer bags, including the iconic Stam. But beware if you are hedging your bets on one of these platforms: these bags go fast. While they can cost a tenth of the current market price, many fashion lovers are also out there snooping for their chance at snatching a Stam. Luckily, you can add yourself to the waitlist of items that have been claimed, notifying you if the product becomes available again. Happy shopping and best of luck, bag lovers!